I must confess. I'm not a knife person. I do have a 50-year-old Boy Scout knife (the kind with a fork and spoon) that my oldest sister gave me when I was a kid, but that's about it. And as my family will tell you, "Don't give Dad a sharp knife." Why not? Well, in my enthusiasm to emulate the TV cooks, I swiftly chop through the celery and the tip of my finger using one of the best japanese chef knives. That said, I must share my love for the Henckels kitchen knife set that was purchased at Smoky Mountain Knife Works and presented to me as a gift one Christmas.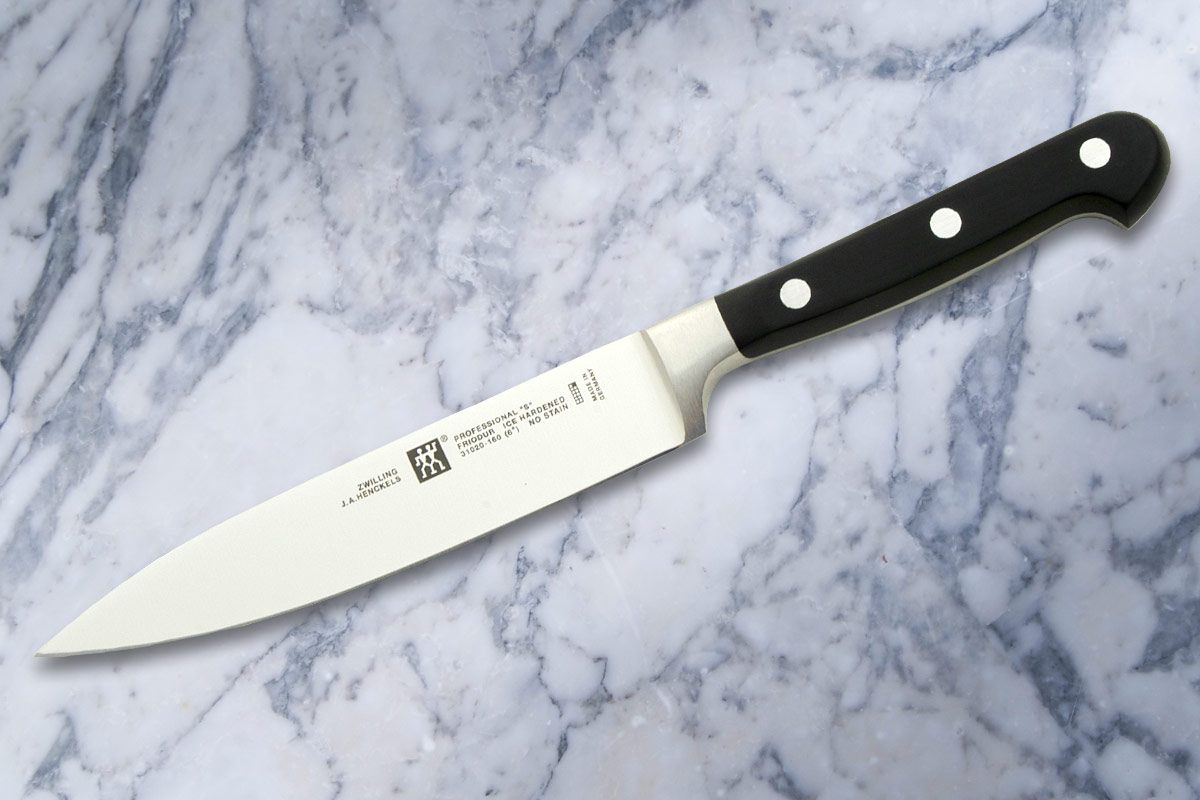 The set sits on my kitchen counter beside the glass top stove and opposite the island where I do most of my prep. The chef's knife is my first choice for slicing up chicken breasts like a pro. With my knuckles tucked against the knife's edge I quickly guide the blade swiftly through the meat to create strips for stir fry. Okay, I admit that I slow way down when I get near the last cut. I mean, who wants finger tips in their stir fry?
The next knife size down [the small chef's knife or the 5" Santoku, we're not sure which] chops quickly through vegetables like peppers and onions – my blurring speed makes quick work of the dicing and the blade scoops up the results to toss in the waiting sizzling pan. (Again, I admit that a luckily placed thumbnail has saved the day a few times from muddying the diced tomatoes).
You get the picture.
The 4" paring knife is my most used tool next to the kitchen scissors. The set of knives stays very sharp. They're dishwasher safe, but I was politely told it is best NOT to put them in the dishwasher, so I hand wash them and softly dry them with the care they deserve.
If you listen closely in my kitchen, you'll hear dozens of other knives both weeping and rejoicing in the cabinet drawers where they remain unused, unneeded – but safe. All I really need is the Henckels set – and a little practice.
---
Editor's Notes:
J.A. Henckels brand knives are among the very best knives in the world. They are balanced to perfection, stay sharp, and work well, regardless if you know their names or not.
If you're interested in a set of Henckels, you can find a few by clicking the "Find it!" button below.

---
This article was really written by the Dad of one of our staff writers. We assure you the staff writer is a knife person, but his dad isn't. We still thought it was a pretty good darn piece, so we published it.