It was almost noon at the "World's Larges Knife Showplace", Smoky Mountain Knife Works in Sevierville, Tennessee,  and Case National Sales Rep, Maury Ford and SMKW President and Co-founder, Kevin Pipes just finished honoring a longtime collector and announcing that the special guests at the annual Case & Zippo Presidents' Day event were going to break for lunch. We were invited back into the back halls of the 108,000 square foot facility to eat lunch and have a brief round table discussion with Mark Paup (the new President and CEO of Case & Zippo), Eddie Jessup (President of Jessup & Associates/Case National Sales Group), Kevin Pipes (President and Co-founder of Smoky Mountain Knife Works), and Maury Ford (Case National Sales Rep).  
As we settle into some barbecue sandwiches, chips, baked beans and maybe a sip or two of Tennessee moonshine, it's worth noting that this is Mark Paup's first official public appearance as the president of Case and Zippo, and the building has been packed all morning with Case lovers. They've been waiting for giveaways, shaking hands, building wooden replica Case knives at Kid's Camp, and signing autographs. It's been a busy morning here at SMKW, and as we finish up with lunch, we jump right into the conversation.  
Knife Newsroom: Mark, I'd like to start with you. This Is your first public appearance since becoming president of Case, how are you liking it so far – what's it like coming to Smoky Mountain Knife Works and meeting the public – the people who love Case knives?
Mark Paup: It's been overwhelming. I think it greatly exceeded my expectations. I had never been here [Smoky Mountain Knife Works]. I'd never been to this facility and it's incredible what you've built here. This whole retail experience – I've never seen anything like it, so congratulations [nodding to Kevin Pipes, president of SMKW].
I mean I've heard about it. We've talked about it, but to come here and see it. I haven't had enough time to see all 108,000 square feet of it all. Yeah, it's been fantastic. I think the big thing too not only sitting there signing those cards and and hearing the stories, but the passion. These people really have a passion for this hobby and for the brand. So I think that that's the takeaway.
Knife Newsroom: What does the brand mean to you?
Mark Paup: I think the thing that is so exciting about the brand is the heritage and the history. 125 years – Americana – I mean, you just can't create that. There's truly a story that kinda mirrors American history as we pioneered through. When times were tough, there was a lot of talk about what to do with Case, and I'm like, this isn't even a conversation. I mean, some of the things we need to do from an execution side – we just have to perform better as a company, but you can't just make this. You can't just create this 125 year company history.
So, it's all about being disciplined with our quality, innovation. How are we going to take it and make it relevant for the next 125 years? And I talked a little bit about this this morning. We have to reinvest in this company, in this brand. So, $30 million in improving efficiencies.
It's all about remaining relevant and being competitive. That's the other challenge we have is making sure we're competitive with price, and there's a lot of competition out there, and it takes a lot of discipline, and sometimes you have to challenge the status quo within your organization. In a small town there's a lot of hard habits and a lot of paradigms to break down. There's a strong culture there and you don't want to lose that, but you have to be a realist.
We're going to stay in business, you know, so we had to employee some tough changes and how we go to market – had to make some changes in programs, policies, and how we do business, and it's been uncomfortable, both on the sales side and also operationally. We've basically reorganized that entire plant to maximize our through-put and how we're moving materials around, how we're bringing things in, how we're managing inventory, how we're managing our on-time delivery – our performance and how we serve customers. So, we've put a lot of people through a lot of change, and there's been a lot of heartburn, but it's all about making sure we're positioned for the next 125 years.
I think that one of the things that I'm pushing now – you know, we – Zippo owned Case, but it was autonomous. Now what we're doing is sharing back office. We're sharing engineering expertise. We're doing a lot of things at Zippo that can transcend over to Case. We've got engineering guys looking at knives now saying what if – what if we did this? What if we did that? We're rethinking everything, and I'm very excited about this. We're going to see over the next few years a whole new commitment to design, embellishing, and how we go to market – channel strategies.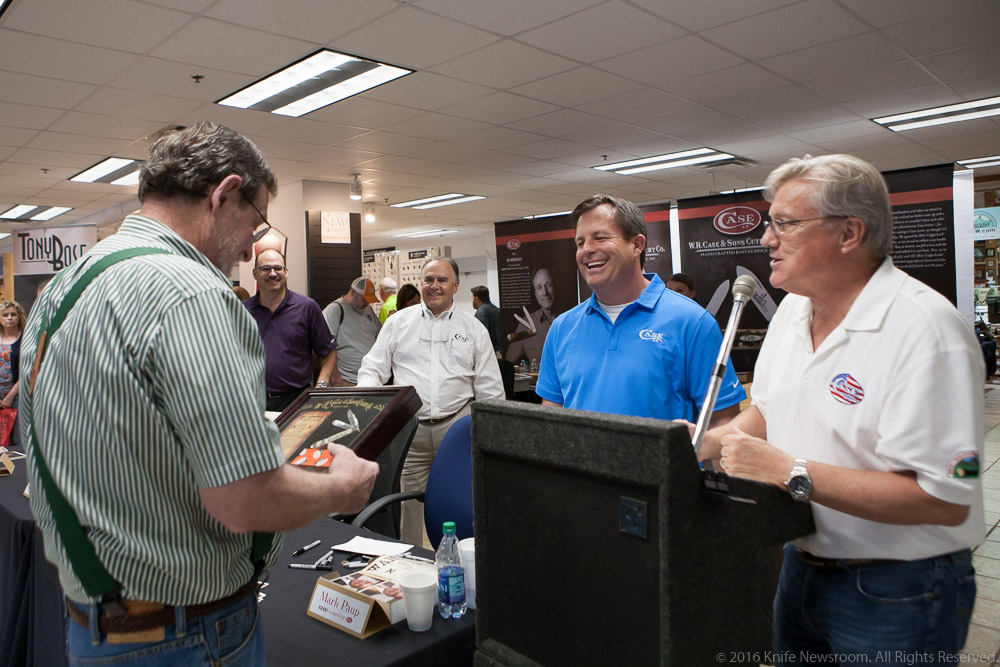 Kevin Pipes: I wanna chime in there from a customer perspective and say that when I first met Mark I was pissed off, to be blunt. I was upset. We'd put a million catalogs on the street. We'd got no product in three months, but he handled himself professionally. I mean I tore up a catalog and threw it in his lap and he looked at me and said 'I will do better. We will do better.'
When I heard he was going to be the president, I was happy because I know he works hard. I know he lives up to what he says, because, really, things got better after we had that meeting. He went back and he put certain things in place, that're now in place today.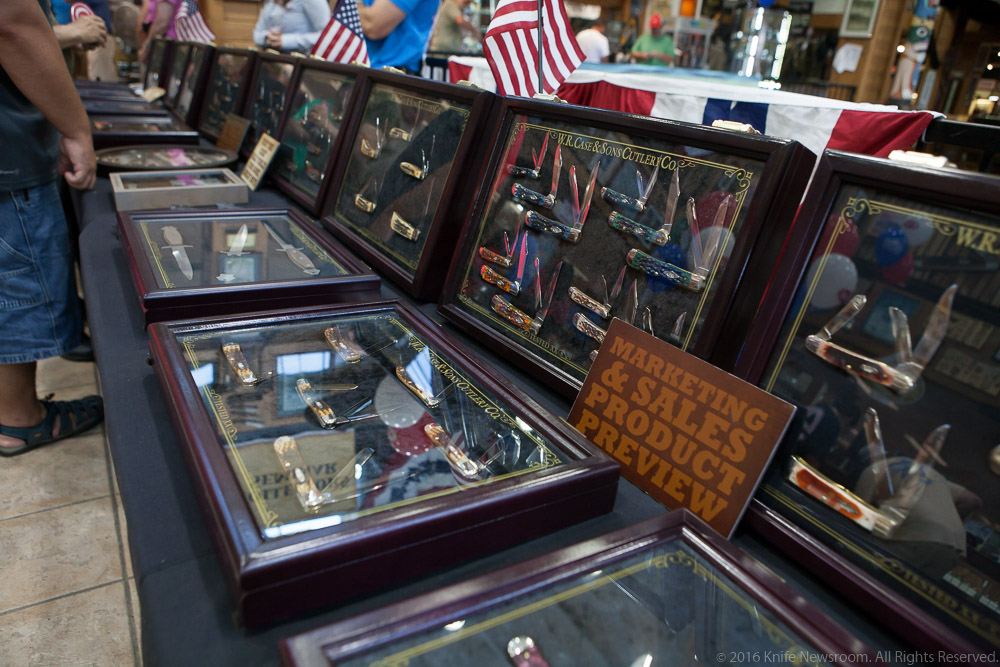 Knife Newsroom: What do these kind of relationships mean between Case and SMKW? We have brand to customer relations and that's one thing, and I feel like what you've said is there are a lot of improvements coming, but I also feel like – being on the outside – it's a very seamless transition. I've not noticed much of a change per se, except that some of the newer products are a bit on the edge of where they've been before, but what about the relationships between SMKW and Case? What do they mean to you?
Eddie Jessup:  The first thing that I can speak to that I know is coming from the adjustments that have been made and the investments that have been made and a market-driven president is this. Innovation.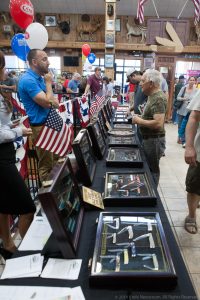 Innovation is going to be top of mind at W.R. Case & Sons and whenever a consumer comes in, they want to know what's new. We want to answer that question with not just another color, but something very innovative. And that's what Mark Paup and the executive team – and Mr. Duke have basically invested in. They have invested in our ability to not only deliver the product when we say we're going to deliver it, but now we have the ability to utilize some of the things from the Zippo manufacturing to the point that we now can develop product that the consumer's never seen before. That the market's never seen before. And to do things that we need to do.
Whenever you're a company that's our age, you have to reinvent yourself and the words that came out of Mark's mouth a minute ago about being relevant today, that's hard for a companies that are 127 years old. But that's something that he's committed to, and whenever you've got a president committed to being relevant to the market as it is today – because the market changes – seems to me it's changing every day.
We are going to be ahead of the wave instead of playing catchup. And that's what I see. I'll be celebrating 40 years – in January – with Case, and that's what I'm most excited about – about our future is that one, we got one – we got a future. We've got a future that nobody will ever be able to catch up with, because of the investment that Zippo [made].
Let me go back a little bit. Zippo saved Case – many years ago when they bought it. They saved Case. I've been through multiple generations and I don't know how many presidents. If I commemorated all the presidents, I'd have to have a machete.   [whole room laughs]
But the fact of the matter is that Zippo didn't just save Case today, they've given us the wherewithal to have a future. That's what's exciting about Case today is we can now see the future. It's not just a wish. It's not just a hope. It's now a visible reality. And for an old guy with a lot of young people on his team, that's what's exciting from my standpoint.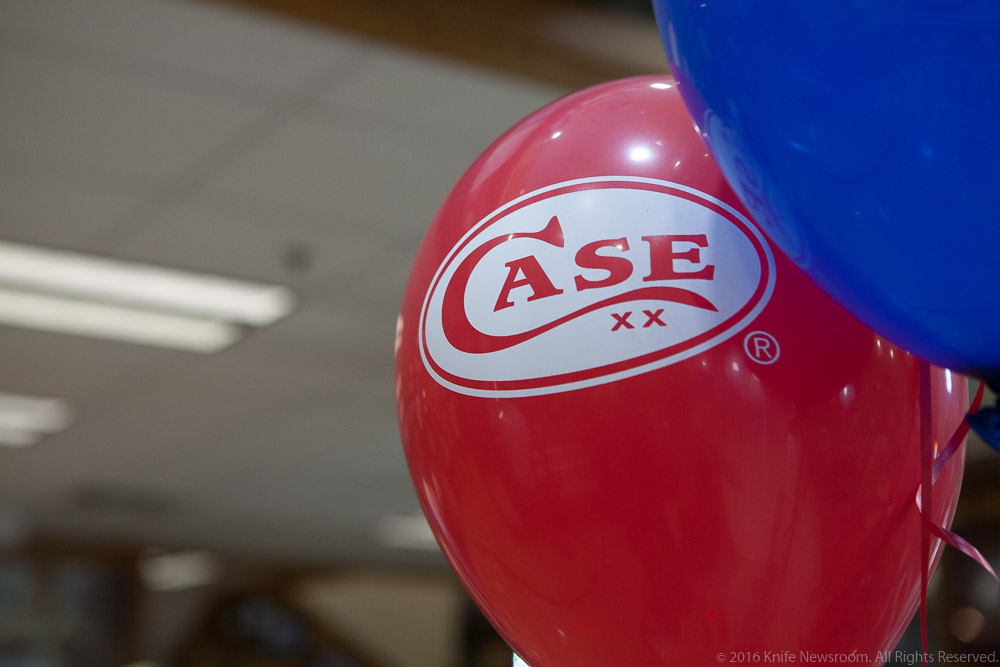 Knife Newsroom: I've been associated with this business now for 20 years, and I've heard it for 20 years, and it's this. The traditional pocketknife is dying literally and figuratively, and we see the tactical stuff all over the Blade Show, and we see the young people going into that. I'd like to know what you all think about that notion and what is the direction for Case in this regard?
Eddie Jessup: There are two ways to look at that. And the way I want to answer it first is that 40 years ago whenever I was the second generation selling pocketknives in this part of the world, and in fact opened Smoky Mountain Knife Works up, I was looking around, and I was saying to myself, my goodness. My customers are dying. I got a problem. We're aging out.
There are two points I want to make. You grow into quality. You grow up to quality. You grow up to a Case. You grow into what being a Case traditional pocketknife [carrier] is.
Now we've got people that are saying, I want what my grandfather carried. I want to be able to hear those stories. The stories of each one of these knives – if those knives could talk – what would they say? So there's more to this brand than just the knife. That's point one.
Point two is: What is tactical? And does tactical have to look like what you think looks like? Maybe not. Stand by. The future is coming. And that's where I'll stop.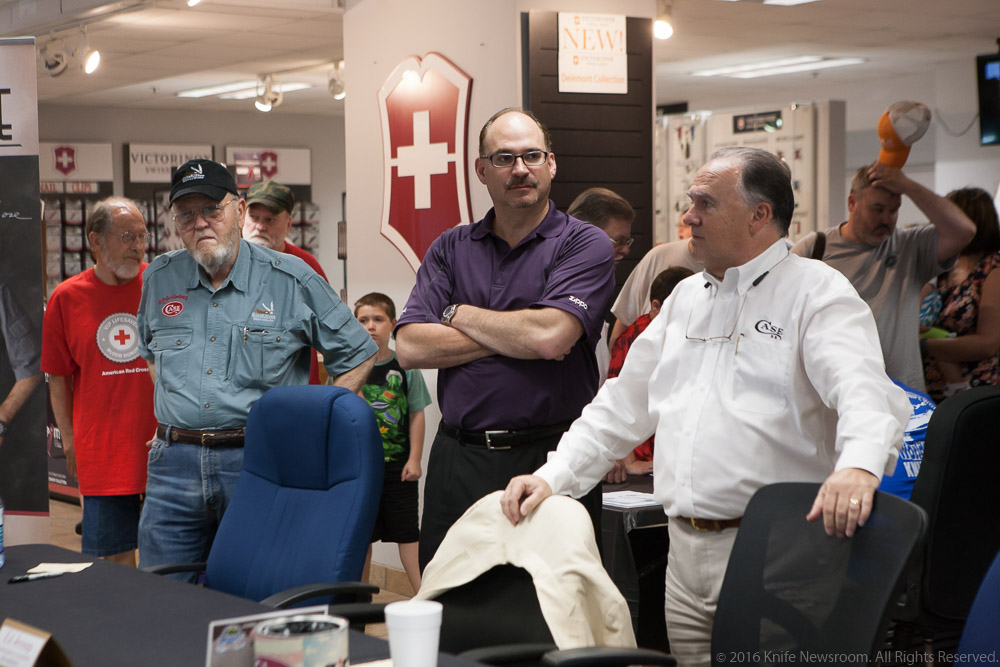 Maury Ford: One thing that will perpetuate Case is that people love the brand, and it's more than a pocketknife. We do traditional and some that are a little more modern but people are celebrating. When you look at the crowd out here, they're older – you know. The average age is older, but they're bringing their kids – doing kid's camp and the things that Smoky is doing to help bring that next generation.
There are very few products that I think you can celebrate. There's things that you love, that you use all the time, that you want to carry, but things that you can really build a tradition on – you don't want to build a tradition on something that doesn't have meaning behind it, and I love to see these people with their kids out here. I think even in the last 20 years that we've had presidents' day, we've lost a lot of great collectors, but we've seen 30 and 40-year-olds become great collectors, so there is a maturing into that. There is an evolution, but it's the brand they fall in love with. And then you talk about the product and man, they're in.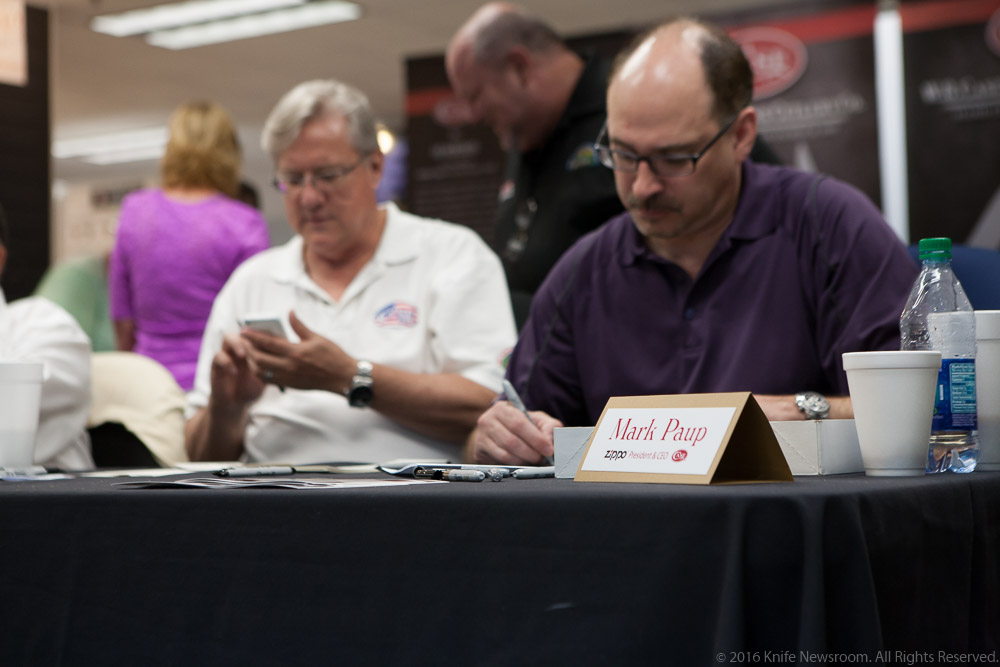 Mark Paup: Let me just – I'm going to talk about Zippo and how that ties into our strategy. We had our biggest year in the late 90's – our heyday. We were doing tons of business with tobacco companies, RJ Reynolds, Camel and all the Phillip Morris programs – huge numbers. That all went away.
Our sales were going down, down, down, and I remember I went into my first board meeting when I took over, and I had the sales plan and it had a 3% unit increase for lighters. And they looked at me and said, "Oh, we don't expect you to increase lighter sales. We know it's ant-smoking. We know the pressures. We lost Phillip Morris. We lost this." Blah, blah blah.
I said no, that's not my – I can't think like that. What I knew – where I saw the opportunity, because I'd worked on the marketing side, the average age of the Zippo buyer back in 2000 – mid-40's. We were running advertising in Car & Driver magazine, and we had freight liner truck lighters. We had scrimshawed chips, and we were in Reader's Digest. I said, one of our biggest customers at that time was Things Remembered – in the malls. Because guys would by them as gifts – it was all gifts.
Gifts was a big part of our business, but I said you realize that by the time most people hit their 40's, their loved ones and friends are trying get them not to smoke. And they're thinking about not smoking, and how they're going to quit. So, we're missing this – and when you think about what really built the Zippo brand, it was the military.  The GI's when they were all 18-19 years old, traveling around the world. That was their first experience with Zippo.
So, we took all of our marketing dollars – we went out. We worked with the people that did a lot of the marketing for Mountain Dew at the time and the extreme sports. We did a lot of brand focus groups with people that knew Zippo and people that didn't Zippo – smoked and didn't smoke. They all knew Zippo. They all had very positive thoughts about Zippo – oh that smell reminds me of my uncle – oh my dad had one, my brother had one. They all knew Zippo, but we see you in the back of the C stores and tobacco shops, but we don't think about buying them. So that's when we started changing all of the designs and going very edgy, going young, pushing the envelope with processes. Remember PVD? When we first came out with Spectrum [we nod].
Spectrum was a mistake. It was a PVD coating mistake. [unintelligible] came in and said, "That looks like the tailpipe off my Harley. That's not a mistake." We sold it and still do.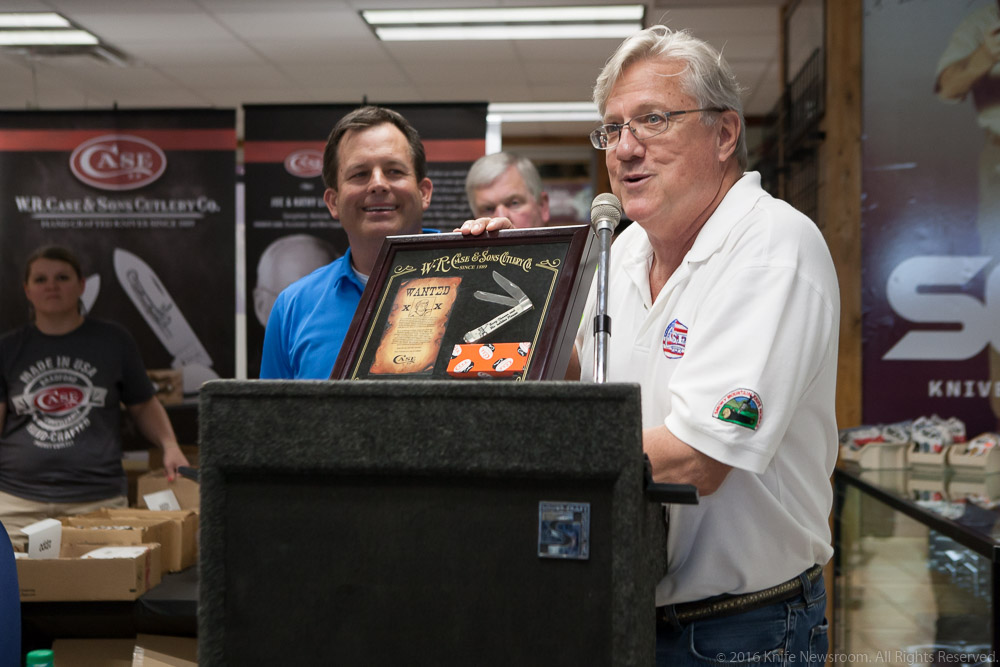 Again, it goes back to relevancy. From the marketing side, we got rid of all the Car & Driver advertising and all of this, and we went guerrilla marketing. Zippo Hot Tour. Zippo Encore. Working and really engaging consumers, design the lighter contest. So, take that. We had the biggest sales in the history of the company in 2014. We have young people going in to tobacco stores and buying 6 or 7 lighters with their parents. They collect them. They don't smoke, but they think they're cool.
Take that same thought process with Case now, right? And look at the audience out there.
I talked to him [Maury] about this Kid's Camp thing. I want to go grass roots, get these kids involved. Teach them about how to make knives, assimilate all those core values with their uncles, their brothers, their cousins. The greatest things I signed today are those little wooden knives. Those young kids coming in.
I was talking to some of the mothers… This is a kind of prototype thing that we're testing. I said to the woman, send us your thoughts on how we can make it better. How can we make it more engaging, what can we do, because we want to take this all over the country? And from those consumers we will learn how to be relevant. They'll tell us – aw, you've got to change the blade. They'll tell us what tactical is in their mind or if that's even important for Case.
"So, now let me talk a little bit about tactical – to just sweeten [this] a little, without giving it away. We are aggressively looking at – there was a lot of talk about how we get into this. Do we need to get into it? Do we create sub-brands? When I learned about the V42, I said guys we're trying way too hard. We have a story. We're legitimate. We have the V42." – Mark Paup, President & CEO of Case and Zippo
Kevin Pipes: We're bonafide [laughing]
Mark Paup: We're bonafide. Why are you trying to create something? If you look at that V42 and you've seen something on the Besh Wedge [we're interviewing Besh soon], you're going to get a sense there – the V42 is giving birth to children and grandchildren. And then we're going to be American-made, and we're going to define our own space within what you call tactical, but it's not going to look like anything – it's going to be ours from our DNA. It's the V42 giving birth to the future.
So that's our strategy there. We have to assimilate. We have to bring young people into the brand. You've go to touch it, feel it, and see it, and then we have to change our marketing platforms, but just to back up a little bit.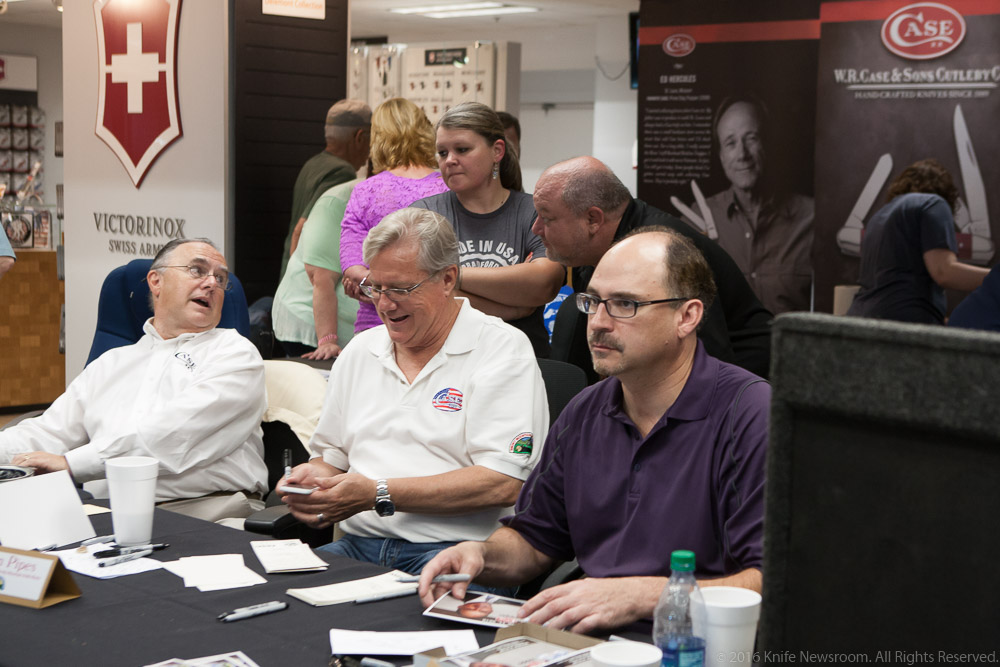 The plan was, we have to do blocking and tackling. We couldn't throw marketing dollars – Eddie and I looked at what if we took the company up 20-30%. We couldn't do it, because we didn't have the capacity the way the company was running.
We had a million dollars in past dues. I went to the sales department and said, "we don't have a sales problem." How do you have a million dollars in past dues and say you have a sales problem? We have to fill holes.
So we've been working, Eddie likes to say, marketing 101 – the right product at the right place at the right time. We weren't filling holes. He's calling up at the end of the month asking what do you have that we can sell – that he can ship. Well, that's no way to run a company. That's not the way, so we got our past dues down to $500 from a million. Our on-time selling of our core products is much better.
Eddie Jessup: Which changes your whole marketing plan.
Mark Paup: So, as we improve financially, and we are improving financially, we build our gross margin. Now we can go out and drive the top line with effective marketing programs – but even the marketing has to be relevant, not the way it was.
We've got to be where people expect us to be, so there's a lot of transition going but where we've been the last two years is blocking and tackling. How many knives per person, per day can we produce? And we've taken it from 20 to 33 in two years. That's how we're going to stay in business.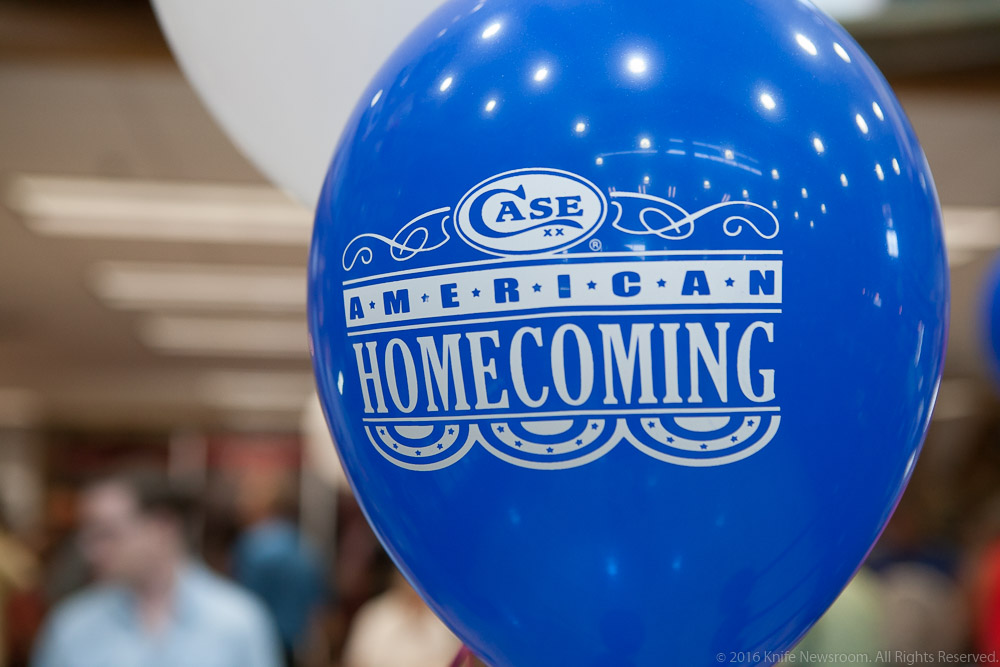 Knife Newsroom: I feel like you've done a great job of marketing to the hipster market with Zippo. Do you think you can do that with Case?
Eddie Jessup: Basically, that's what we've done – what has evolved in many ways, but never really had the wherewithal to tell anybody that's what we're doing. What we've got to do is start talking to our consumers. And these are the things that we're in the midst of doing.
Mark Paup: There's a lot of research going on. There's branding systems. We're not going to reinvent. We're going to evolve. The communication. The messaging. The point of sale. We're going to freshen it. We're going to make it seem like we're moving. We're breathing. The next 3-5 years we've got significant development plans across the product portfolio – the tactical approach – our marketing approach and our branding system, so there's an enormous amount of effort being made back in Bradford.
Eddie Jessup: Is their a future to Case? It's probably brighter today than it was 50 years ago or 20 years ago.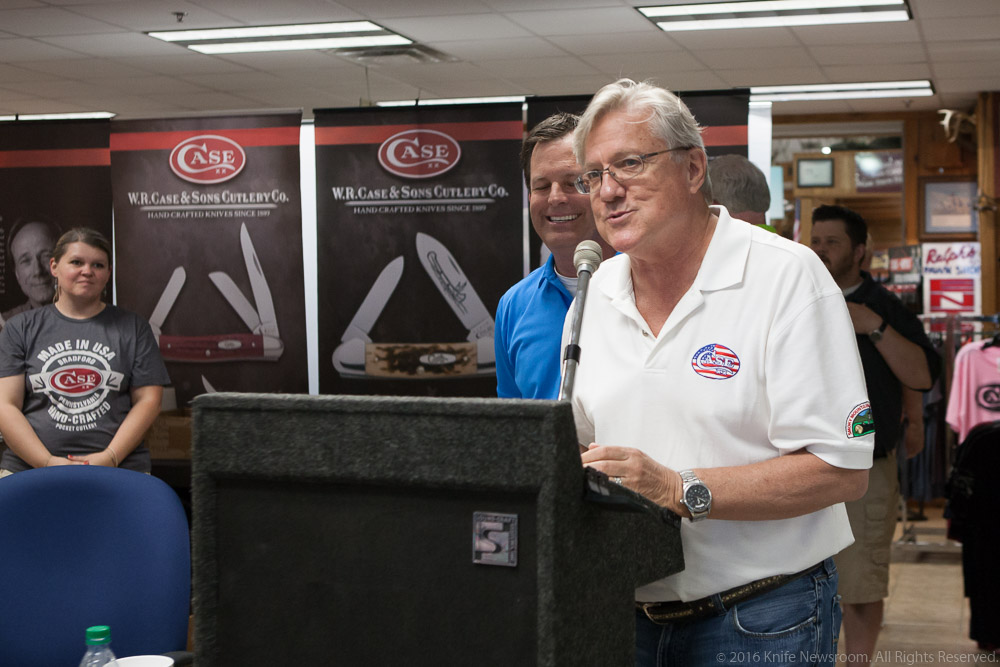 Kevin Pipes: Don't forget – my father always said – dance with the one that brought you, and so don't forget how many ways and how many trappers we've sold, because, yeah, tactical is a fad, but ever since I called [Eddie] up and said  you're etching your name on a trapper blade, can we put a picture or a design on it? And [Eddie] said I don't know, but I'll find out. How many knives have we done – embellished and sold since that time? So don't forget where you came from and who you are.
Maury Ford: And how much the brand means to those people. Don't lose your core values.
Kevin Pipes: Right. Right.
Mark Paup: We're not going to compromise our core values.
Eddie Jessup: We will never, ever do that.
Maury Ford: I was just going to say about Smoky Mountain Knife Works and the relationship it has with Case. It's everything. You look at the nearly 40 years that Case has been associated with Smoky, and Smoky is the biggest vehicle in the industry.
Eddie Jessup: It's the biggest stage.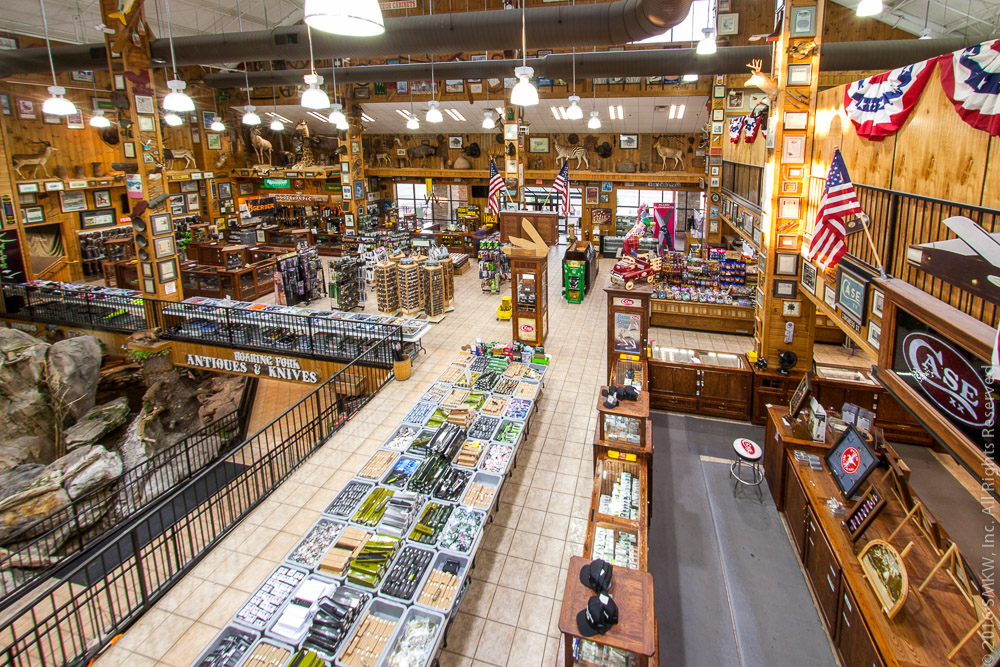 Maury Ford: Very generous, and you look at the great ideas that have come as a collaboration – as immersed as we are in the knife industry, Kevin Pipes is living it much broader every day, so he sees the mistakes he helps us avoid. He sees the trends that he puts in front. He's passionate about Case, because he's vested in it obviously when you look out in the showroom, but it's more than just 'I know that would sell'.
He'd be the first to say, Case shouldn't do that. The relationships here – the people at the counter – it means the world to us. The largest stage – and there are some exciting things coming this Fall with Case and Smoky Mountain Knife Works, and we're going to get after it a little bit.
---
If you'd like to visit Smoky Mountain Knife Works, go here: http://smkw.com