Gerber has been making survival knives for the US Military since 1968. The StrongArm Fixed Blade carries on their legacy of tough-as-hell fixed blade knives for combat and survival applications. With a partially serrated edge, full tang 420HC blade with black ceramic coating, the StrongArm was designed around the fundamentals of military survival training. The handle offers the user a solid grip on the knife in all conditions with its diamond-texture rubberized handle that is capped with a striking pommel for effective rescue operations.  The StrongArm also comes with a sheath that can be mounted in a variety of ways. With simple snap-together components, the user can mount the knife vertically on MOLLE, horizontally on a standard 1.75" tactical belt, or in a traditional drop-leg belt mount fashion.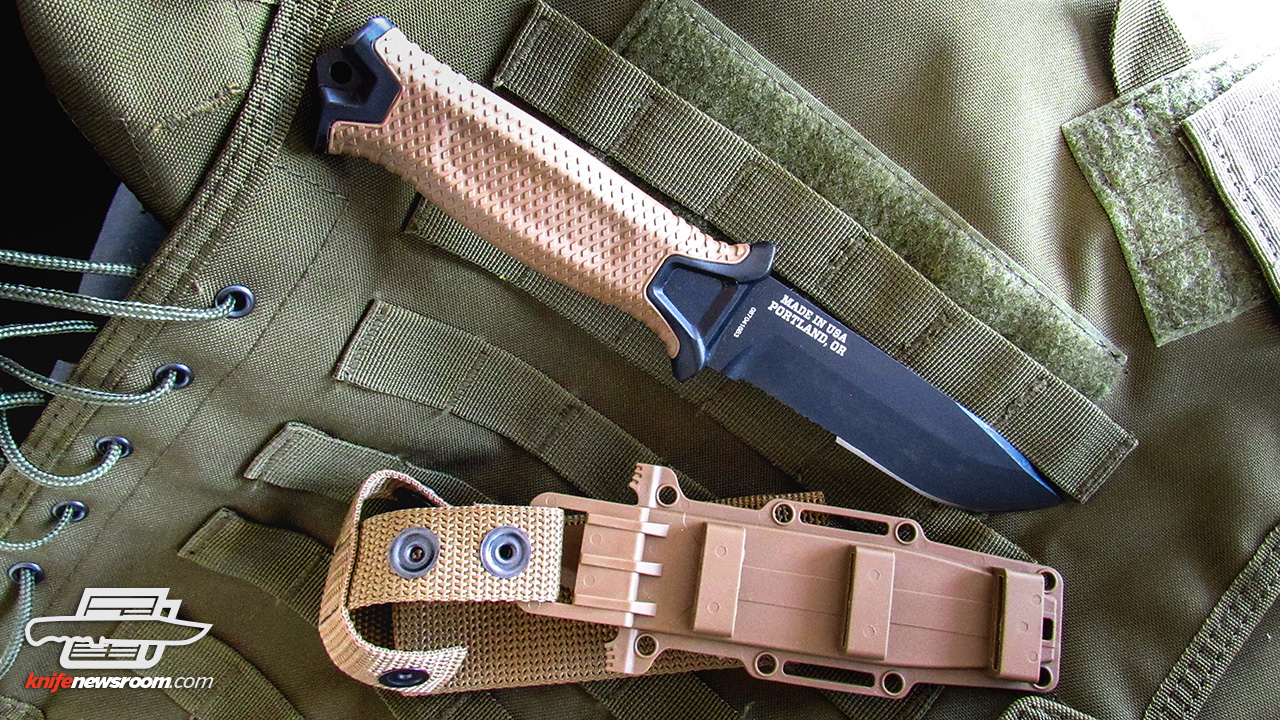 Look & Feel (Overall & Handle)

This knife definitely looks and feels like a military knife. From the coyote brown handle to the multi-mount sheath, it's just a strong, military look. You can easily see this knife strapped to a Marine's leg or to his Molle pack. For a full-tang 3/16″ thick knife, it's remarkably light and feels very balanced in the hand – the weight falls nicely to the tip of the blade which is helpful in most circumstances. Further, the diamond pattern rubber overmold gives this knife an extra grippy feel. You don't feel like you're going to lose it while you're working.
The matching guard on both sides of the handle protects the index finger well and gives the thumb a comfortable resting place when applying pressure to the spine during a cut. 
The Details
> Blade material: 420HC
> Handle material: glass-filled nylon with rubber overmold
> Blade length: 4.8" (12.2 cm)
> Overall length: 9.8" (24.8 cm)
> Knife weight: 7.2 oz (204 g)
> Overall weight: 10.9 oz (309 g)
> Serrated edge, full tang 420HC steel blade
> Striking Pommel
> Ceramic Blade Coating
> Kydex & Nylon Sheath System
> Detachable belt hoops for horizontal belt carry
> Nylon webbing for drop-leg carry and secondary retention
> Snap-in MOLLE strap
> Made in USA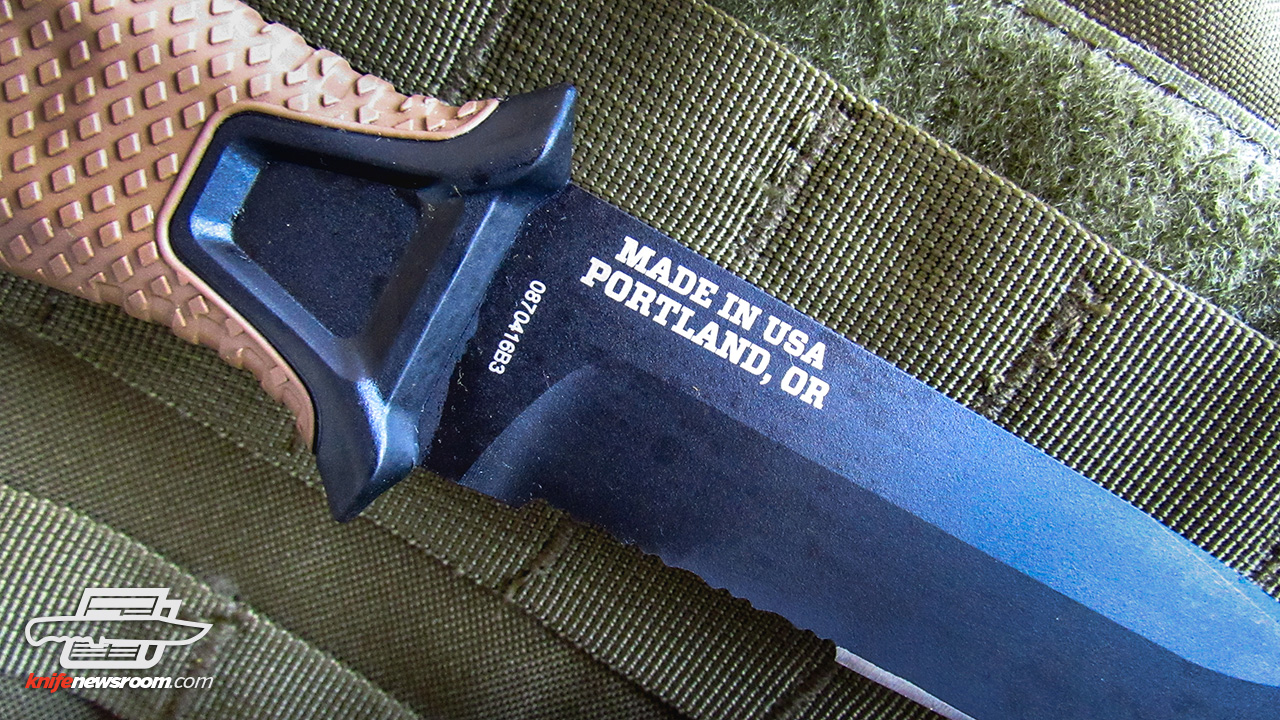 Sharpness & Cutting
The StrongArm was sharp out of the box. You'll get a decent bite when you run a finger across the 420HC partially serrated blade. As you can see in the video, this knife performed well against heavy-duty corrugated cardboard, both in slicing and sawing (with the serrated portion of the blade). The StrongArm also performed well on the plunge and pull cuts through cardboard. Beyond that, this knife handled detail work (fine carving, notching, and whittling) just fine, and we assume it would easily cut the tag out of your new cammo jacket too, but we didnt' test that.
All in all, the StrongArm was sharp and performed well in all of our general cut testing. We like the black ceramic coating, because it gives the knife a low visual profile, which is great for a military knife. Further, we noted the 90-degree spine on this knife, but didn't test it's ferro rod striking ability.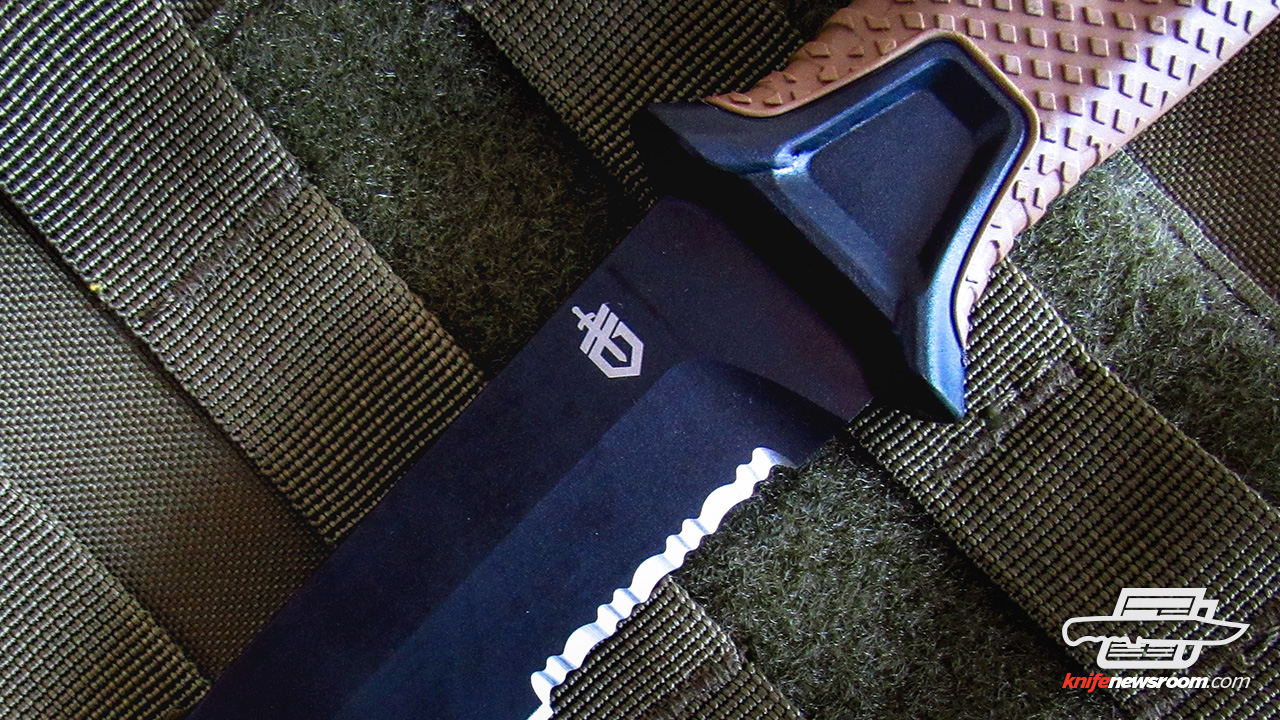 The Multi-Mount Sheath
It's complicated, but extremely useful, and luckily the StrongArm comes with a good instruction manual insert inside the package. After trying to do it without reading the instructions, Susan snatched the sheath from our hands and read the instructions – which made it much easier. There are actually five components to the sheath that allow you to mount it in a variety of ways. With Susan's ability to read, we were able to easily mount it horizontally on a belt, vertically on a backpack, and again in a traditional drop leg position with a tie-down.  We really liked the sheath's versatility.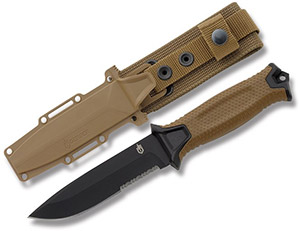 Gerber StrongArm Fixed Blade Knife
Overall Look & Feel (Style) -

9/10

Handle Material & Feel -

10/10

Blade Material & Finish -

9.5/10

Cutting and Use -

10/10

Extraneous Use & Extras -

8/10
Summary
We really liked the Gerber StrongArm Fixed Blade knife, and overall this is an excellent knife. It's very military looking, but could be used well in survival and outdoor situations. If you've get a chance to grab one, we highly recommend it.