The CRKT release says, "Defensive lineman sized blade meets sprinter body," and they weren't kidding. The kukri inspired folding knife by designer Lucas Burnely is one hefty cutting tool. With a Nepalese- style Kukri blade, it packs maximum cutting power into a more compact pocket size.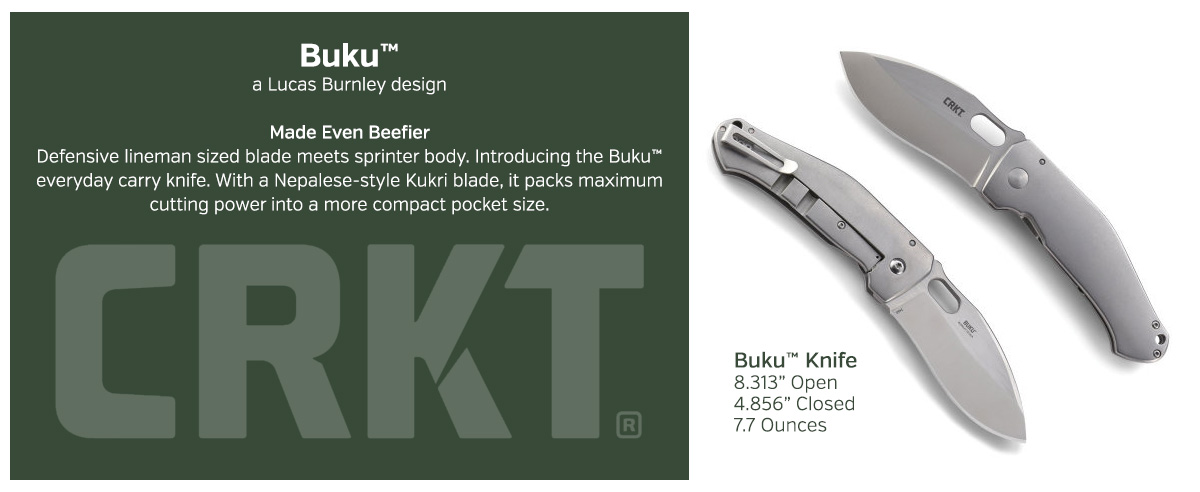 "Lucas Burnley of Albuquerque, New Mexico, drew inspiration from one of the world's most classic blades for his latest offering. He wanted the Buku™ to have the same powerful disposition as its larger cousin but make it available in a more compact size. From the looks of things, he clearly succeeded.

At first glance it appears to be light and thin. But once open, this folder is ready to pick on jobs more than twice its size with a wide and strong 3.75″ oversized blade. This is all made possible by a frame lock mechanism with heavy contouring made even beefier by the addition of a steel over-travel tab. When tradition and technology come together, you come up with an entirely new way to tear things to shreds.

The Buku™ also comes with a deep carry pocket clip. So it can ride low in your pocket, but offer high performance while cutting when needed."
Here's some fun video of the Buku in action from the KnivesFast channel – check out how it takes out this water bottle.