"Sure. I'll tell you anything about Case you wanna know," the Chairman and CEO of Buck, CJ Buck laughed when I asked if I could get started with a few questions. We'd just finished lunch in a conference room in the back of Smoky Mountain Knife Works, and all of us erupted with laughter. Besides CJ Buck, my lunch companions were Bob George (Buck Vice President of Sales and Marketing), Billy Bates (Buck Special Projects and Foundational Account Manager), Wally "Mr. Crappie" Marshall (professional fisherman), and Kevin Pipes (Owner and Co-founder of SMKW). All of them were kind enough to take a break and talk to me in the middle of SMKW's three-day, Buck Knives Weekend Event.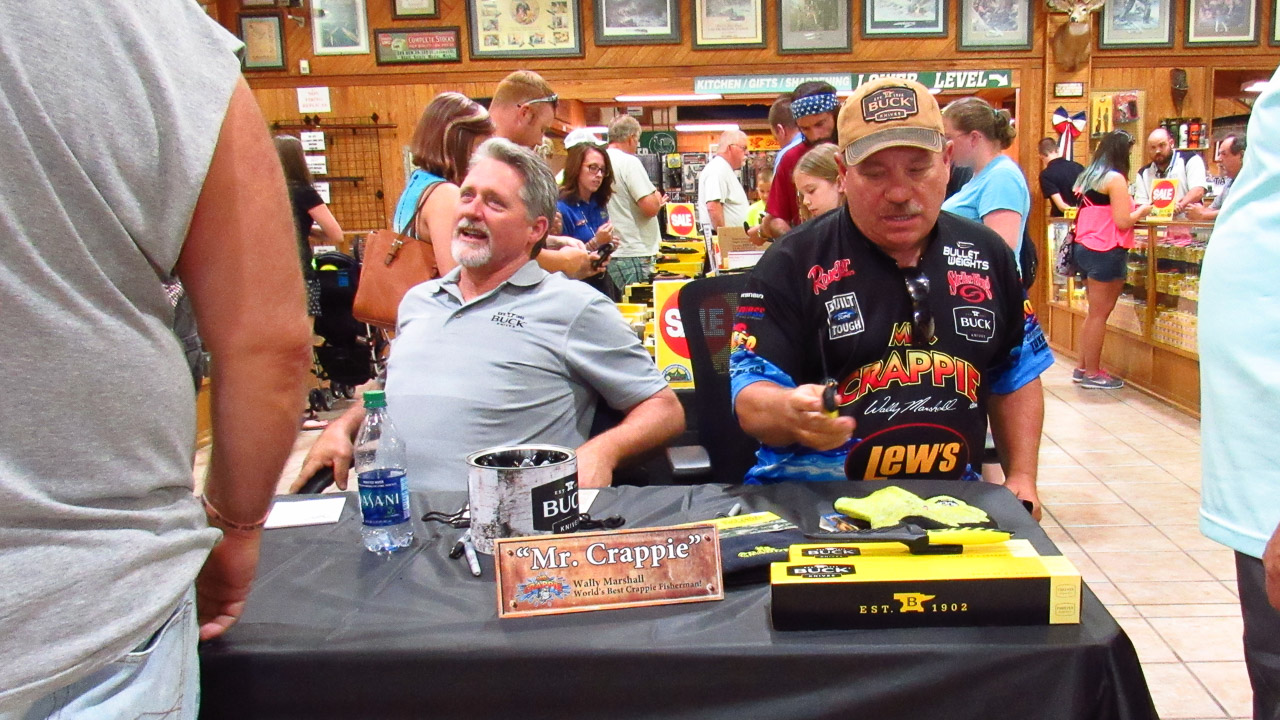 "Our relationship with SMKW and this kind of event gives us the opportunity to make front-line contact with our customers. I've actually gotten feedback at this event from customers and taken them back to Buck and incorporated that feedback into making a better product," Bob George tells me when I asked what an event like this means to Buck.
Bob continues, "We do shows, like the NRA – well, not everyone there is into knives. When you do a show [at SMKW], people are coming in here for a reason. They're knife groupies, and I mean that in the most passionate positive way. [Knives] are what they're all about. This place [SMKW] is knife candy to them."
CJ Buck interjects, "The real value in our relationship with SMKW is in events like this and having a showcase for your entire product line. That's what Smoky's offering."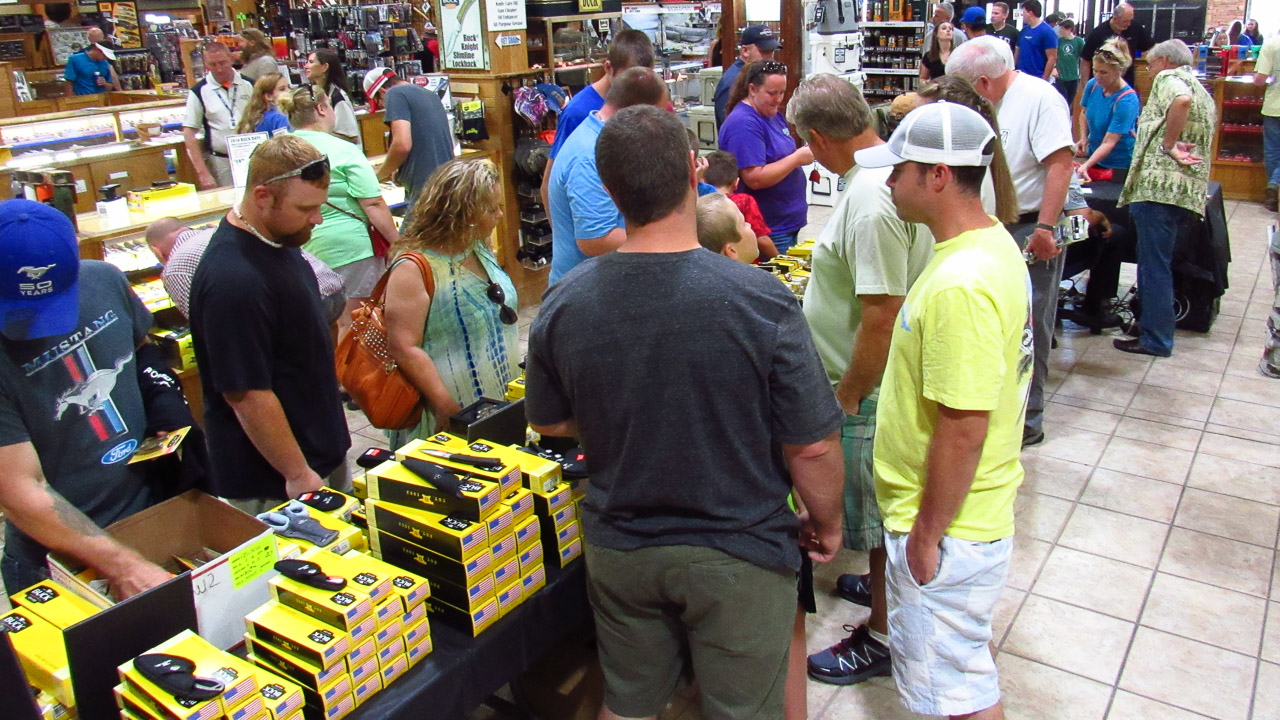 CJ is tosses his napkin on the table awaiting the next question. One can help but notice the band-aid that's on the outside edge of his palm. He's nursing a war wound from autographing Buck knives for customers at the Event. He's managed to filet himself with one of the popular Mr. Crappie Buck filet knives. "Second knife I autographed," he says sheepishly.
"Buck knives are definitely sharp right off the line," Kevin Pipes laughs. It's clear that the two have known each other for quite some time, and Kevin tells us later that he and CJ kind of grew up together in the business.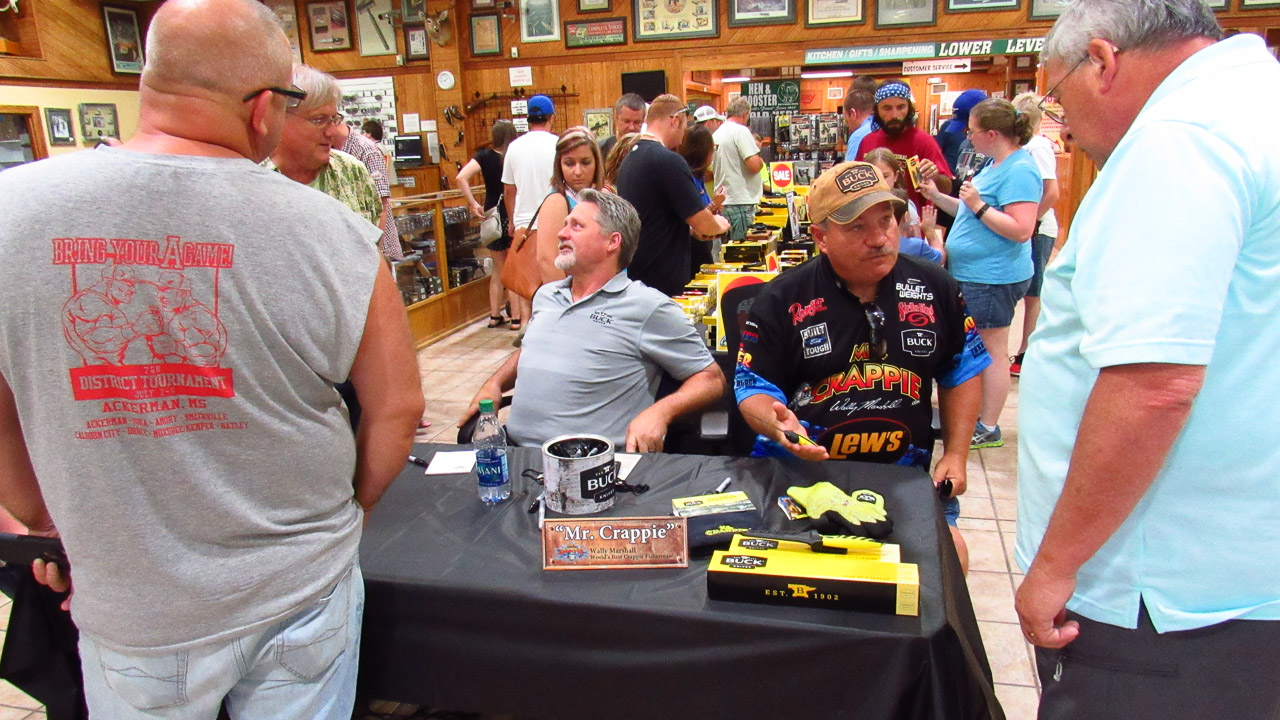 In the last 15-20 years, Buck has evolved from a company that was mainly known for the famed 110 Hunter and traditional style hunting knives into a company with a broad spectrum of product offerings which include everything from the tactical Buck Reaper and the 550 Selector to the Kinetic Fishing Spear and the Impact (Buck's first foray into the world of automatic knives).
"Evolution is ongoing." CJ tells me. "We're always looking for feedback from our customers – what they need – what they're doing. We're no Steve Jobs but we do try to stay ahead of trends and see what's happening. And then we try to deliver a really robust and dependable version. And in some respects, that's what I feel like is the Buck magic or what we bring to the table."
"There's lots of good ideas out there that won't function very long. We're always trying to produce things that will survive long enough to be passed down to your kids," said CJ Buck.
I note that there's a massive trend in the industry toward the survivalist, and Buck says, "What we do is provide people is the confidence to go out and do something. You have that knife in your bag or with you. If something goes off track, you're prepared. While I think the zombie apocalypse is over the top – I'd like to think people are just a little more comfortable while the power is out or they're stuck. And a knife – a knife is one of those essential tools. It's part of that."
"As far as the survivalist goes, they're the very essence of needing tools that they can depend on – that can deliver and that can last. That's what we make at Buck," said CJ Buck.
I can't help but think of the "Forever Warranty" that Buck offers on its products, and I ask CJ about it. He tells us that his great grandfather that if you bought a product from him, it should last a lifetime, and this notion was passed on to CJ's grandfather and father. For the last 25-30 years, Buck had a Lifetime Warranty, but "we realized we were routinely replacing things for the kids of the original purchaser, so we thought, just make it forever, because that's what we're honoring," said Buck.
For the majority of our discussion so far, Wally "Mr. Crappie" Marshall has been tearing down a bowl of homemade Cajun chili that an SMKW employee has kindly prepared as a side-dish for lunch. I've watched Wally interact with customers before lunch. He's a kindhearted character with a distinctive Texas accent and fun-loving personality. I always like to hear what people think of Smoky the first time they're hear, so I ask him about the experience.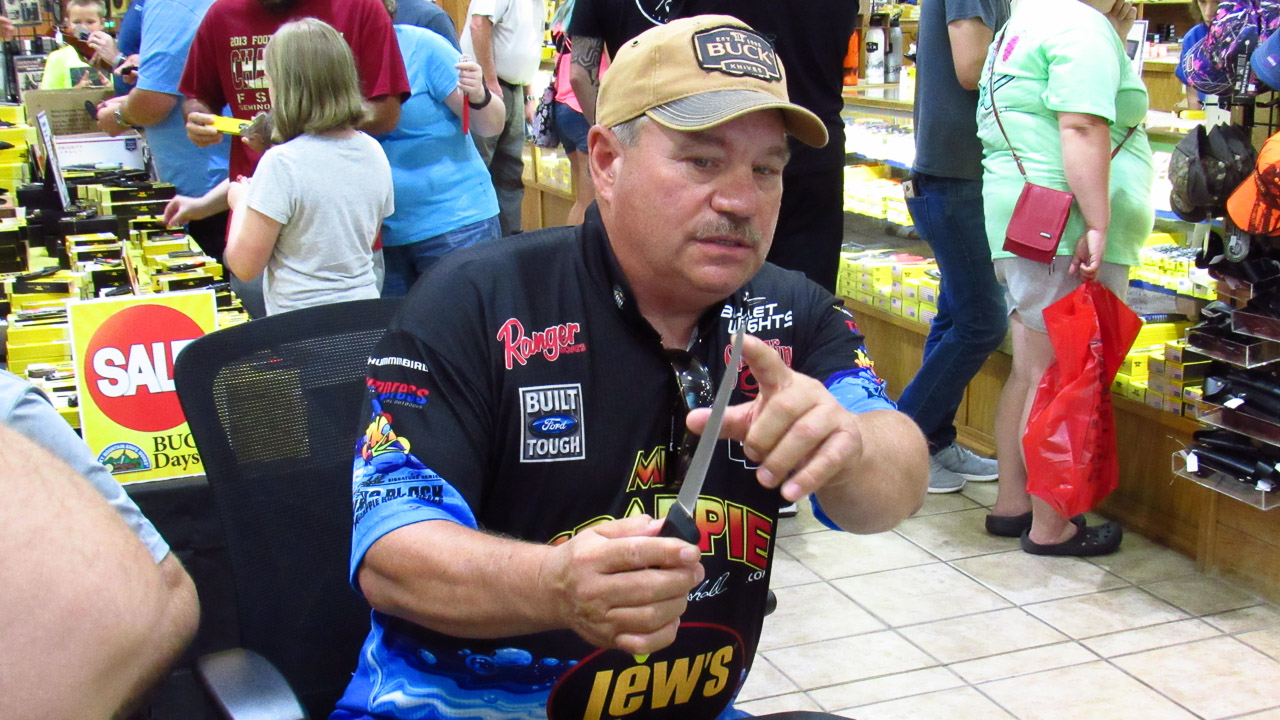 "This place [SMKW] is a phenomenon," Wally says. "You got the upstairs and all that, and then you got the Kitchen area downstairs and all that, and I was just checking it all out. It was jam-packed when I come in here, and I was like, where are all these people from? It's amazing. I just think this store here has the fullest array of anybody – it's like the 8th wonder of the world to a kid or an adult who collects knives. If you cain't get it here, you cain't get it.
Mr. Crappie has joined forces with Buck to produce Mr. Crappie by Buck fishing filet knives and he's here promoting a new set of fishing gloves that keeps the hands warm and let's you hang on to a fish when fileting. And while they're not puncture proof, the entire glove is cut resistant.
Wally tells me that he's working with Buck on some new products that are in the pipeline, mostly accessories, but he smiles when he tells me that there's a folding filet knife in process right now.
"At an event like this, people love access to sports figures, owners of companies," Wally says. "They can come down here and get an autograph from a fourth generation president of a company or talk to the owner of another. The access deal is the best part. It gives the public access to the "skinny" – find out what's going on from the owner – ask him questions, and it gives us access to them for feedback. The access to them is more important than their access to us. That kind of access is important and benefits all of us."
Owner and Co-founder of SMKW, Kevin Pipes speaks up at the end of the discussion, "CJ, Bob and Billy have been great to work with. They've really supported Smoky's effort to make smaller runs of things, smaller quantities which they wouldn't normally do, because they know what we're trying to establish. It takes time to build that collectible base."
"It's been the goal of SMKW for the last 7-8 years to get Buck into a collectible arena. Smoky specializes not in the single knife buyer – we want to try to launch Buck more into the Collectible arena. It is a USA made company, and they build such a great product. And the collectible market encompasses a guy that wants to buy as many knives as his wife will let him," Pipes says.
You can find out more about Smoky Mountain Knife Works on their web site, smkw.com and their blog, blog.smkw.com.
You can find out more about Wally "Mr. Crappie" Marshall on his site, mrcrappie.com.