You probably know EJ Snyder best from his multiple appearances on the Discovery Channel's Naked and Afraid, but EJ Snyder was neither "Naked" or "Afraid" when we ran into him at the Blade Show in Atlanta. In fact, with his TOPS SXB knife strapped to his side and a willingness to talk to almost anyone, he was quite the opposite. We did a quick interview on camera and then caught up with him via phone for an interview after the show.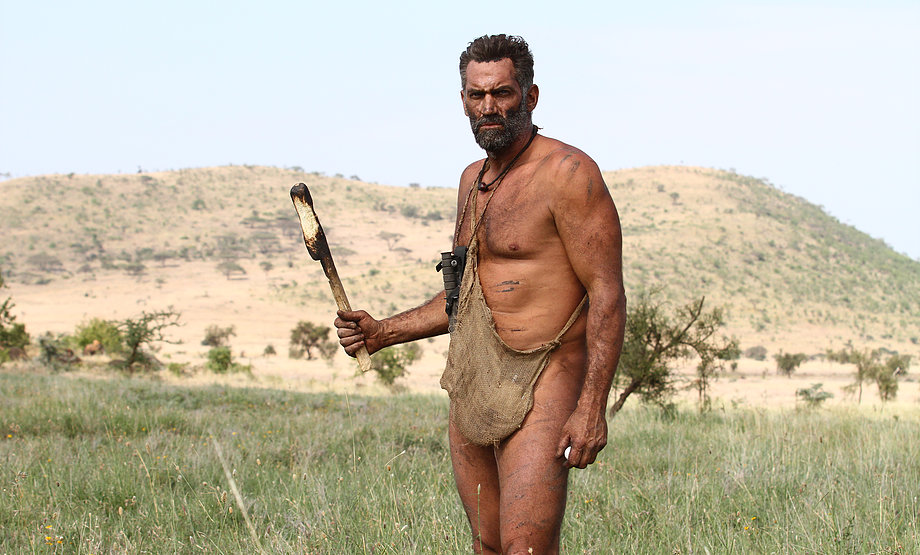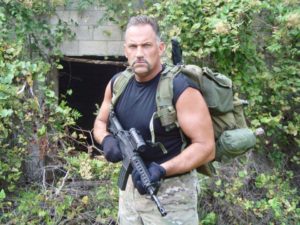 Snyder has appeared twice on Naked and Afraid and again on Naked and Afraid XL, but he tells us that that's not how his adventure with the Discovery Channel started. In fact, he auditioned for the show Dual Survival when Dave Canterbury left the show. "Discovery Channel found me four years ago when they were looking for someone to replace Dave Canterbury. And they brought me out to Prescott, Arizona with four other guys to try out with Cody [Lundeen] in a chemistry test," he says, and "when all the smoke cleared, it came down to two guys: me and Joe Teti, and for whatever reason, Joe Teti got the call, and I got Naked and Afraid in Africa."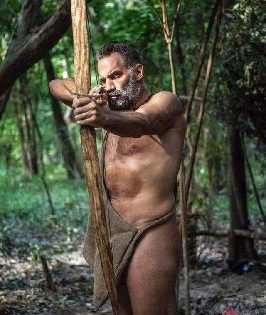 Snyder believes that he wasn't picked for a reason. It was part of a journey that he loves and says was part of God's will. "Naked and Afraid has made me evolve as a survivalist, and I've become a better survivalist for the challenge I've gone through," he says. "As a man I've grown tremendously and spiritually. I could never be more blessed than what I experienced out there. I was so proud to be the very first man to ever do it, and then when three people quit the Amazon seven months later, I was asked to come in and save the day with six days notice. All the locals said that no one outside of a local could do it, and I'm glad to have proved them wrong. Then I got to go out one last time on the 40-day XL."
XL is where Snyder met Jeff Zausch. The two combined their abilities and meshed well on XL, and to come full circle, EJ and Jeff will be paired on the new season of Discovery Channel's Dual Survival. Snyder says, "I believe [Dual Survival] is going to be bigger, badder, and more beastly. We're going to really show people some new things."
According to Snyder, the new Dual Survival will air at the end of August or beginning of September, so keep an eye out for it.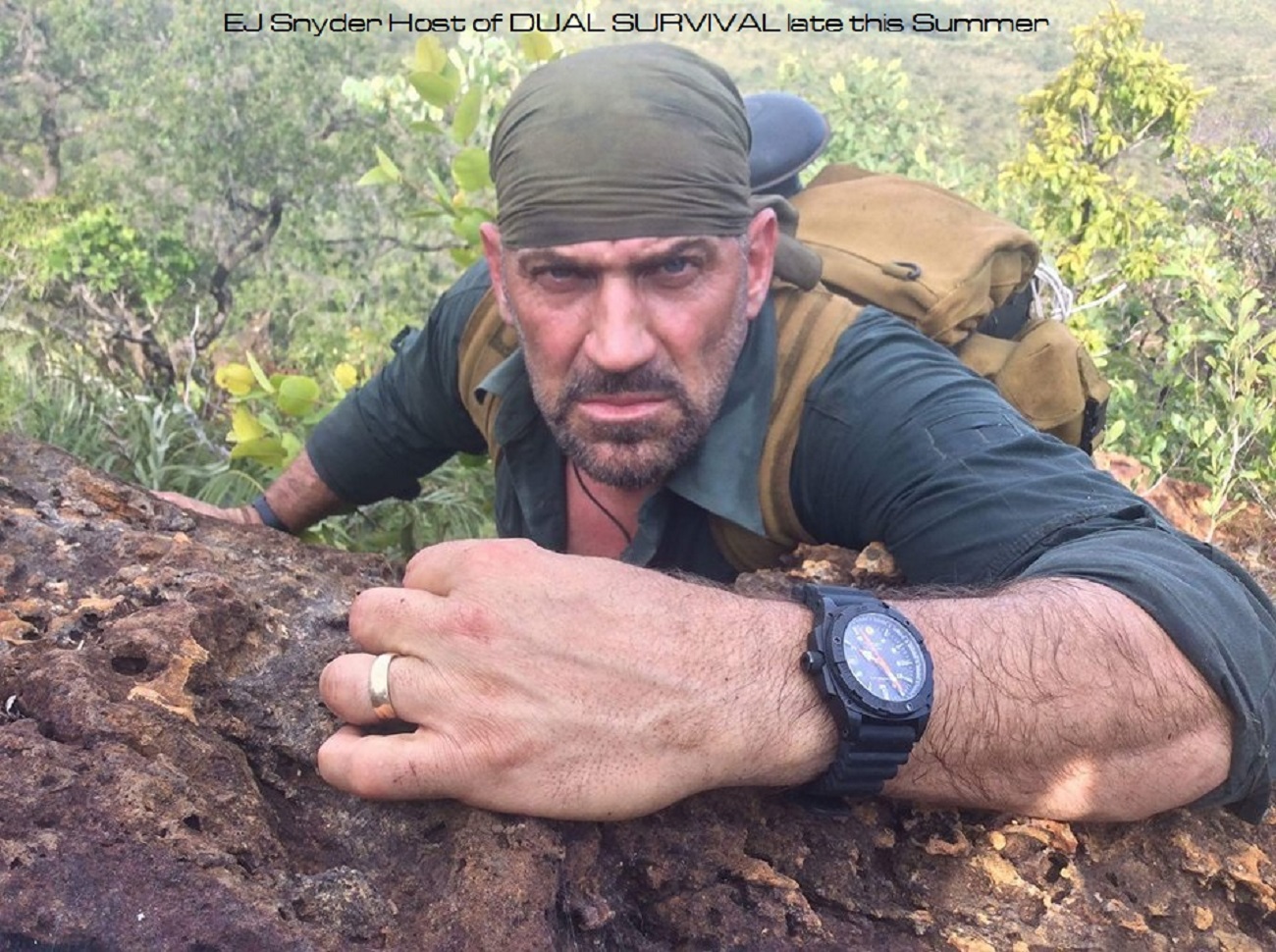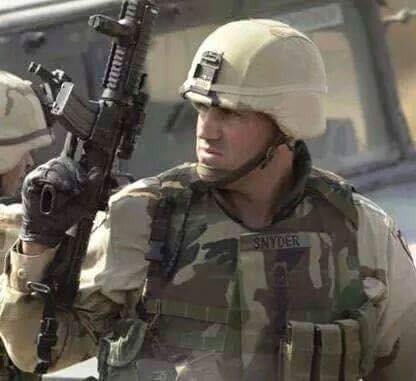 Snyder, who calls himself an "extreme survivalist" has a military background and has been teaching and talking about survival for years. Before we got into his TOPS SXB Knife, we asked him what it meant to be an "extreme survivalist."
"I've been conditioning my body and my skill set over a long period of time to go through very extreme conditions with very little supplies and being able to push the limits," Snyder says. "For instance, training dehydrated, so that when I come into a situation where the normal rule of you can't go longer than three days without water then you're done – I can push that limit probably an extra day or two days. I did that in Tanzania – going on very little water for five days. So, I try to really push my body and skill sets in things that I never teach my students ever to do, because I've evolved into such a skill set level in survival that I would take a lot more extreme chances with things that are higher risk that I would never tell any of my survival students to ever do."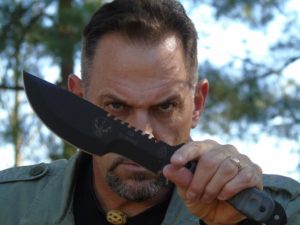 "I teach very basic survival skills and common sense with what I teach in my survival classes, and I always tell my students don't use me as a gauge. Use me as a goal to eventually get to. I drink certain water that most people would never put in their mouth. When I go to an area, I'll drink some of the indigenous water without processing it, so I can build up anti-bodies against that water. Through that small quantity and over time, if you're going to be in a situation where you'll be there a long while, you're able to withstand it and get more accustomed to the zone your in."
Snyder makes it clear that this is his opinion on extreme survival, but he always tells his students that boiled water is the safest water to drink.
"I pride myself on being able to go anywhere in the world and be dropped off with just a knife and make it out the other end okay," Snyder tells us.
It's clear that Snyder is incredibly passionate about everything he does. You can see it in his eyes. Hear it in his voice. He lives life on the edge, always pushing himself, and he's genuinely excited about life and everything he's into, including the knife he helped develop with TOPS knives: the SXB.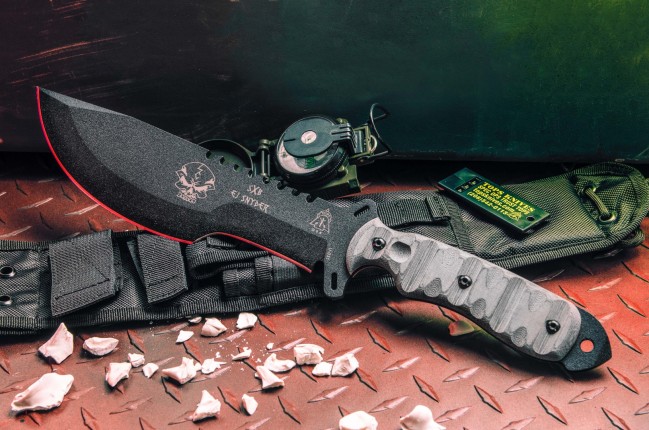 The SXB or the Skullcrusher's X-treme Blade is Snyder's brain-child, with the help of experts in knife-making and experts at TOPS knives. Snyder tells us he went on a quest to find that "mythical creature. The one tool that can do it all."
The SXB is a quarter-inch thick, 15.75" full tang survivalist's knife. It's made of 1095 RC 56-58 steel with black traction coating and it looks like what might happen if a bowie knife and a meat cleaver had a baby. It weighs a whopping 26 ounces, which goes to 34 when you add it to the molle-backed ballistic nylon sheath.
(click a thumbnail below to see the full image and start a lightbox gallery)
Snyder tells us that the SXB does it all – from chopping to spearing to fine detail work if you choke up on the front end of the knife.  "I wanted a survival fighting knife," Snyder tells us, "and we got it exactly right."
"The weight transfers where you need it, so when you're chopping it goes up to the head. When you're stabbing or in a knife fight, it moves behind the blade to get behind the thrust. I don't know how all that works. It's magic knife elves or something like that, but it works," he says.
"I've tested the SXB for 6-7 months before I went out on XL with Naked and Afraid, and gave it its 40 day final test out their in the field. The thing has performed well above board, and the more I use it, the more I get familiar with it, the more miraculous things it seems to do. And now you'll be able to see it on full display in the new season of Dual Survival. It is my primary carry."
If you're interested in Snyder's SXB, you can order it through the TOPS Knives site here: TOPS SXB