This Friday, October 21, 2016 Smoky Mountain Knife Works is kicking off its annual Vendor Rep Weekend event with Flash Sales and Giveaways all day long (8am-6pm). Our source inside SMKW has leaked a few details about this online event that you will not want to miss.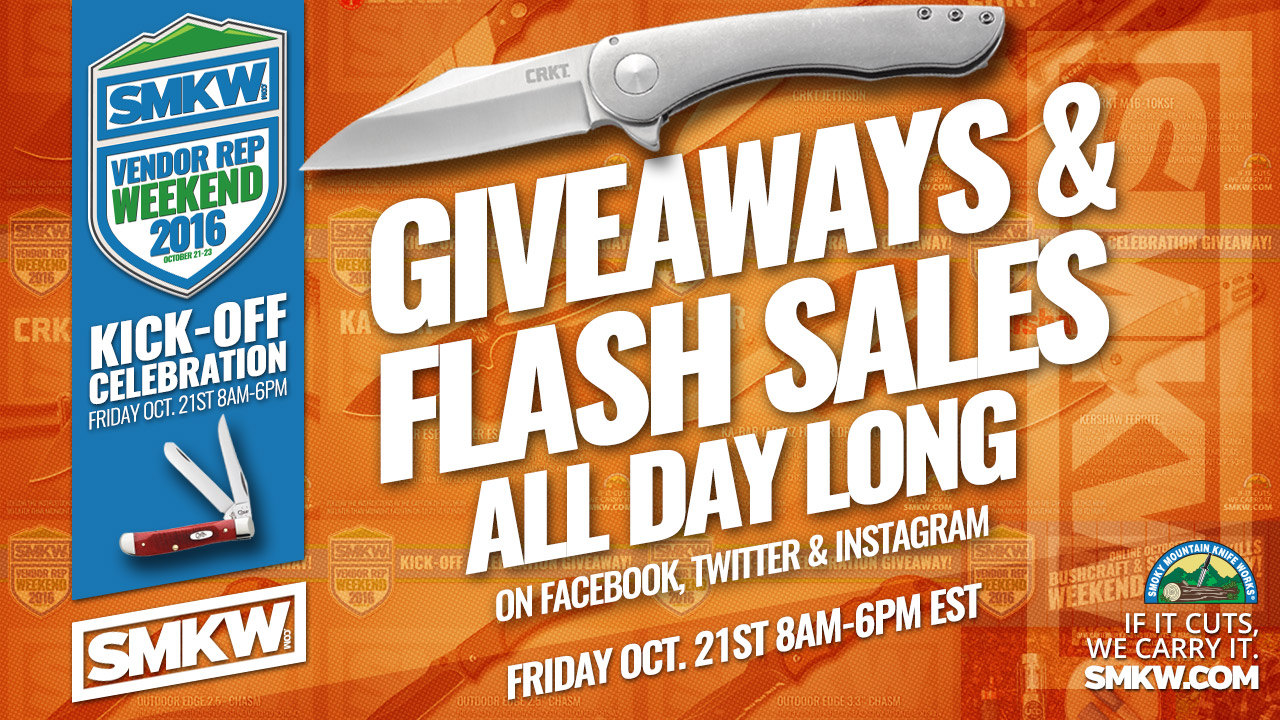 The event starts at 8am on Friday morning, and you'll need to follow Smoky Mountain Knife Works on one or all three of their social media pages: Facebook, Twitter, and/or Instagram. Here's the trick. If you follow and participate on all three, you triple your chances to win any giveaway they offer. Yes, you read that right. You can triple your chances.
There are a couple of all-day specials that will run from midnight to midnight (EST) on 10/21. SMWK is offering free shipping on any order of $50 or more all day long (some restrictions apply), as well as 10% off any Colt purchase, or 15% off any Colt purchase of $50-$99, or 20% off any Colt purchase of $100 or more.
One Hour Flash Sales (starting at 8am):
There will be a different Flash Sale every hour starting at 8am (EST), including sales from the following brands: Cold Steel, Condor, Ka-bar, Kershaw, Case, Boker, Buck, Victorinox Swiss Army, Remington, Brous Blades, and Outdoor Edge. Here is the teaser image of the Flash Sale items that will be offered throughout the day.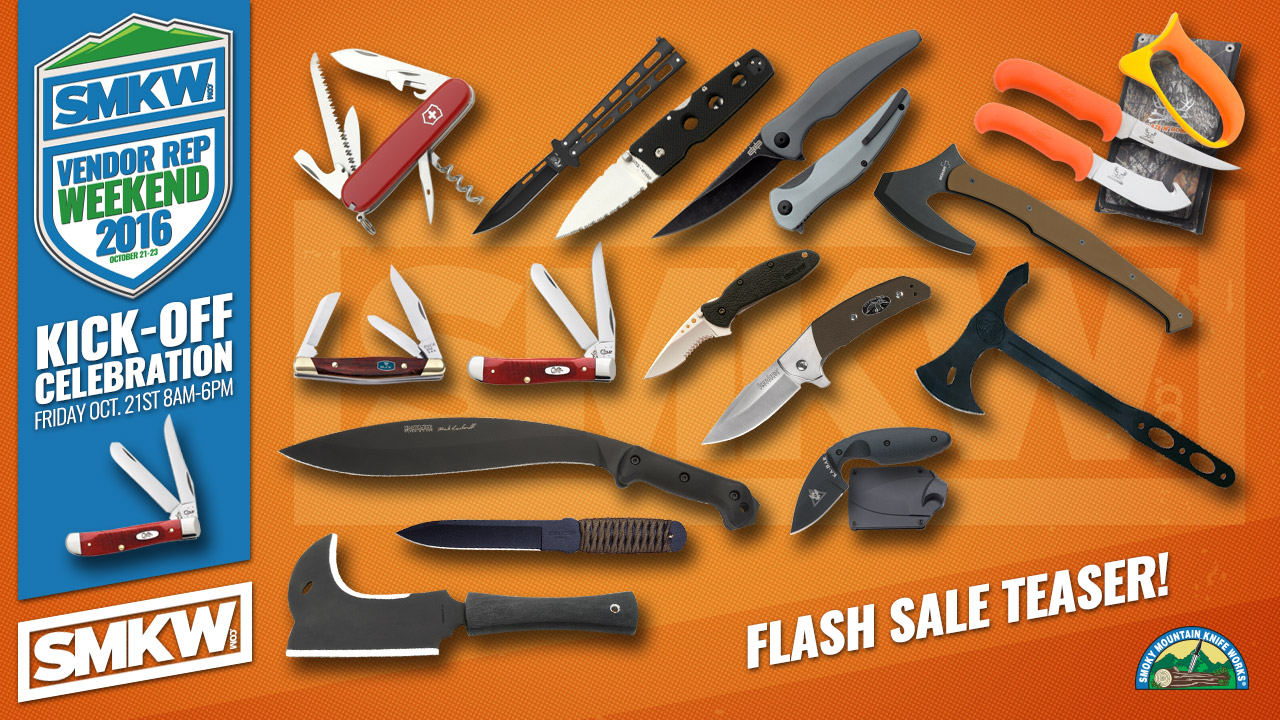 Giveaways (starting at 8:30am):
There are 15 giveaways from the following knife brands: Boker, CRKT, Ka-bar, Kershaw, Outdoor Edge, and Tops Knives. Have a look at the teaser image below. Our source says it's accurate, and we've taken the time to identify them for you.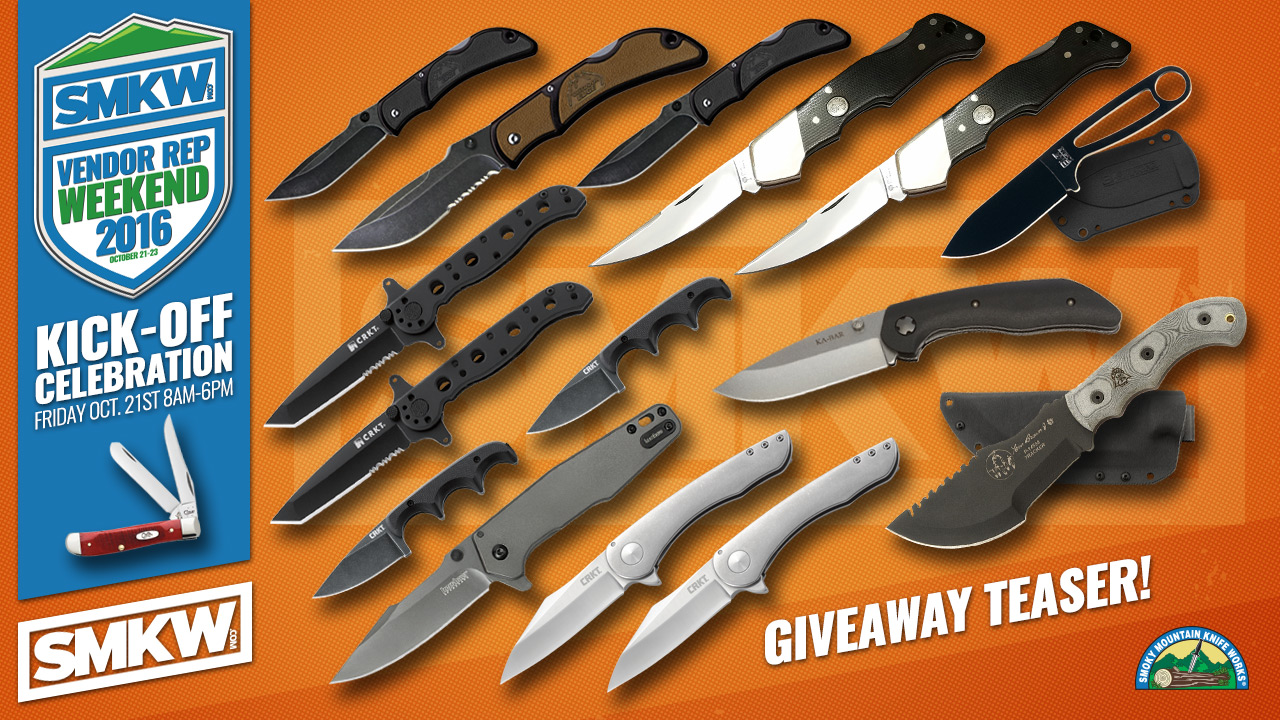 Giveaway items (shown above): 2 Boker Solingen Special Run Micarta 11202 knives, 2 CRKT Jetttisons, 2 CRKT M16-10KSF flippers, 2 CRKT Drop Point Minimalists, 1 Ka-bar ESEE Becker Eskabar, 1 Ka-bar Drop Point Jarosz folder, 1 Kershaw Ferrite, 2 Outdoor Edge 2.5″ Chasms, 1 Outdoor Edge 3.3″ Chasm, and a TOPS Knives Tom Brown Tracker with Green Canvas Micarta handles.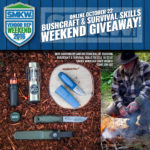 There's a separate giveaway that coincides with Bushcraft and Survival Skills Weekend going on, you'll need to find it on SMKW's social media pages, you can enter to win it up until midnight eastern on Saturday, 10/22.Click the image to see a bigger version. This giveaway prize includes two Mora Knives and two products from UCO, both are sponsors of the event at SMKW.
This online event will kick off SMKW's annual Vendor Rep Weekend Event. If you can get to that at their store in Sevierville, Tennessee this weekend, you should really go. They'll be reps from more than 50 brands in the stores with specials and door prize giveaways all day long every day.