Rough Rider doesn't often venture into the tactical side of the knife world, but when it does, it usually offers something different. We got our hands on the brand new Rough Rider Sidewinder Line Lock, and it is definitely different from anything we've seen in the tactical world. Here's what we thought about it.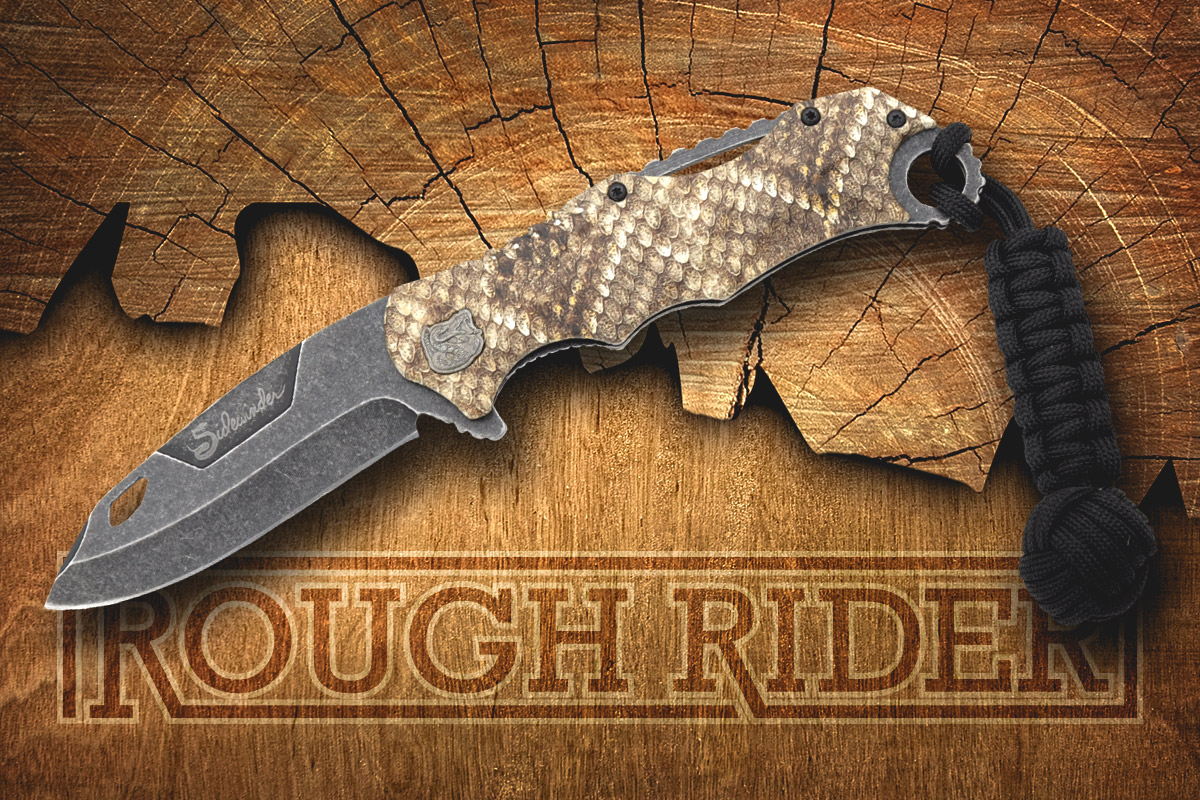 Besides being a sturdy tactical folding knife, the Sidewinder is truly stylish. It's unique drop point, stonewashed blade reminds of us a of a pit viper's head, complete with a drain hole that's almost "eye" shaped towards the tip of the blade. The 3.5″ blade is a good thickness for a tactical knife, and since it's made of 440A stainless steel, it will hold an edge well.
There are two lanyard "holes" on this knife. The main, of course, is located in the rear of the handle and has a good-sized opening for the ample amount of black braided paracord that we assume is supposed to mimic a rattler's rattle. We didn't unravel it, but we're guessing there has to be at least two feet of heavy-duty paracord there. The secondary lanyard hole is in exposed part of the pine of the knife. It's small opening and gear-like file work really adds to the overall look of this knife.

The composite handle material looks like rattlesnake hide and has a good texture for easy grip. It sports a metal sidewinder shield, that matches the stonewashed look of the blade and lanyard holes.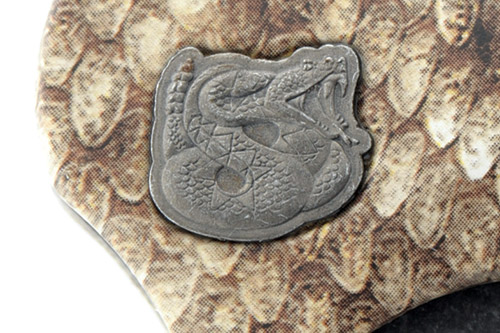 The Sidewinder performed well as a one-hand opener. The blade flipper and thumb hole (drain) did most of the work for us. A flick of the wrist did the rest. The liner lock snapped into place easily and held the blade nice and steady. Releasing it was just as easy, and there was no evidence that this blade might slip.
Overall, we liked the Rough Rider Sidewinder Line Lock. Here's how it breaks down, and if you want one, click the button below. We'd recommend it.

Steel -

6/10

Handle Material -

6/10

Blade Finish -

8/10

One-hand Opening -

8/10

Look & Feel -

9/10

Goodies -

9/10