TOPS Knives tells us that a "new Dawn is here" – a new Apache Dawn that is. The original Apache Dawn was released very early in the history of the company, and now TOPS has finally released a new Rockies Edition of the classic Apache Dawn.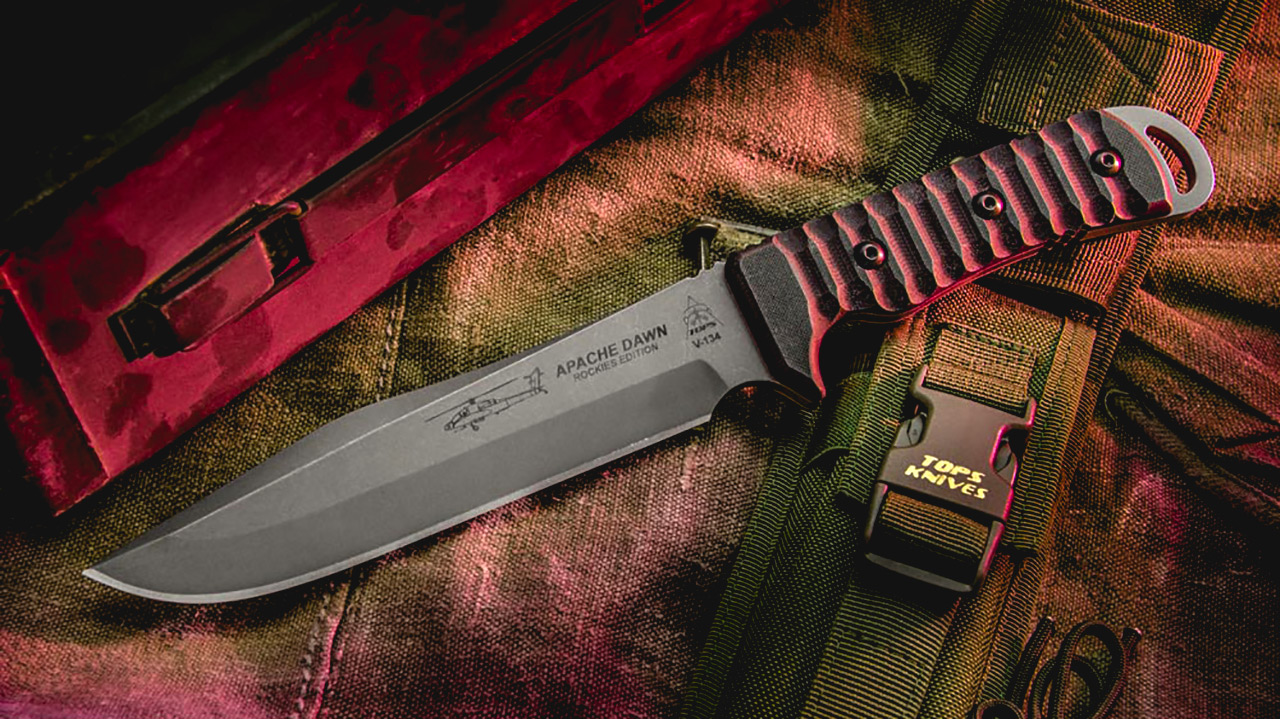 TOPS tells us, "at just under one pound, this knife has the heft, speed, and length needed to be an excellent all around combat/field knife. With the harpoon-style tip and the thin swedge, the spine pushes the blade down as it enters its target, making a wider cut and providing good penetration."
"The black G10 handles with Rocky Mountain Tread and pronounced finger guard give a solid grip, especially when it's most crucial. As a field knife, the Apache Dawn RE excels. It has a finger choil for controlled cutting, a nice belly to the tip, and a long blade capable of performing a variety of cutting tasks," TOPS says.
The Details
Overall Length: 11.88"
Blade Length: 6.75"
Cutting Edge: 6.13"
Blade Thickness: 1/4″
Blade Steel: 1095 RC 56-58
Blade Finish: Tumble Finish
Handle Material: Black G10
Handle Style: Rocky Mountain Tread
Knife Weight: 15.5oz
Weight w/ Sheath: 21oz
Sheath Material: Olive Drab Ballistic Nylon
Sheath Clip: Molle Backing
Designer: TOPS Team
MSRP: $220
SMKW Price: $139.99
Click on any of the thumbnails below to launch a slide show of larger images.
The TOPS Knives Apache Dawn RE is available at Smoky Mountain Knife Works (smkw.com) for only $139.99. You can get it by clicking the button below.