Marble's is a nostalgic brand that reminds us of times past. Their style is a hallmark in the cutlery industry, and that style lives on today with this Hunter Survival Set. It combines modern day functionality and quality with some of the best Marble's product designs from the early 1900's. The Marbles Hunter Survival Set includes a skinning knife, match safe, and compass. It gives you a little taste of everything that Marble's buyers always loved.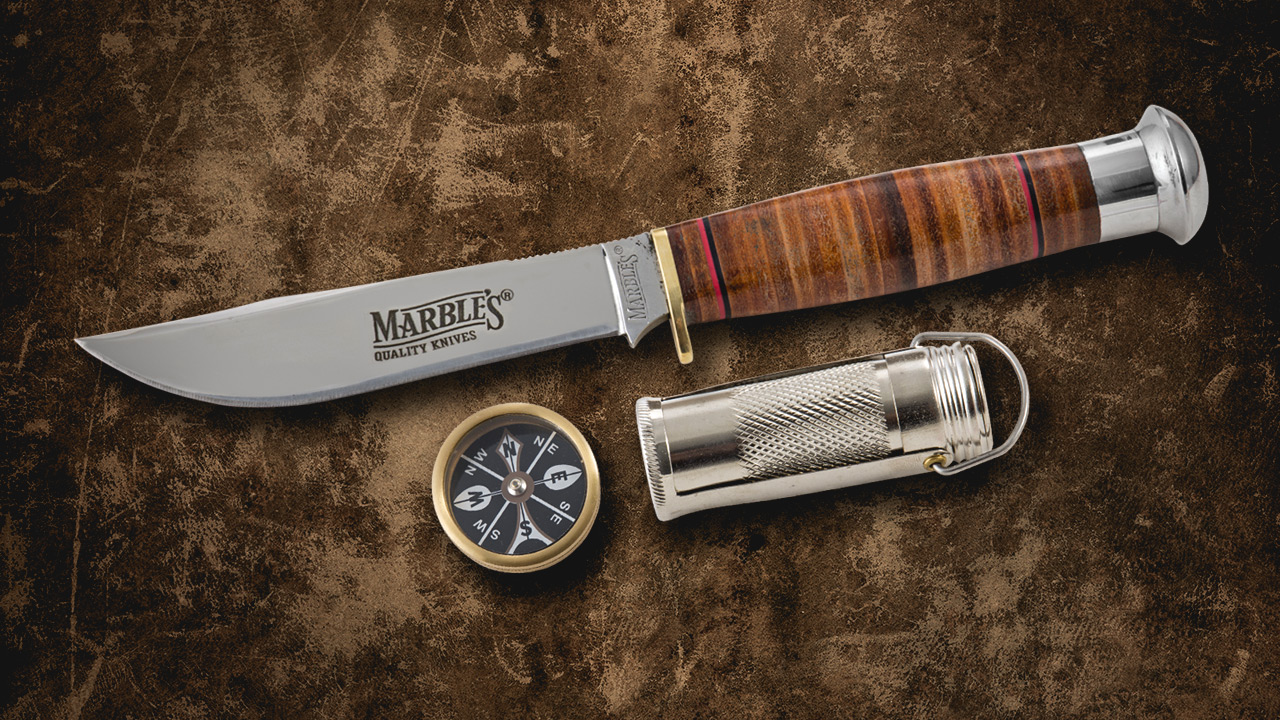 The Skinning Knife looks as if it's right out of a 1920's Marble's catalog. The blade is 440A stainless steel and connects to a traditional brass guard. Marble's chose to craft the handle out of stacked leather, which was an industry standard at the time. This provides us with a comfortable grip that only gets more attractive with use. The pommel (one of the modern features of this classic) is aluminum, which reduces weight and provides a sturdy foundation for the rest of the knife. The skinning knife comes in a leather sheath embossed with a nature scene reminiscent of the hand-tooled art that knife sheaths once were.
The Marble's Match Safe is simple yet effective at keeping your matches dry, even in the worst conditions. Its stainless steel construction and lanyard ring make it easy to carry anywhere in the great outdoors.
The brass compass has been a wondering man's companion for hundreds of years. With this functional, 1.75″-faced Marble's compass, you can relive the feeling of finding your way, whether its across oceans, mountain ranges, or your own backyard.
Click on any thumbnail below to launch a slide show of larger images.
The Details
440A skinning knife
3 7/8 clip point blade
Leather handle
Leather sheath
1 3/4″ Face Brass Compass
Stainless steel match safe
The Marbles Hunter Survival Set is available for $24.99 from Smoky Mountain Knife Works (smkw.com). Simply click the button below to find it.