The Spyderco Fish Hunter might just be one of the most aggressive dive knives on the market. Spyderco took special care to create a product that anyone involved with fishing would love, not just those in the water, but on land too.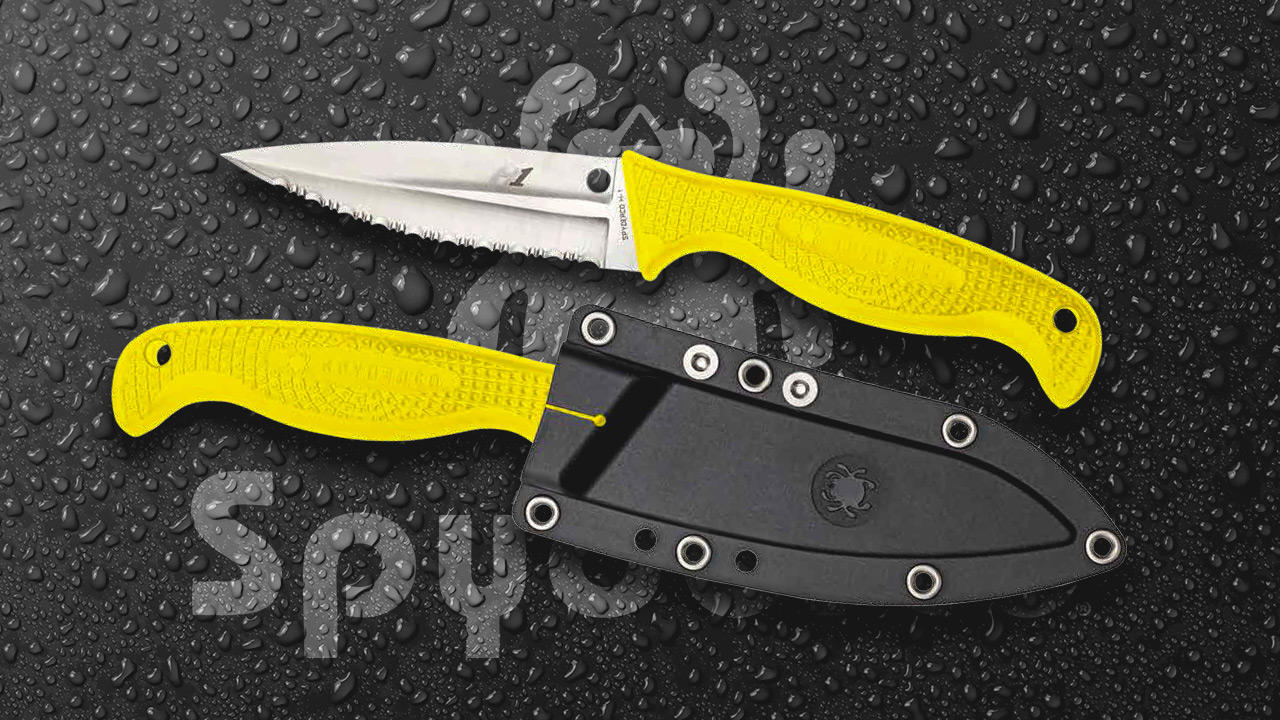 The Fish Hunter's 4 3/8" blade is made of H-1 steel. H-1 is a Spyderco exclusive steel and is only available in their Salt Series knives. It's a use-hardened steel with incredible anti-corrosion properties, and perfect for free divers or anyone who needs to dispatch a fish quickly before lunch time.
The blade is a symmetrical hollow ground design with one half serrated and the other plain edged. This makes the Fish Hunter versatile enough to complete any task like cutting rope, fishing line, descaling fish, or cutting an itchy tag off your new swimsuit.
The handle is bright yellow FRN (fiberglass-reinforced nylon), and it's molded with high-traction bi-directional texturing so that even under water your knife doesn't leave your hand. The handle houses the Fish Hunter's full tang and the bright yellow FRN really stands out against an underwater backdrop. That's important so you can easily find it if it gets away from you.
The Fish Hunter comes with an injection-molded polymer sheath that keeps the total carry weight low, but also provides a sturdy home for the knife on a boat or even underwater. The sheath comes with a G-Clip attachment and features metal lined eyelets so the knife can be mounted to any gear.
Click on either thumbnail below to launch a slideshow of larger images.
The Details
H-1 steel
FRN handles
Polymer sheath
4 3/8" blade length
8 15/16″ overall length
The Spyderco Fish Hunter is a capable tool that's you can trust to preform even in the most adverse conditions. You can dive with it, catch dinner, prepare dinner, and enjoy with just one tool. The Fish Hunter is available for $104.99 at Smoky Mountain Knife Works (smkw.com). Simply click the button below to find it.