Hogue makes some great grips, but they also make some incredible knives too. Hogue is one of those companies that is known so well for a type of product that we tend to overlook the other great products they make (Victorinox makes kitchen knives?). The EX-04 is one knife that is sure to open your eyes to more of the "other side" of Hogue.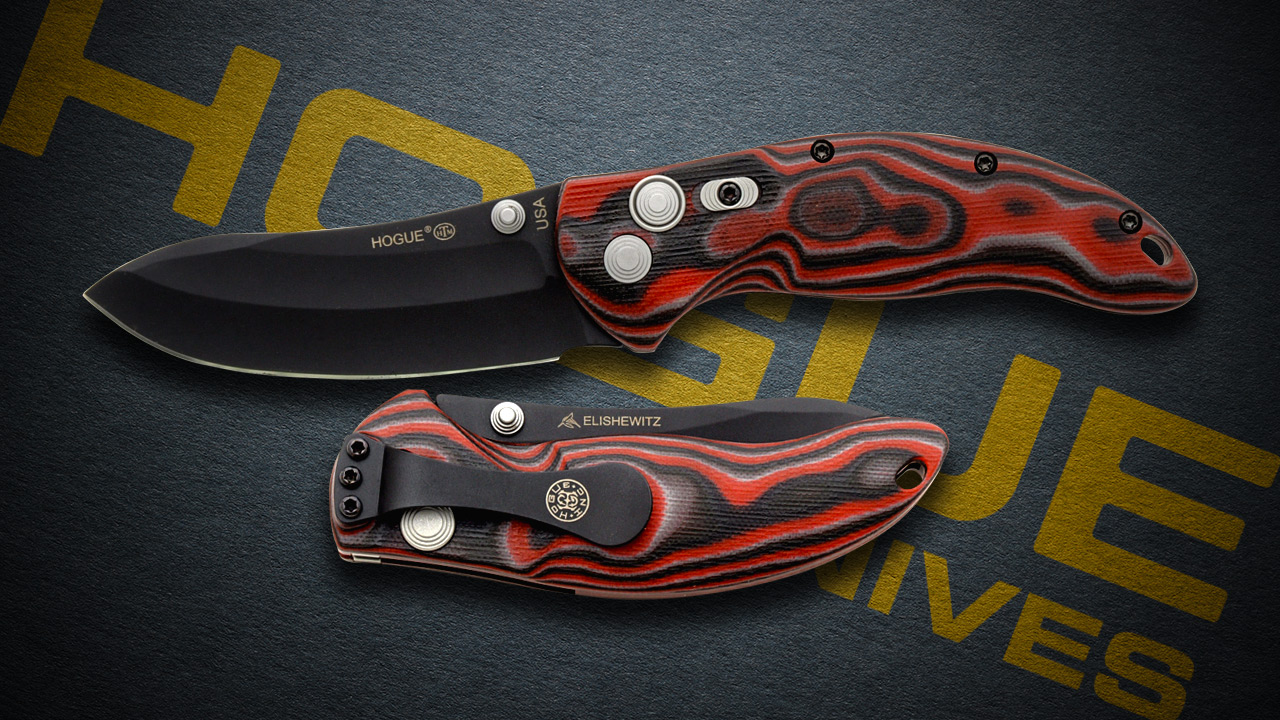 There are a lot of unique features about the EX-04 that allow Hogue to compete with companies like Benchmade and Zero Tolerance. Companies in the upper echelon of knives use high-grade steel and Hogue is right at home using 154CM. Hogue's designer of choice, Allen Elishewitz did an excellent job designing the unique upswept, modified clip point blade. It provides a larger cutting edge and superior blade strength.
Hogue is primarily a gun grip company, so the EX-04 comes with great looking handles. Hogue chose to make the handle out of G-10 in a G-mascus pattern. Just like Damascus steel, the handles have multiple layers of colored G-10 that provide depth and maintain great grip properties. The handles are available in a few assorted colors to match your style, including black/grey, blue lava, and red lava.
Hogue also found individuality with their unique locking mechanism. The knife appears to be an automatic from a distance, sporting a large button lock and individual safety switch, but it's actually a manual knife. The button locks the blade open and the safety switch assures you that it won't come open in your pocket or at unexpected times. These safety features aren't found in many brands, but since knives are becoming so easy to open, it's not a bad idea.
The Details
154CM blade
G-10 handles
3 1/2" blade
4 5/8" closed
Made in the USA
Hogue does make some amazing gun grips, but they also deserve credit for the knives they manufacture. If you're looking for something unique that can win you bets against Benchmade and Zero Tolerance knives, then look no further than the EX-04. You can find one of these knives and many like it at Smoky Mountain Knife Works (smkw.com). The EX-04 is going for $195.99 right now, a promotion by SMKW will get you a free Hogue mat as well. Simply click the button below to check these awesome knives out.