Coast produces some of the highest quality flashlights on the market today. Coast engineered the new Rapid Response series to continue their tradition of quality products. The Coast RX312, designed by Ron Lake, is the flagship of Coast's new lineup. Just in case you're not familiar with Ron, he holds the patent for the low friction folding knife, was inducted into the Cutlery Hall of Fame in 1998, and is one of the few knife makers to have a knife on display at the Smithsonian. With a resume like that, you know the RX312 must be impressive.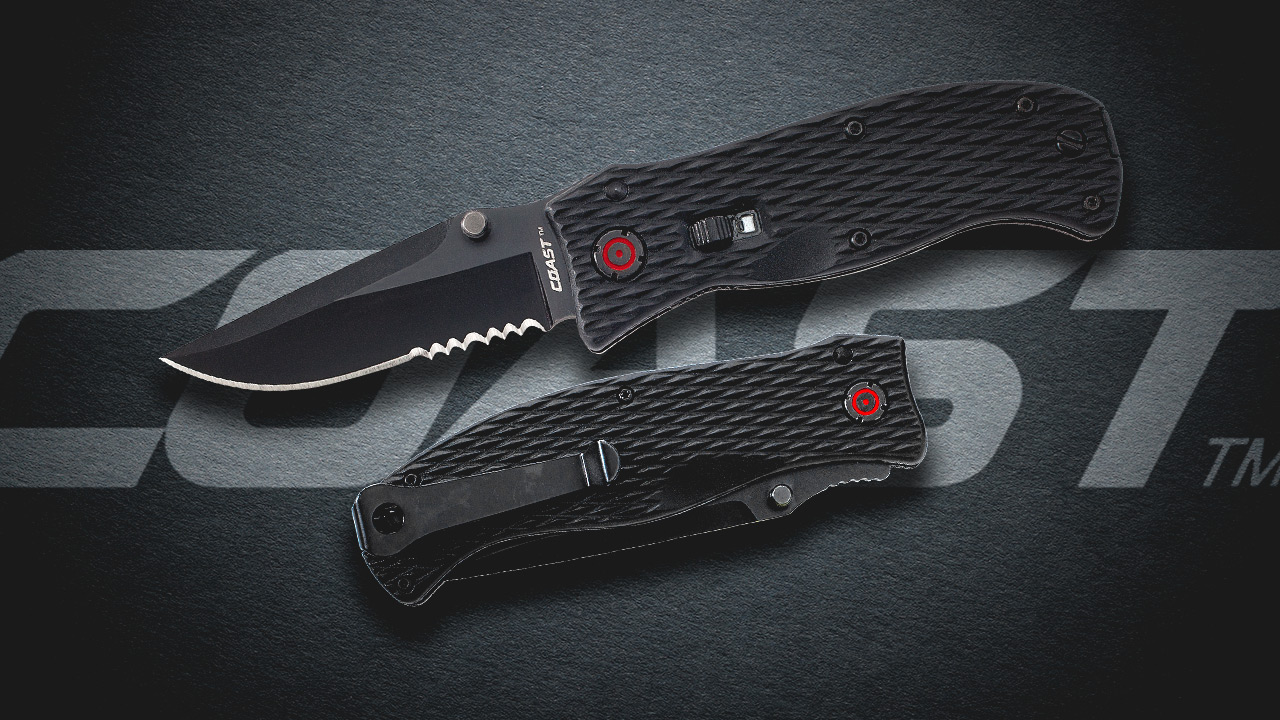 The first thing that stands out to me on the Coast RX312 is the silky smooth assisted opening S.A.T (Smooth Assist Technology). With the slightest pressure on the thumb stud, the blade flies open and locks into place with a satisfying "snap." The assist mechanism's sensitivity impressed me a lot. I opened it a lot, and fortunately, Coast included a safety switch on the knife to prevent accidental openings, which saved my fingers a lot.
The Coast RX312 is engineered for versatility that can go anywhere. Coast makes the blade out of 5Cr15MoV stainless steel. It's easily sharpened in the field and holds an edge well after a day of abuse. The drop point has a serrated section for more cutting power when needed. The black coating on the blade protects it from the elements and eliminates glare from the steel.
The fiberglass filled nylon handles are resistant to hard use and abuse. The RX312 measures 4″ when in the closed position. The handles shape feels great in the hand and hides the liner lock mechanism well. I constantly feel in control of my cuts when I use the knife for a task requiring finesse.
The Coast RX312 Details
5Cr15MoV Stainless steel
S.A.T (Smooth Assist Technology) assisted opening mechanism
Fiberglass filled nylon handle
Liner lock design
3 1/16″ blade length
4″ closed length
Overall, Coast did a fantastic job making the Coast Rx312 and the Rapid Response series as a whole. Between the quality 5Cr15Mov steel and the S.A.T opening system, you would think this knife would retail for a pretty penny. We found this knife for just $32.99 at Smoky Mountain Knife Works (smkw.com). Simply click the link below to check it out on their website. Trust me. Make friends with that safety switch. You'll thank me later.