Sometimes you just need a tool that's fearsome looking, and the Combat Ready Tactical Pick fits the bill. This pick might look like it's just for show, but it's actually very practical. It has an impressive build quality, and the folding design makes it incredibly multipurpose. For $29.99, it's something you should strongly consider picking up.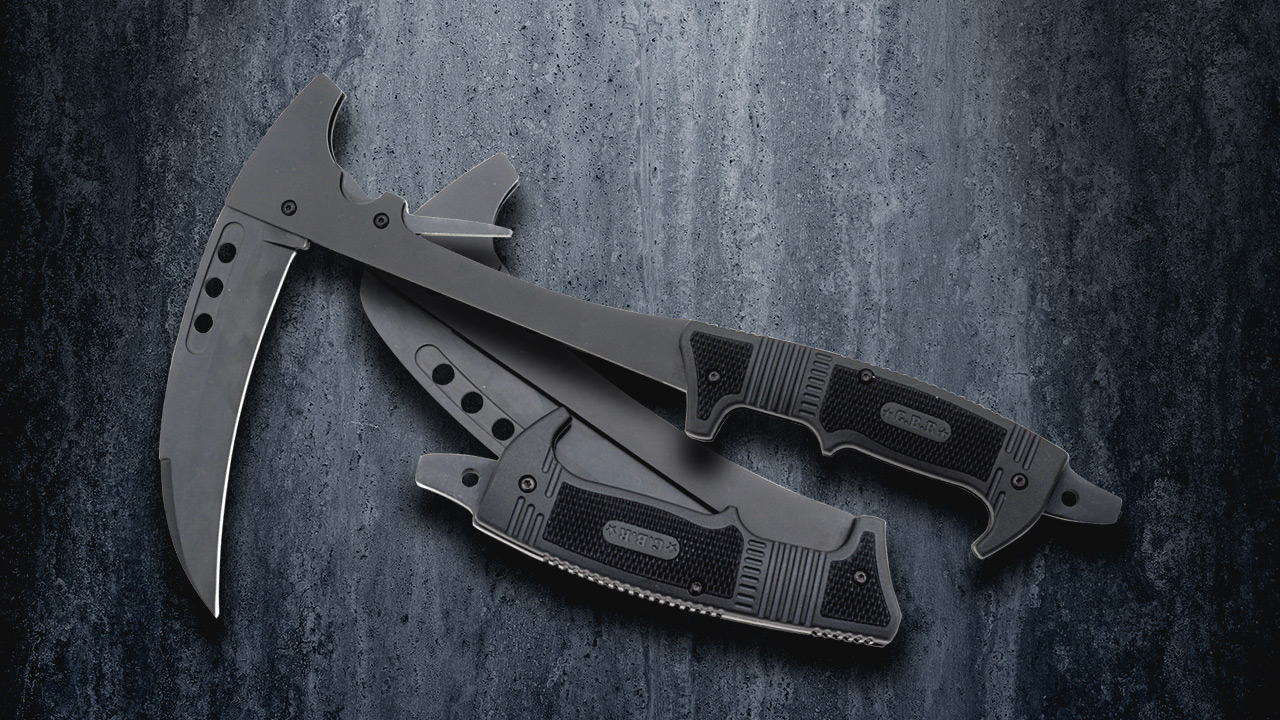 The impressive thing about the Combat Ready Tactical Pick is the folding mechanism. The pick measures about 8.75″ x 5.25″ closed and a whopping 14.25″ x 8″ when fully opened. That contrast is something not often seen in the knife world.  This Combat Ready Tactical Pick has machete power in a multi-tool sized package.
Opening this behemoth is a very simple flick of the wrist. The momentum of the movement will throw the pick open and lock itself in place. When you wish to close it, you press the lock to fold the pick, and then you press the lock on the handle to collapse the shaft. The whole process is very simple and well engineered to be used with one hand.
The blade of the pick is black-coated 440A stainless steel. It's a durable steel that holds an edge well and perfect for use in the elements. The pick also features a heavy duty impact-resistant black composite handle, which provides great grip and confidence in tough situations. The sheath also shares the durability theme with its solid nylon construction. It's also MOLLE compatible so carrying it or mounting it to your gear is a breeze.
Click on any image below to launch a slide show of larger images.
The Combat Ready Tactical Pick Details
440A stainless steel construction
Impact resistant composite handle
nylon MOLLE sheath
8.75″ x 5.25″ closed
14.25″ x 8″ open
The Combat Ready Tactical Pick is simply a beast. Its durable construction and blade design gives you the power of a machete, while its folding mechanism gives you the carrying capacity of a multi-tool. For the price of $29.99, you really can't go wrong with this tool. I found this pick at Smoky Mountain Knife Works (smkw.com). Simply click the link below to check it out.

---
See more Knife Newsroom articles about Tools and Multi-Tools now >>