I'm not one of these sword nuts running around with a full medieval arsenal hiding in my closet. However, I do enjoy a beautiful sword display. The MacLeod Medieval Dagger and Royal Medieval Dagger are a great price and easily make in impressive display piece. Since its graduation time, I figured I'd write this article to show you how to be the cool uncle that gets the best gift for your money (daggers).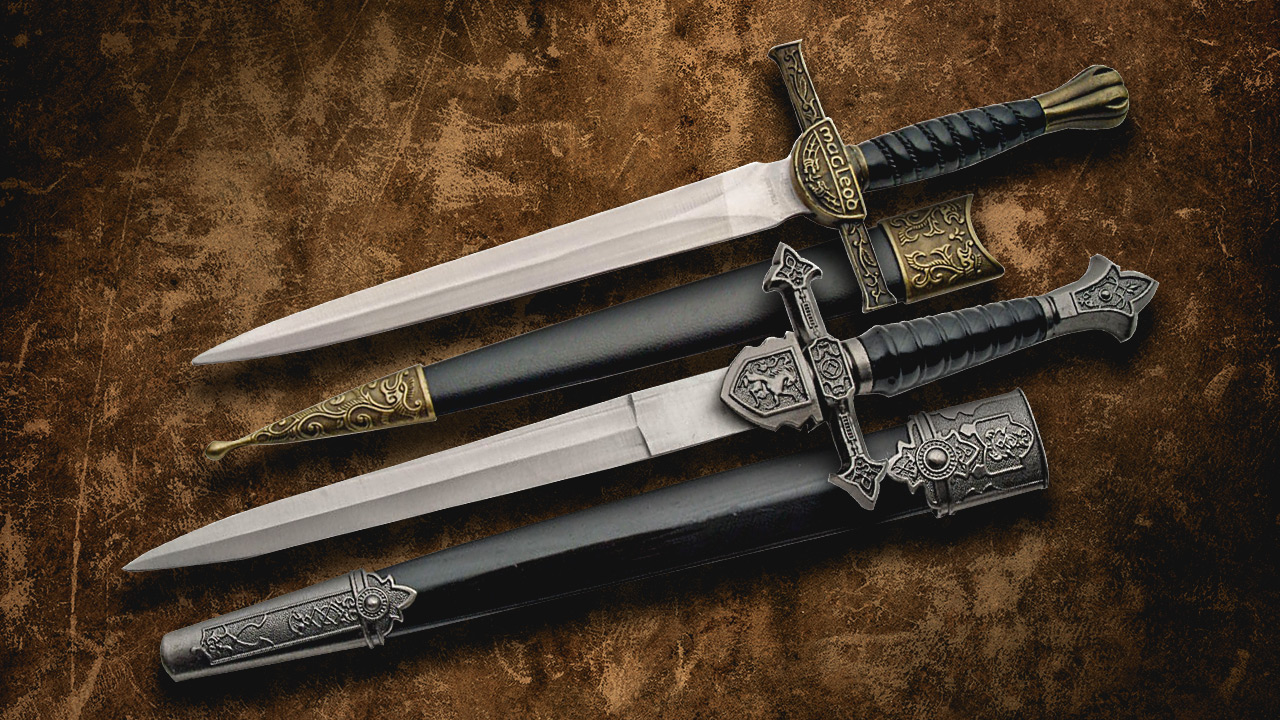 The MacLeod and Royal Daggers have a false edge (they're not sharpened) that makes them perfectly safe for display purposes (even with young ones running around). The blade is stainless steel and polished to a beautiful finish. You don't need to do any prep to get the blades to display quality.
The handles feature beautiful brass work that is stunning on a dagger at this price point. The guard, pommel, and scabbard include elegant engravings of laurels and other designs that are commonly found on daggers of this period. The handles are comfortable imitation black leather, which is a nice contrast to the polished blade.
The scabbard also features imitation black leather that matches the handle. The mouth of the scabbard has nice brass engravings and the base features a traditional teardrop style engraving. The scabbards are tastefully done and really compete the full package in regards to the daggers as artwork.
The Macleod and Royal Daggers Details
Stainless steel blade
False edges
Brass accents
Imitation leather handle and scabbard
Overall length 12″
Overall, the MacLeod and Royal Daggers are solid gifts and perfect display pieces for only $9.99 each. They are perfect for graduation gifts (Let's face it. These are way cooler than gift-cards or some headphones). You can find these two beauties at Smoky Mountain Knife Works (smkw.com). Simply click the links below to check them out.