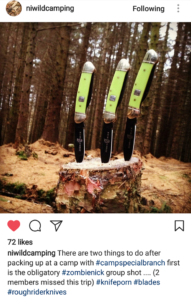 "It started off as a ridiculous drawing of a Zombie character," Rough Rider tells us, "…and the catch phrase: Friends don't let friends eat friends." They didn't think much of it at the time, but Zombie Nick has grown into a beloved character and a line of products that people just can't seem to get enough of. From knives to emergency whistles and even a paracord dog collar, the Zombie Nick product line continues to grow in number and popularity. "We honestly didn't think it would be such a hit," Rough Rider says, "…but people love Zombie Nick."
First, the Zombie Nick line includes four traditional pocketknives (Trapper, Canoe, Elephant Toenail, and the one-armed Razor), all with black-coated 440A stainless steel blades, neon green composite handles, and, of course, the Zombie Nick shield and blade etches. A quick search of Instagram turned up a great group shot of Zombie Nick canoes from a camping trip all the way in Northern Ireland (click the image to see a larger version).  Rough Rider has done a great job of maintaining their quality standards on what most think of as a novelty knife. In the end, the quality and workmanship of the is top-notch, especially for knives that cost less under $10.
Additionally, the Zombie Nick line includes some not-so-traditional knives. The Zombie Nick Night Hiker is an 8 1/2″, lighting quick, assisted-opening flipper. It features a blood-spattered Zombie Nick blade and reflective green anodized panels on the handle. The 7 1/2″ Zombie Nick Rabble Razor is a modern tactical fixed blade with a stonewashed finish, and the Zombie Nick Friends Razor is a traditional straight razor with full color embellishment of Zombie Nick on the blade and the "Friends don't let friends eat friends" catch phrase on the blade.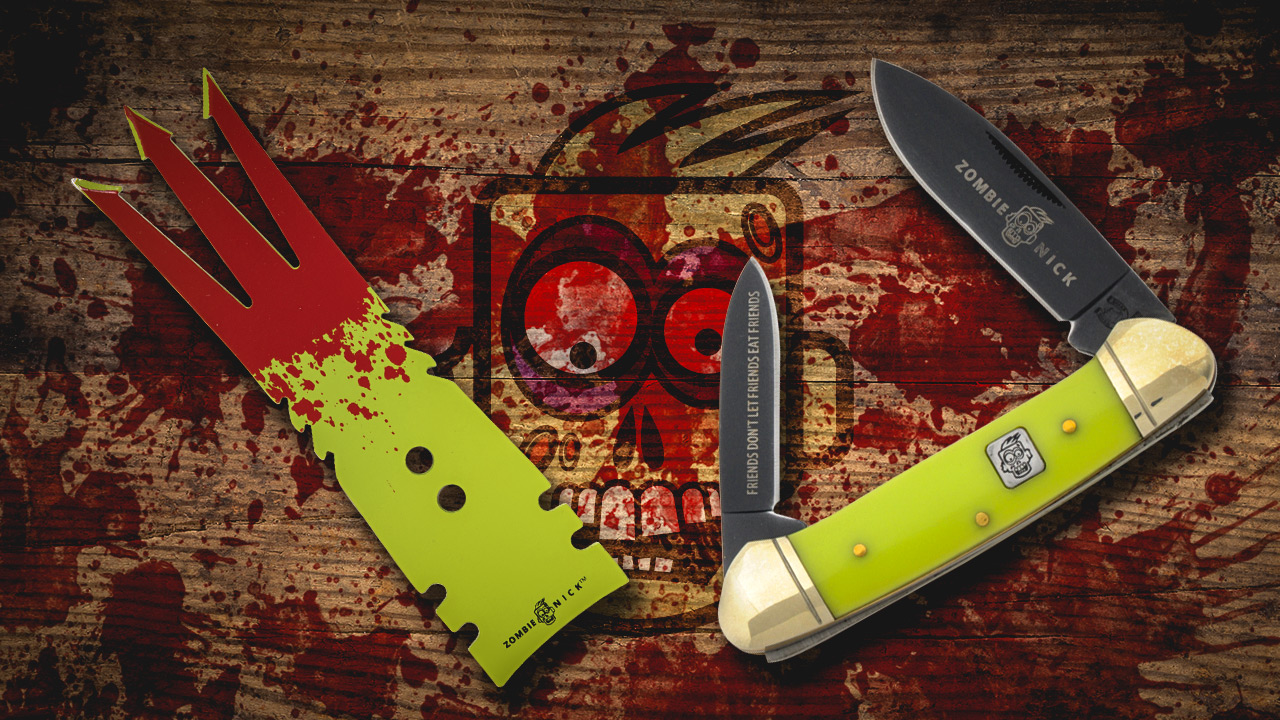 Zombie Nick Gallery

Click any image below to launch a slide show of larger images and descriptions.
Finally, the Zombie Nick Undead Heads are a brand new addition to the Zombie Nick line. Lash these three survival "arrowheads" to a stick in survival situations. The set sells for under $10 and includes two arrow/spear heads and one gig head, all three of which are Zombie Green with some great blood splatter tips.
"We think people will use them however they want. Whether that's defending themselves from the Zombie Apocalypse or just catching dinner on a camping trip," Rough Rider tells us.  The arrowheads are 3″ long and the gig head (trident shaped) is 6″ long – all made of 440A stainless steel.
All in all, we have a feeling that Zombie Nick is going to be around for a while. People seem to love him. If you want to see the whole line of Zombie Nick products, you can find them at the Smoky Mountain Knife Works web site, smkw.com or you can simply click the button below.

---
See more Knife Newsroom articles about Tools and Multi-Tools now >>