Case is always impressive with their handle engravings. This year we've seen some beautiful designs with embellished bone handles from the Star Spangled Series to their North American Wildlife series. Now, Case has created another fantastic engraved bone style that pays respect to those who served: The U.S. Veteran Trapper.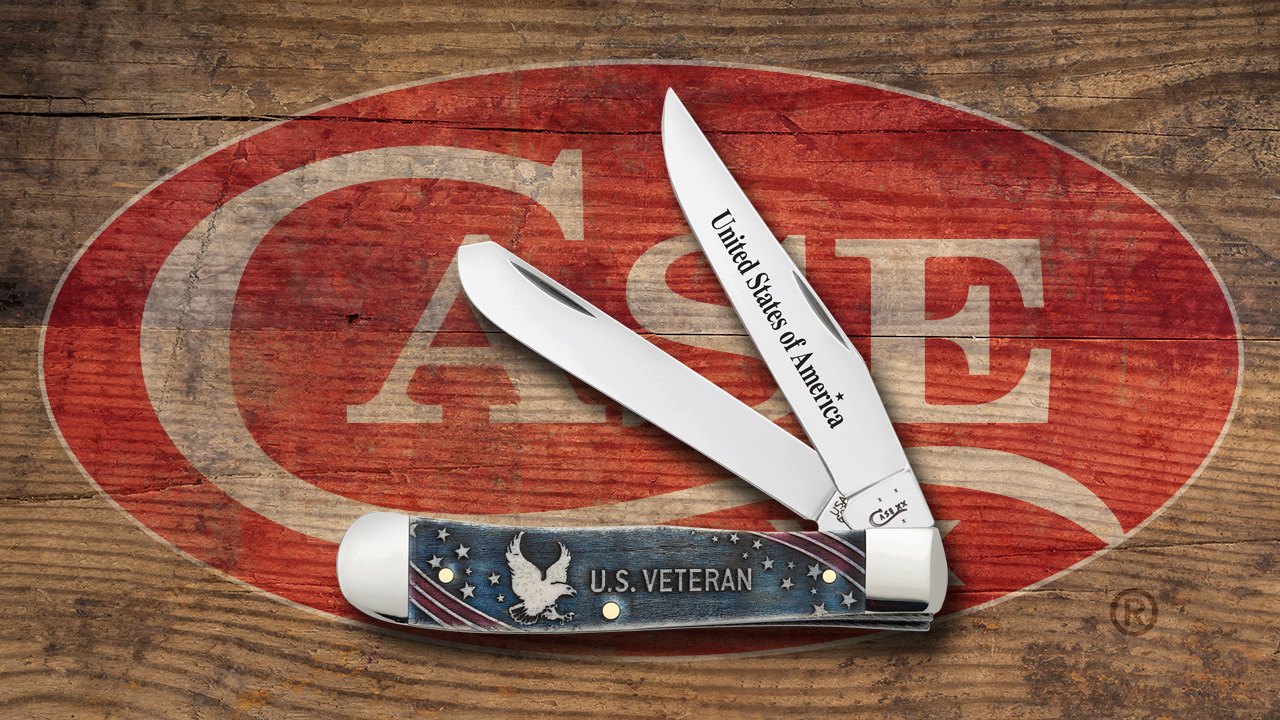 The U.S Veteran Trapper has an elaborately engraved bone handle. It features stars, stripes, an eagle, and the words "U.S Veteran". Case also dyed the bone and left some natural as to display patriotic red, white, and blue coloring. The bone is surrounded by nickel silver bolsters polished to a mirror finish. The unique handle would make any collector proud to own since it's something we so rarely see from Case.
The Trapper pattern features a 3 1/8″ Spey and Clip point blade. The Clip point features a "United States of America" embellishment. This knife uses Case's Tru-Sharp stainless steel which is polished to a mirror finish. Tru-Sharp steel wont tarnish or corrode, so it's perfect for an open display where it can easily be shown off and admired for years. If using your Case is your thing, Tru-Sharp is actually a solid steel that holds an edge well and isn't too hard to sharpen.
This knife wouldn't be compete without a presentation box, so that's what Case added. The U.S Veteran Trapper comes with a gift box. Inside the lid there is an image of the U.S flag and the text "Thank You For Your Service!" It makes a great display and provides an extra "thank you" for the veteran in your life.
The U.S. Veteran Trapper Details
Tru-Sharp Stainless steel blades
Genuine bone handle
Elaborate Engraving on the handle
Nickel Silver accents
Decorative gift box included
Respecting our troops is one of the most important things we can do as an American. This Case U.S. Veteran Trapper is a beautiful way to celebrate and thank them for their service. The 4th of July is coming up, and even I am considering it as a gift for my father. You can find this knife for $99.99 at Smoky Mountain Knife Works (smkw.com). Simply click the link below to check it out.