This past weekend, I had the privilege of attending the Blade Show down in the heart of Georgia. If you're not familiar with the Blade Show, it's the largest knife show in the world, and it's a place where you can really put a face to the designers and owners of the companies we have come to know and love. When I first walked into the show, the sheer volume of vendors overwhelmed me. I stood just inside the entrance trying to figure out where to start, when I noticed a sales rep in a blue SMKW T-shirt. It turns out that my favorite knife retailer not only had a booth at the event, they were the presenting sponsors.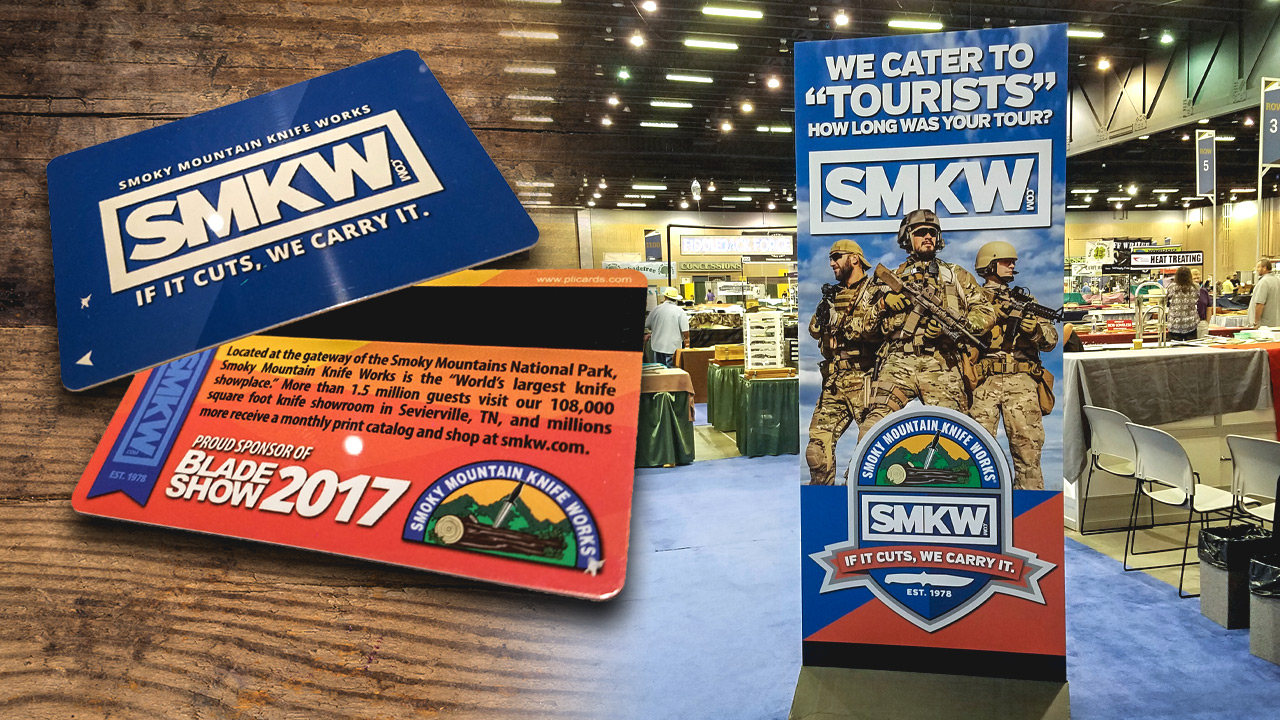 As the presenting sponosor of Blade Show, Smoky Mountain Knife Works (SMKW) had a huge booth, and their giveaways and promotions were solid. I was lucky enough to catch up with Andy, SMKW's Director of Online Media and Marketing and get the inside scoop as to what SMKW did for this year's event and a teaser of what's to come at Blade Show 2018.
Let's just say SMKW was busy. They brought multiple glass cases filled to the brim with tons of different knives and brands. They also had their antique knife department on display, where customers can buy vintage knives and sell some vintage of their own. The constant crowd that surrounded the SMKW counter was at three deep for the entire show.
A Personal Tour of the Event
For those of you who have never come across Andy at a show or event, he's a pleasure to talk to. I asked him about SMKW's role as presenting sponsor this year, and he took me on a brief walk to talk about the event, their presence at the show, and their new branding.
"One of our major goals this year was to help people remember that we have a very strong web presence that's easy to remember. We have a four-letter url. Not many people do. It makes it easy to remember and easy to use. That's why you'll see some major effort put into branding Smoky Mountain Knife Works with the SMKW label. That's why it's all over the show this year," Andy said.
He wasn't lying.
Let me paint the picture for you. When you walk into the event the check-in, the counter has a Blade Show/SMKW banner on it. There are SMKW signs on the floor. Signs in the walkways. Signs EVERYWHERE – even the Waverly's key cards were branded. While it definitely wasn't overwhelming, you could definitely feel an SMKW presence at the show.
It was done tastefully with a very diverse group of different branding and ads. In particular, I loved the "Yes, we were your Grandpa's knife store, because your Grandpa was a Bad A**" sign (shown left).
Andy walked me by one of their booths outside the event that featured a replica of the Game of Thrones throne. Anyone could walk up and get their picture taken in the chair while holding a replica of the popular swords used in the series. I seriously had a "nerd out" moment, and I think I wasn't the only one judging by the line to the throne.
Giveaways and Promotions
Andy gave me one of their cool SMKW "swag bags ." SMKW gave out about 5,000 at the show. It contained an SMKW microfiber cloth, a flight tag, a sticker, and a Can Koozie. It was a very generous gift bag in a sea of booths with only a free sticker to handout.
SMKW also ran back to back giveaways at their booth. They gave away an OTF Automatic Hogue Knife, an ESEE, and a few other knives using a raffle system.
SMKW gave away some high-quality t-shirts. They featured a very modern SMKW logo on the front and the Hogue 50th anniversary logo on the back. "We've been in the business of selling knives for nearly 40 years," Andy told me. "Blade Show is a great way to remind knife lovers that we're here for them at our 108,000 square foot showroom in Sevierville, and probably more importantly – 24 hours a day on smkw.com – our online store."
SMKW literally handed out a little more than 500 shirts over the three day event. As Andy and I walked around, he was also handing out prizes to people wearing their shirt at the event. SMKW gave away SOG Spirit Daggers, Marble's GI knives, Smith and Wesson knives, and a ton of $5 gift cards. It really made people smile when they got such cool prizes just for wearing a shirt.
Big News about SMKW and Blade Show 2018
After the tour, I wanted the inside scoop on what to expect with SMKW next. I fully expected him to ramble on about their Case Event this coming weekend, but to my surprise, he let me in on a little secret. SMKW will be the presenting sponsor again next year in 2018. They will be back with cooler giveaways and prizes, and much more of them! Judging by their conduct and impact on the show this year, I'm already excited for next year.
Overall, SMKW was a real treat to catch up with at Blade Show. It was super cool to see something familiar while at my first big event ever. Over the course of this week, I'll highlight some of the best parts of the show from various vendors. As always you can check out SMKW.com for deals, but be sure to keep an eye on their new items section for the latest knives available. I'm sure after a weekend like that, they will be adding quite a bit of knives (if they haven't already). You can check that section out by clicking here: https://www.smkw.com/new-arrivals