Oh, Tops, Tops, Tops, what have you created? The answer: probably one of the most bada** short Machetes of all time. The new Tops El Chete offers some serious cutting power in a smaller than normal package (17.5″ is nothing for a machete). The El Chete has the right steel, design, and price to be an incredible deal (no matter how you want to judge it).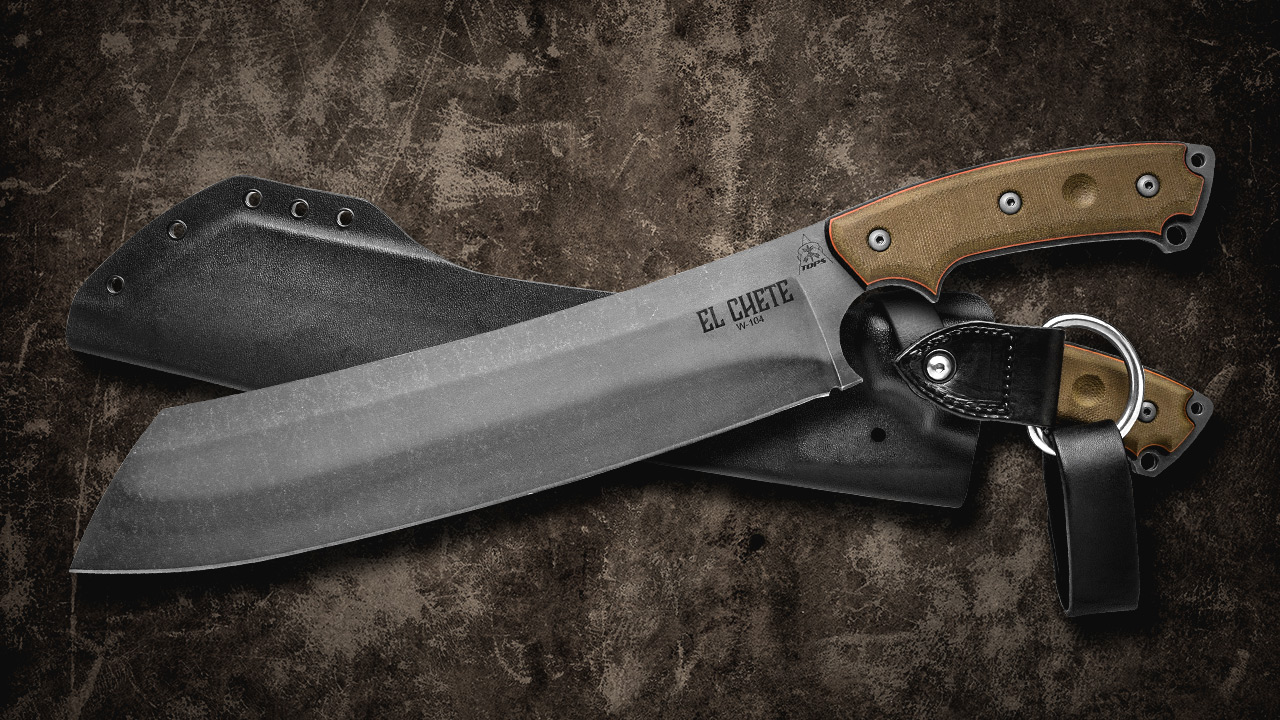 The El Chete has a unique blade design that gives it a solid advantage when chopping. It bows out in the belly and features a thick spine so it can baton and process wood on the go. Tops makes it out of their durable 1095 carbon steel, so it can hold up to massive amounts of abuse. I wouldn't try and cut down a tree with it, but i would blaze a trail through thick brush all day. And, if the blade wasn't aggressive enough already, Tops also decided to give the blade an "acid rain" finish. The cool thing about that finish is that it makes each blade somewhat unique. The etch process itself means that no two El Chete's are identical.
Everyone in bushcrafting knows that the handle is just as important as the blade. Tops engineered this machete with micarta handles. The micarta provides a few definitive advantages over other popular materials used in bushcrafting blades. They look better the more they wear, moisture doesn't effect grip, and they don't crack or fracture –  all key benefits in the wilderness. Tops knew exactly what they were doing when they planned this handle. The design is perfect from its ergonomic finger guard to its reinforced triple rivet design.
Tops also added a very durable sheath to the equation when they released the El Chete. It comes with a kydex molded sheath that secures the blade firmly to your person. The sheath comes with a belt loop (and included leather dangle attachment), but if metal belt clips are more your thing, they offer that too. You might be thinking "Logan, sheaths aren't that big of a deal," and you would be horribly wrong in this case. The El Chete weighs in at just over 2lbs, so if you want to carry it through the bush, you're going to need a nice sheath.
The Tops El Chete Details
1095 Carbon blade
Custom Acid Rain finish
Micarta handle
Kydex sheath (with metal clip option available)
17 1/2″ overall length
2.12 lbs
The Tops El Chete is a beast. That's it – no argument. Turn the lights off and go home. If you need something that's going to be reliable when the going gets tough, the El Chete is worth betting on. It has an MSRP of $300, but I found it at Smoky Mountain Knife Works – smkw.com for $199.99. Considering the price of great machetes, I'd say that's a pretty solid deal! You can find it by clicking the button below.