The Boker Plus Dark Hallow has an uncommon shape that gives it a cutting advantage. This knife is made to put the power of a machete into a pocket-sized package. The Dark Hallow is power in hand.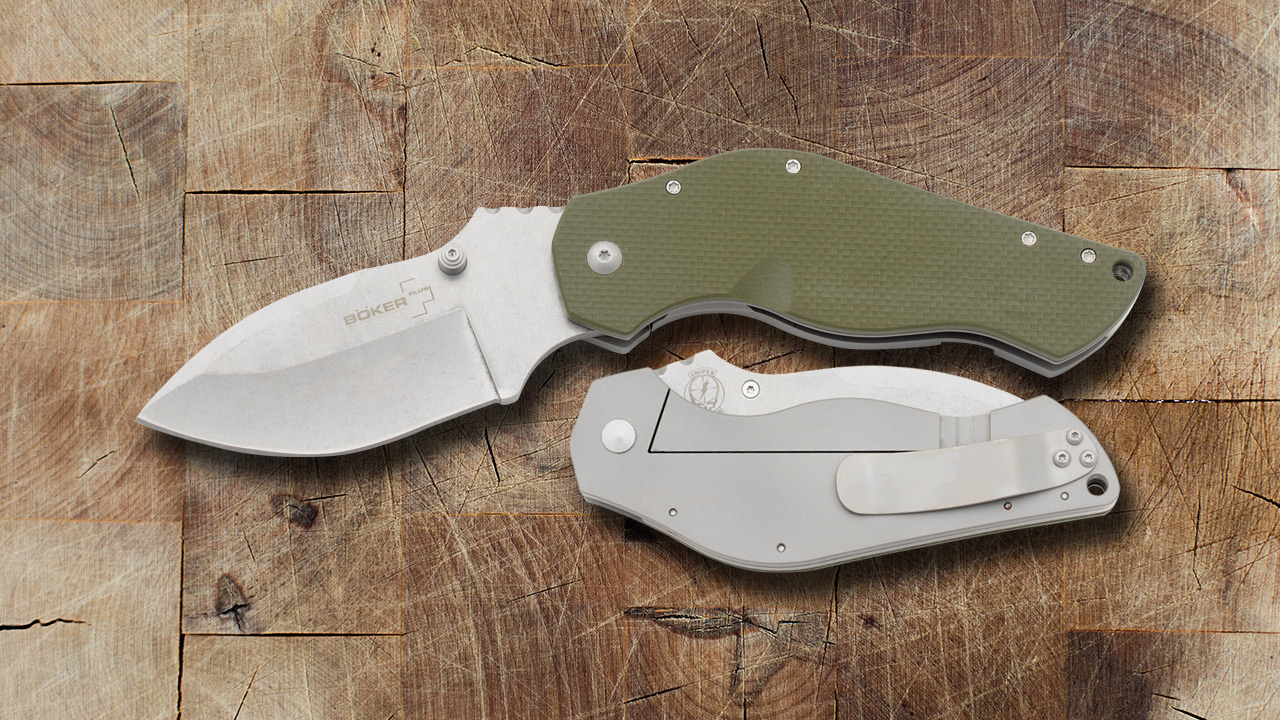 Designer Lance Abernathy says the Dark Hallow framelock  is "a blade born in the field." The Dark Hallow's shape is designed to give your hand more leverage when cutting. This allows you to apply more cutting pressure when trying to get through a tough material like plastic or wood. The handle is very ergonomic and includes a barrage of finger guards that prevent the blade from slipping. The other benefit of this robust design is that you can really choke up on the blade to assist with finesse cutting too.
"The extraordinary design might look strange at first glance, but as soon as you put it in your hand, every single notch and radius immediately makes sense, providing the hand with extremely well thought ergonomics in every grip position," Boker says.
The handle material of the Dark Hallow is G-10 on the front and stainless on the back. G-10 is very resilient and lightweight which makes it perfect for a work knife. The Dark Hallow uses a sturdy frame lock design which just adds to the structural integrity of the knife. Boker Plus also includes the tool to remove the handles for cleaning and to adjust the opening resistance.
The Dark Hallow has a 440C stainless blade. Boker Plus chose to outfit this knife with a spear point blade to make it as versatile as possible. The spear point pattern has a strong blade that can easily withstand the cutting pressure from the unique handle design.  The spine of the Dark Hallow is outfitted with a thumb ramp to help with cutting control and pressure. The blade is short – 3 13/16″, but feels plenty capable in hand.
"The 440C stainless steel blade is slightly angled, increasing the effectiveness of pulling cuts and slash cuts," says Boker.
The Dark Hallow Details
440C Stainless blade
G-10 and stainless handle
Frame lock design
Spear point blade
3 13/16″ blade length
5 3/16″ handle length
Adjustment tool included
The Boker Plus Dark Hallow is a lot of knife for a folder. Its curved and ergonomic handle allows you to apply a lot of cutting pressure with minimum effort. The MSRP is $159.95, but I've found them online retailer, Smoky Mountain Knife Works (smkw.com) for $99.99. You can check out that deal by clicking the button below.

---
See more Knife Newsroom articles about Tactical Knives now >>