Breaking News – Ucon, Idaho – TOPS has released the new Tanimboca Puukko, a fixed blade knife based on a traditional Scandinavian Puukko and designed by Goran Mihajlovic. The Tanimboca Puukko is 7.75″ overall with a 3.63″ 1095 carbon steel blade and features traditional elements with TOPS' style.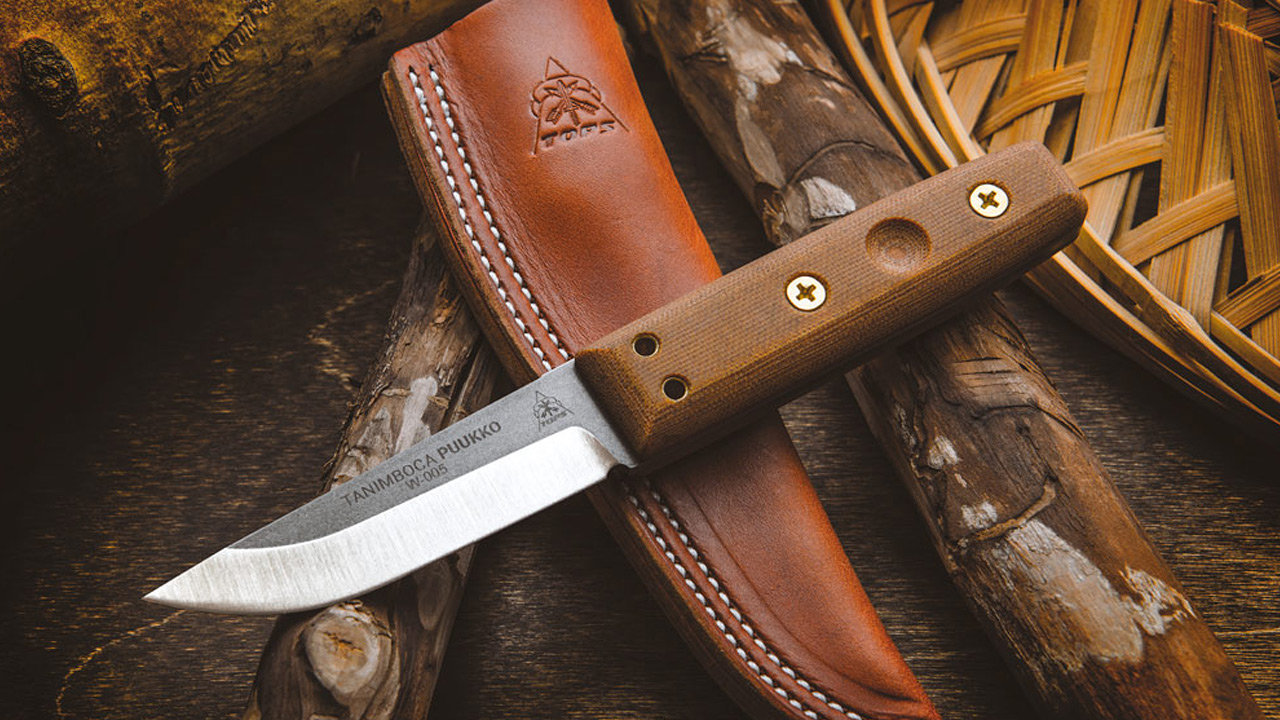 "Goran is originally from Serbia but grew up in Germany. He has lived in Colombia now for the last 20 plus years. He owns a nature reserve called Tanimboca that houses hundreds if not thousands of species of plant, animal, and insect. Throughout his entire life, he has been a knife user and enthusiast," TOPS says. More recently, Mihajlovic began creating his own knives in his Amazon jungle forge. He favors Puukkos, "their ability to perform well at large variety of cutting tasks," TOPS says.
TOPS tells us that "Through the years, [Puukkos] have remained largely unchanged. Characteristically, they are Scandi ground knives with thick, round wooden handles. Most do not have a finger guard, which allows the person using it to get their hand as close to the cutting edge as possible. This gives the user very precise and controlled cutting. Its simplistic design is both useful and intuitive and has definitely withstood the test of time," TOPS says.
Further, the TOPS Tanimboca Puukko "has the classic Puukko blade with a very slight clip point. The spine is ground to 90 degrees for scraping tasks. Well-rounded Tan Canvas Micarta handles with red liners honor the traditional style," TOPS says.
The Puukko features a full tang, tumble finish 1095 carbon steel blade and a tan micarta handle. The 7.75″ Tinimboca Puukko is tough knife, but small enough to wear as a neck knife (with some additional chain or cordage).
Click on any thumbnail below to launch a slide show of larger images.
The Tanimboca Puukko Details
1095 Carbon steel blade
Tan Canvas Micarta handles
Brown Leather sheath included
Blade length: 3.63″
Cutting edge: 3.50″
Blade thickness: 0.13″
Overall length: 7.75″
Weight w/ Sheath: 6.89oz
Made in the U.S.A.
TOPS says "Once you get your hands on the Tanimboca Puukko, you won't want to put it down." We'll leave that up to you to decide. You can order your TOPS Tanimboca Puukkoo at Smoky Mountain Knife Works (smkw.com). Just click the button below to find it.