If the CRKT DAKTYL looks familiar, that's because it's based on Tim Hitchcock's Hole in One side opener that took the knife world by storm a few years ago.  CRKT tells us, "The Daktyl™ is choosy though. It takes only the best of the previous design, adds the Slide Lock innovation, and reduces the already-minimal part count."  The DAKTYL is now available at SMKW.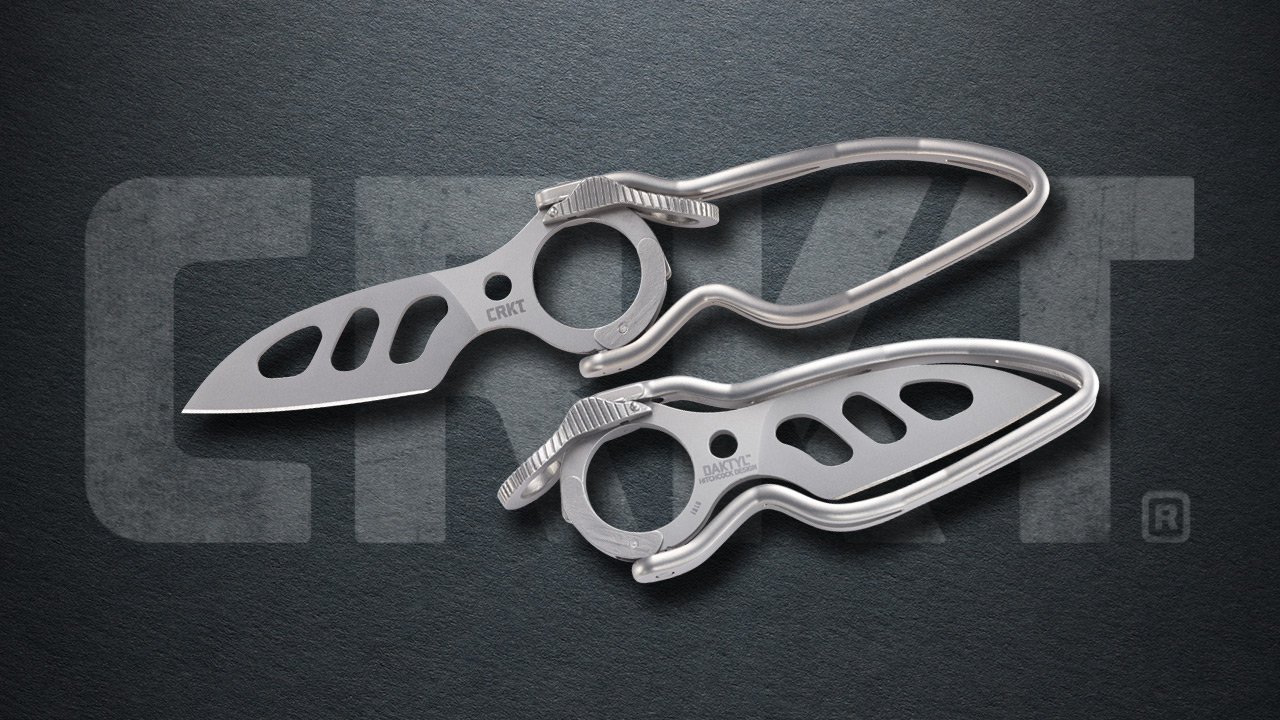 CRKT says, "The DAKTYL is seriously bare bones; we're talking phalanges here. It's named after a finger for a reason: set it in motion with one quick action and watch the jaws drop." We couldn't agree more.
There doesn't look like there's anything to this knife, but it opens effortlessly with just a bit of practice. The mechanism allows you to flip the knife around until it locks into place with just a flick of the wrist. There isn't another product on the market quite like the DAKTYL. It's a conversation piece for sure.
The DAKTYL is definitely bare bones. It features a skeletonized frame that is impressively ergonomic. It's made of stainless steel and feels very firm and durable in hand. In our meeting with CRKT, the DAKTYL feels very solid in hand, especially for a skeletonized knife.
The blade is a Wharncliffe made of 420J2 stainless steel. 420J2 isn't the most common steel, but some quick research will tell you that it's a decent steel. It holds an edge fairly well and isn't hard to sharpen at all. This design and steel combo would make for a good EDC knife.
To open the blade, simply press down on the lock and rotate it with your thumb to the open position. When the blade is open it will lock into place automatically. To close it, simply press down again, and you can use momentum to snap it shut by flicking your wrist. It's actually super simple and very satisfying to play with.
Click any thumbnail below to launch a slide show of larger images.
The DAKTYL Details
420J2 Stainless steel blade
Wharncliffe
Hole in One Mechanism
Steel handle
3 1/16″ Blade length
4 7/16″ Closed length
CRKT prides themselves on being innovative, and I'd say they have really accomplished that with the DAKTYL. I found them available at Smoky Mountain Knife Work's website, smkw.com. You can order it there for $39.99, simply click the button below for a link to that page.

Tim Hitchcock was also responsible for the CRKT Snap Lock – another innovative knife from CRKT.