The Medford EOD1 is an absolute beast of a knife. The men and women of the USMC who go out and remove bombs from the battlefield collaborated with Medford to create the EOD (a military acronym for Explosive Ordinance Disposal). To do a job that tough, you need a tool that's tough, and the Medford EOD1 is certainly that tough.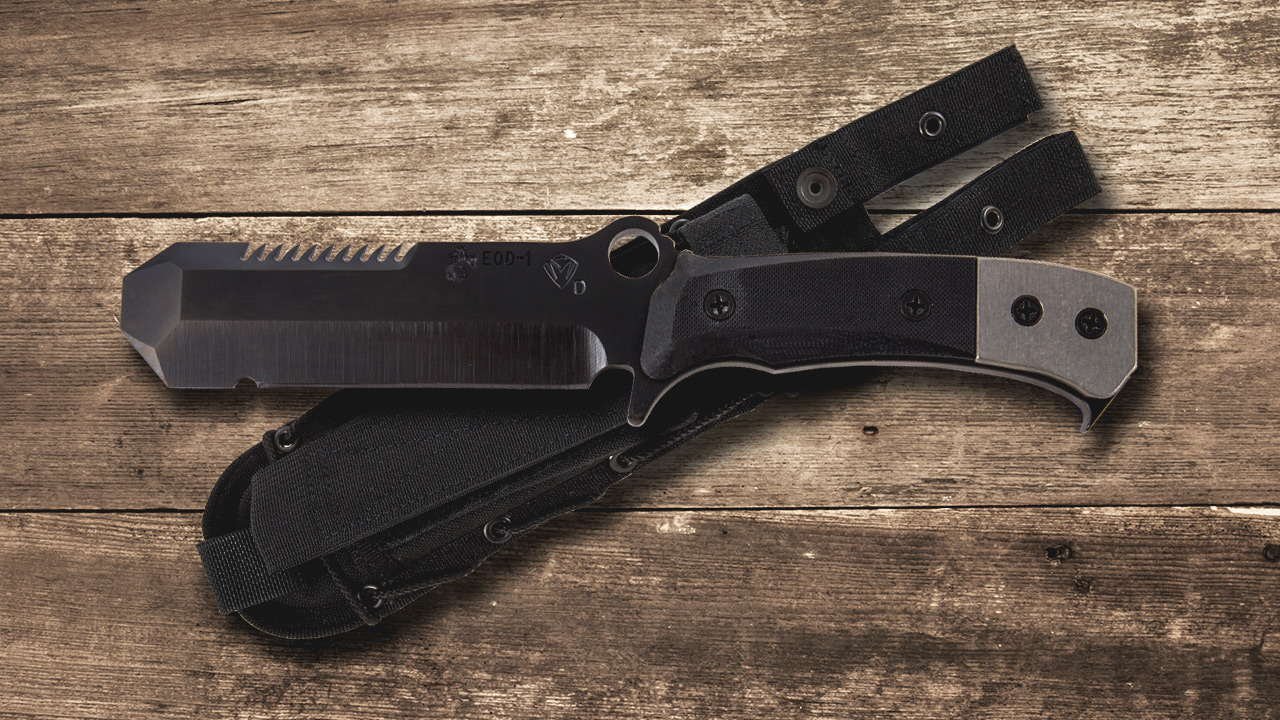 The EOD1 is a brute. It's 5.25″ long and has a .25″ thick spine. When you wield the EOD1, you feel powerful like you could cut a fire escape through a brick wall. The blade features a lanyard hole, saw back, blunt tip, and wire cutter, all designed for clearing mines and explosives.
If you could take an M1 Abrams tank and turn it into a knife, the EOD1 would be that knife. The EOD1 is made of D2 tool steel. It's durable enough to cut into the ground without breaking, and Medford coated the blade with a plasma vacuum deposition process, so the knife stays protected from the elements.
Medford covered the tang using two tone G10 scales, and it comes with a ballistic nylon sheath that's MOLLE compatible. The ballistic nylon is durable and has a handy utility pocket.
There is one final feature of the EOD1 that would be a crime not to mention. Medford has one of the best warranties in the industry. They believe in their product, and if it fails you, they will replace it with no questions asked – seriously, no questions asked. This grants you the freedom to use it as hard as you need to in order to accomplish your tasks, without worrying about your investment.
Click any image below to launch a slide show of larger images.
The EOD1 Details
D2 tool steel
Flat tip design, Saw back, Wire cutter, and other features.
Plasma Vacuum Deposition coating
G10 scales
Nylon Sheath
5.25″ Blade length
10.25″ Overall length
.25″ Thick
Lifetime warranty
Made in the U.S.A.
The Medford EOD1 is one of the most intense knives we've ever seen, but features and benefits like these don't come cheap. The EOD1 retails around the web for just under $450. You can find it online by clicking the button below.