The Microtech Tachyon III Balisong runs close to $300 on the retail market, but if you're a flipper, this knife is worth every penny. Like most Microtech knives, this balisong comes with advanced features and technology that you don't find on other non-custom knives.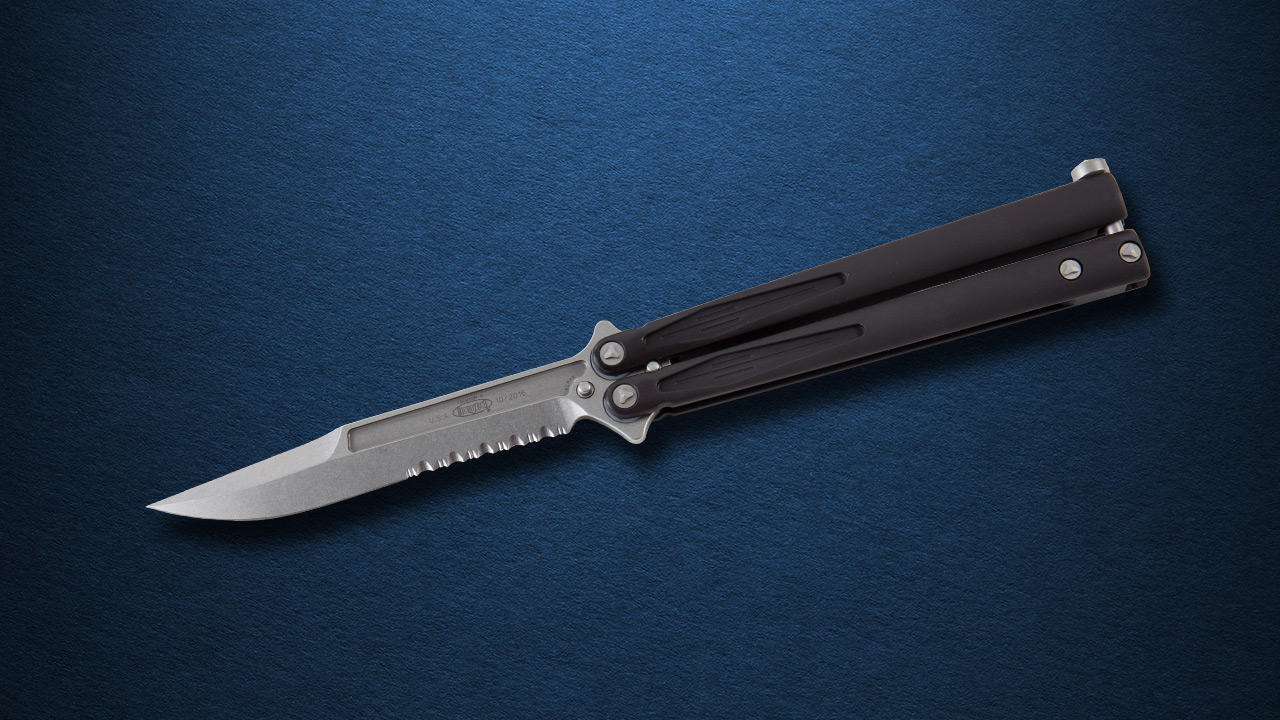 The Tachyon III is outfitted with a ceramic ball bearing system that allows the knife to flip almost effortlessly while eliminating any play in the handles. Ceramic bearings are minimal maintenance and can handle being dropped countless times.
The handles are machined from billet aluminum. Using aluminum for a bali's handle material is a great idea, because of its low weight and high strength. The problem with aluminum is that it's easy to scratch up when dropped. Microtech effectively eliminated this problem by adding a state of the art silicone nitrite coating over top of the aluminum. This allows you to have the benefits of flipping aluminum without the aesthetic or grip downside that comes with it.
One unique thing about the Tachyon III is how you're able to carry it. Microtech has devised a genius way to add a pocket clip to a balisong, without it impeding your flipping. The pocket clip is spring loaded in a machined cavity in the billet aluminum. When the clip is in use, it grips your pocket like a normal clip. When not in use, it retracts and sits flush with the handle.
The blade is made from some very high-quality stainless steel. The Tachyon III uses Elmax, which is the same steel they use in their world-class automatic knives. The 4 1/2″ clip point comes with a standard or partially serrated edge (your choice).
The Tachyon Details
Elmax stainless steel blade
Aluminum handles
Silicon nitrite coating
Spring-loaded pocket clip
4 1/2″ blade length
5 1/2″ handle length
Made in the U.S.A.
Experienced flippers will love the Microtech Tachyon III. The advanced materials and features don't come cheap – around $300, but it's easily worth every penny. The best deal we've found online has been Smoky Mountain Knife Works (smkw.com). They are retailing the Tachyon III for $289.99. If you're a fan of quality balisongs, you can click the button below and check out the Tachyon III.

---
See more Knife Newsroom articles about Tactical Knives now >>