The Puma SGB Blackcat 55 has most of the desirable features found on a premium brand tactical knife, but for a fraction of the price. It's German Steel assembled in China, which means it's a quality tactical knife for the budget-minded.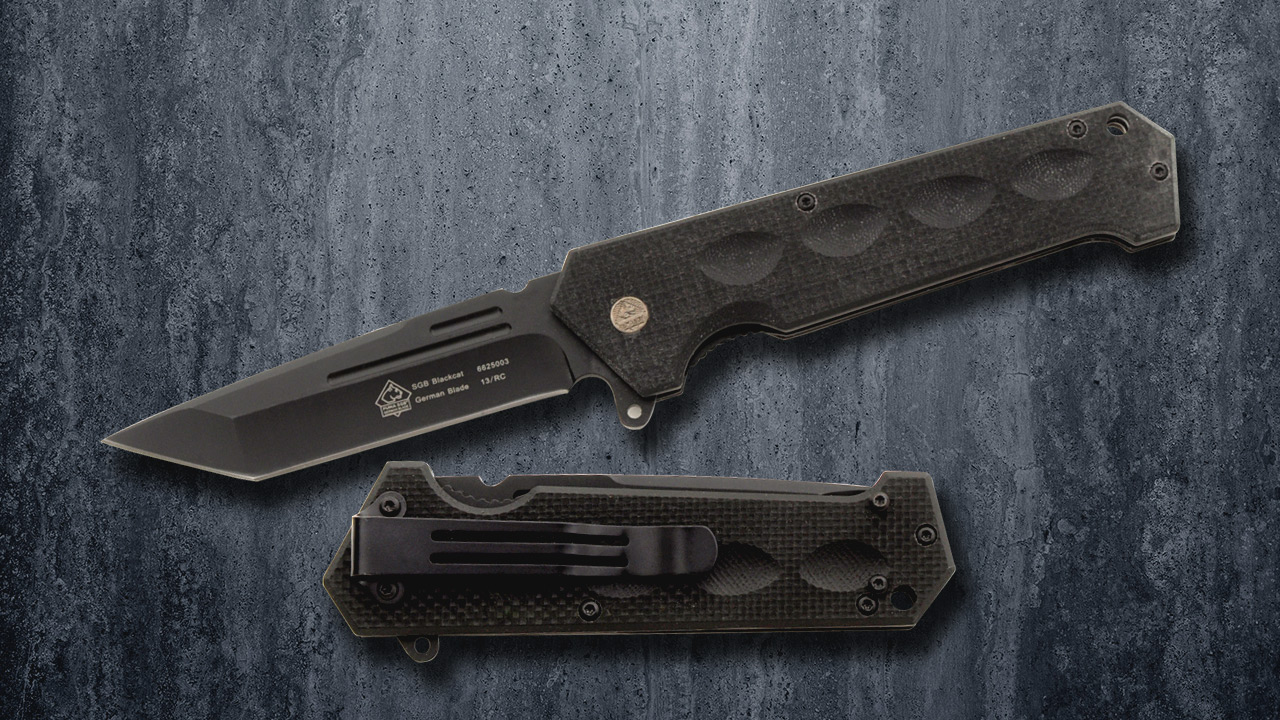 The Blackcat 55 features a 3mm thick, 1.4116 German stainless steel tanto blade. The black-coated blade helps to avoid refraction and gives this knife a bit more stealth in a tactical situation.
Puma says, "This is an excellent knife for law enforcement, self-defense, or as an everyday carry," and we couldn't agree more.
The SGB Blackcat 55's blade works on an assisted-opening mechanism. With a gentle pull of the flipper, the blade is launched into the open position. If the flipper isn't your preferred style of opening, Puma includes ambidextrous thumb studs. The SGB Blackcat 55 locks into place with a liner locking mechanism.
The machined G10 handle improves grip. G10 also makes the Blackcat 55 lighter and more durable than other handle materials. A large finger guard in the front of the knife allows you to get a firm grip while keeping your fingers safe, and Puma machined four indentations in the middle of the handle for better ergonomics.
Pictures don't do this well-rounded tactical knife justice. The 9.4″ SGB Blackcat 55 has a 4.5″ blade which puts it just longer than some of the other tactical knives on the market. For reference, the SOG Trident Elite only has a 4″ blade. The length combined with its 3mm thick blade make the SGB Blackcat 55 a hefty knife.
The SGB Blackcat 55 Details
1.4116 German stainless steel
Assisted-opening
Machined G-10 handles
Liner lock design
4.5″ Blade length
3mm Thick blade
9.4″ Overall length
The Puma SGB Blackcat 55 retails for under $20. A price like that puts this knife in the realm of lower-end CRKT's and Kershaw tactical knives. While this knife can certainly go toe-to-toe with them in a statistical evaluation, the Puma gives you a little more bang (or heft) for your buck. This makes it a great knife for someone who is on a budget. Interested? Simply click the button below to check out the SGB Blackcat 55.

---
See more Knife Newsroom articles about Tactical Knives now >>