The Southern Grind Bad Monkey is a no nonsense tactical knife. There aren't any useless features or glamorous aesthetics on it. This makes it perfect for military and law enforcement, or anyone who likes a tactical knife that's straight to the point. Judging by Blade Show presence, Southern Grind is gaining a lot of popularity right now. With knives like the Bad Monkey, it's not hard to see why.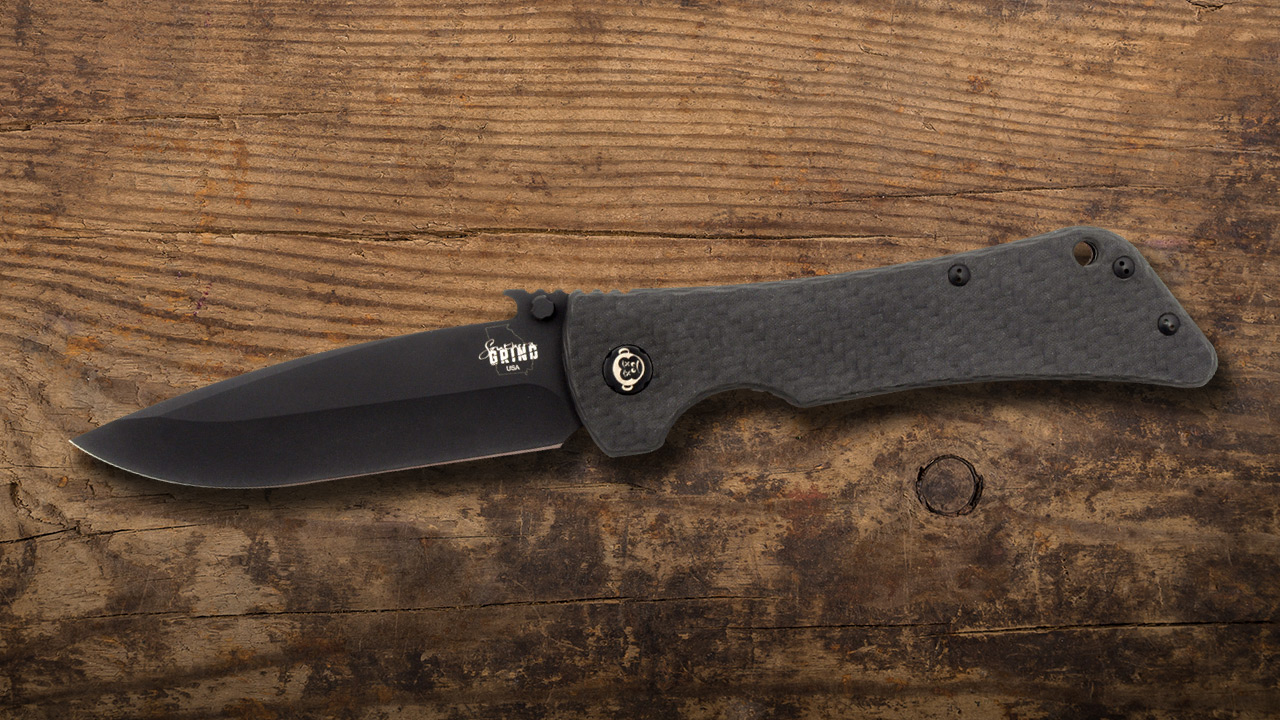 The Bad Monkey features a 4″ 14C-28N stainless steel, drop point blade. The high carbon content of 14C-28N makes it desirable for demanding tasks. The blade has a tactical black coating that eliminates glare and protects the blade from the elements. Southern Grind added the patented Emerson Wave opening system to the Bad Monkey, which means you get lightning fast opening without getting tangled up in automatic knife laws.
The Bad Monkey has a light weight and incredibly durable, twill-weave carbon fiber handle. That's extremely desirable on a tactical knife. To add additional reinforcement to the handle, the Bad Monkey also has 6AL4v titanium liners. The knife has a generous sized finger guard that increases grip and control over its cuts.
Southern Grind has been pushing their brand fairly hard in the knife scene lately. This is apparent with the add-ons that come with the Bad Monkey. It comes with a beautiful leather koozi that's embossed with the Southern Grind logo, an SG keychain with a monkey button, and a tactical paracord bracelet. None of this stuff is necessary, but they are cool and keep the Southern Grind name in the open.
The Bad Monkey Details
14C-28N High carbon stainless blade
Textured carbon fiber handle with titanium liners
Emerson Wave opening system
4″ Drop point blade
5 1/4″ closed length
Includes koozi, keychain, and paracord bracelet
Made in the U.S.A.
This Southern Grind Bad Monkey has a very minimalist appearance, but it's all tactical in design. It's a nice knife for anyone who wants something different from the run-of-the-mill tactical knife. You can find one by simply clicking the link below.

---
See more Knife Newsroom articles about Tactical Knives now >>