The Uncle Henry Deluxe Wood Carving Kit offers 10 tools for the price of one. This kit retails for only $19.99, making it one of the best deals around the internet on carving tools. Oh, and did we mention that it comes with its own case? It has that too.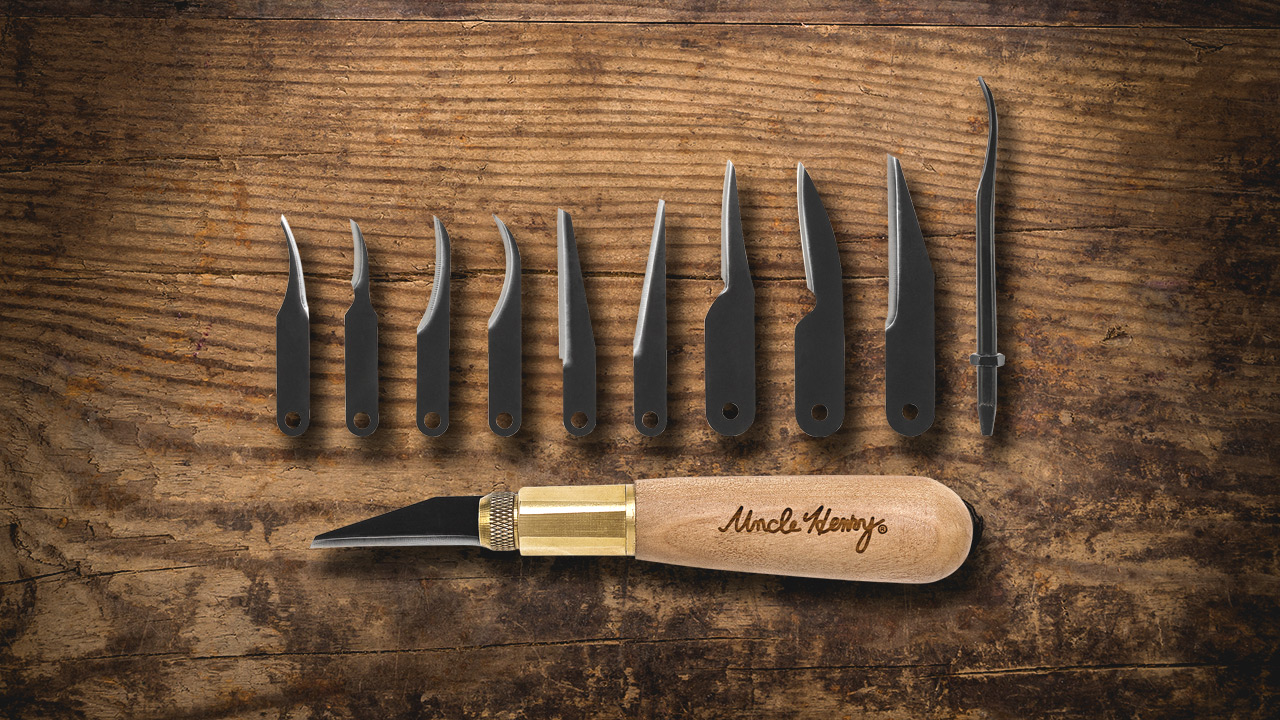 This kit features a 4 5/8″ hardwood handle with a three-way, brass jaw chucking system that allows you to secure one of ten specialized carving blades. That includes the following 65Mn carbon steel blade types:  a 20E x 15/16″ Radius Ground Outside Curve Blade, 21EX Straight Blade, 11 Straight Blade Ground on Slanted Edge, 10 1″ Radius Ground on Inside Curve, 8 2″ Radius Ground on Inside Curve, 22 2″ Radius Ground on Inside Curve, LD2 1/2″x.05″ Heavy Duty Blade, LN3 1/2″ x.05″ Carving Blade, LS1 1/2″ x .05″ Carving Blade, and LBG #7 Sweep Gouge 5/16″ Cut blade. Carbon steel is traditionally used in carving knives due to its ease of sharpening and its inerrant strength.
You change the blades pretty much like you're swapping bits on a drill, so anyone can easily do it without specialized tools. The Brass locking system is mounted to a beautiful hardwood handle. The smooth handle and traditional ergonomic shape make it easy on the hand, even with a firm grip.
This Kit comes with a plastic carrying case. The inside has a felt-like liner and displays all of the blades in size order. Uncle Henry packs the specialty blades in individual plastic vials attached to the inside of the lid for safekeeping.
The Uncle Henry Deluxe Wood Carving Kit Details
65 Mn Carbon steel blades
Hardwood handle
10 Tools included
Brass jaw chucking system lock
Carrying Case included
4-5/8″ Handle length
For $19.99, this is a fantastic deal on a wood carving set. The Uncle Henry Deluxe Wood Carving Kit is a lot of tool for the money. Its quality carbon blades and hardwood handle will last you through years of sculpting wood. We found this deal at Smoky Mountain Knife Works (smkw.com). Click the button below find it.

---
See more Knife Newsroom articles about Tools and Multi-Tools now >>