Marble's Wildlife Clasp Knives are great collectors' items for those who love the outdoors. This series was designed with an appreciation for wildlife in mind. The blades feature beautiful gold and black color filled etches depicting scenes of popular wildlife. There are four different scenes available including; two buck whitetail deer, a large mouth bass, an American bald eagle, and a wild turkey. These knives use Marble's 440A stainless steel for their blades, and each blade is polished to make an impressive display right out of the box.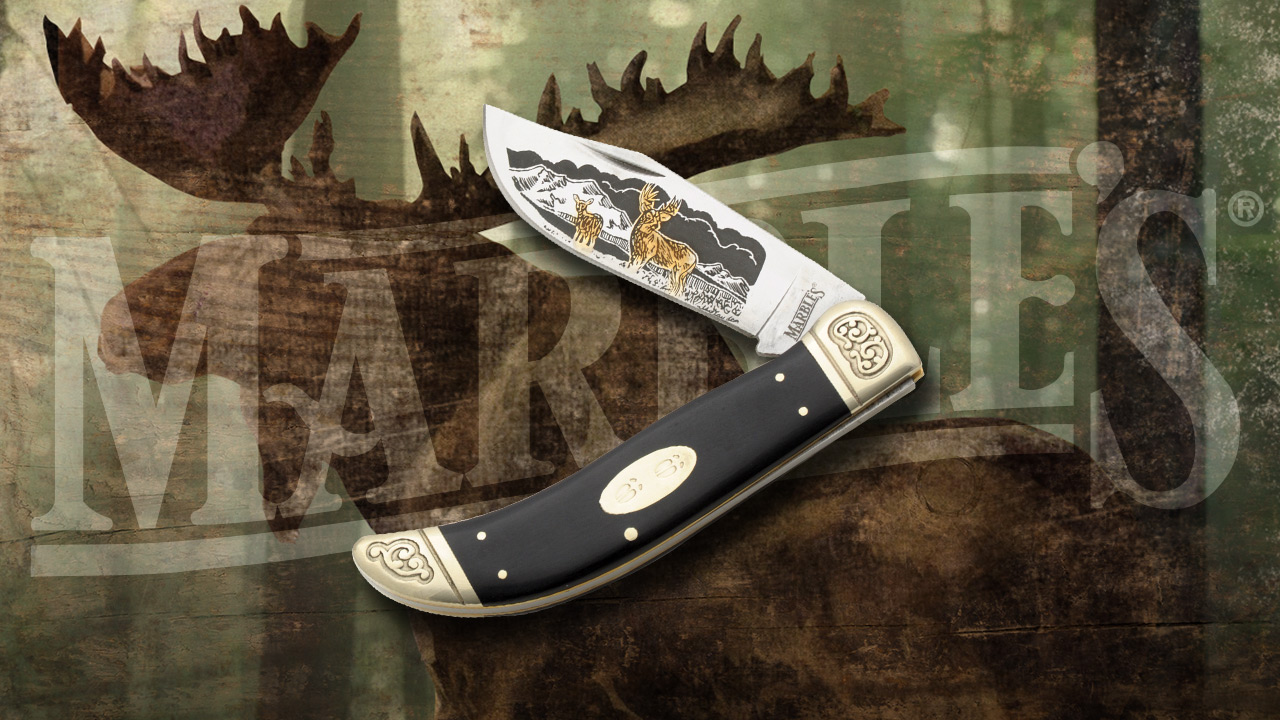 Marble's makes the handles with genuine black smooth bone. Each model has its own unique shield that is relevant to the blade etching. The ringed bolsters also include a unique embossing that adds decorative laurels to the handle. The bolsters and shield are made from polished nickel silver. The additional embossing and polished touches really take these knives to the next level.
Marble's knows that these knives make perfect collectors' items, so each individual knife comes in decorative cigar box display packaging. These knives are fairly large so it isn't hard to appreciate every intricate detail. The blades are 4 1/8″ long, and the handles are 5 1/2″ long.
Click on any thumbnail below to launch a slideshow of larger images.
The Marble's Wildlife Clasp Knives Details
440A Stainless steel
Black & Gold color filled etching
Available in Deer, Bass, Eagle, and Turkey design
Black Smooth Bone handles
Unique Shields and Embossed Bolsters
4 1/8″ Blade length
5 1/2″ Handle length
Comes with decorative packaging
These Marble's Wildlife Clasp knives make a great addition to your display case, or a thoughtful gift for a friend. You can find these knives at Smoky Mountain Knife Works (smkw.com). SMKW sells them individually or as a complete set. Simply click the link below to check them out.