The Rough Rider Tailgate Trapper is exactly what is sounds like. It's a traditional Trapper patterned pocketknife that trades the spay blade for a caplifter/screwdriver blade.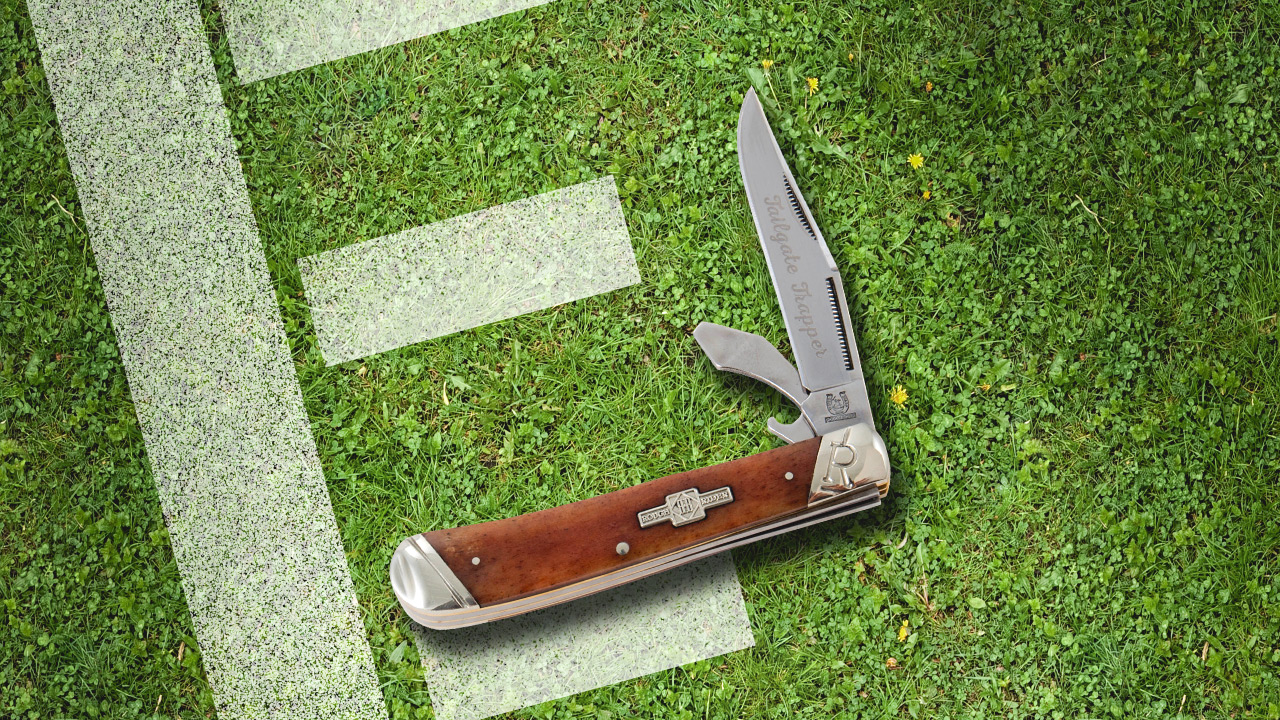 Tailgating is one time you don't want to be without a knife. There are no limits to how many various packages that need to be opened to keep the party running smoothly, but food is only half of the battle when it comes to having a successful tailgate. The other half is the drinks! So why sideline your knife and use a bottle opener, when you can get a knife to do both?
The Rough Rider Tailgate Trapper comes with a 440A clip point blade. This blade has a mirror finish and reverse frosted embellishment that reads "Tailgate Trapper."  The difference between this trapper and others is that this model doesn't have a spay blade. The secondary blade on the Rough Rider Tailgate Trapper is actually a bottle opener. The bottle opener is also stainless and makes this knife awfully convenient around a tailgate cooler.
The handles of the Rough Rider Tailgate Trapper are made of authentic bone. Rough Rider outfitted this knife with a tasteful smooth amber bone handle (almost the honey amber color of a frosty cold one, if you ask me). The bone is flanked by two nickel silver bolsters that have a traditional ringed and pinched design. This handle is only 4 1/2″ so it's a lot more convenient than carrying a standalone bottle opener – and twice as cool in my opinion.
The Tailgate Trapper Details
440A Stainless steel blade
Bottle Opener secondary blade
Smooth Amber Bone handle
Nickel Silver accents
3 1/8″ Clip point blade
4 1/8″ Closed length
The Rough Rider Tailgate Trapper is the perfect accessory for this year's tailgate parties. This knife retails for $14.99, which places it in just about everyone's budget. With a price like that, you will certainly be able to find one around my tailgate this year. We found this knife at Smoky Mountain Knife Works (smkw.com). Be sure to check this knife out before the sporting season kicks off this year. You can find this knife by simply clicking the button below.