TOPS President, Leo Espinoza's father, Lorenzo Espinoza Sr. designed the TOPS Grandpa's Ax during a design challenge the company held among TOPS employees in 2016. The challenge for employees: design the best tomahawk/hatchet/ax. The entry presented by Espinoza Sr. is an "excellent mix of size, weight, and chopping capability for a small hatchet," TOPS says. "Weighing just under 1.5lbs, this is a tool that can be easily carried long distances, making it an excellent tool for backpackers and minimalist campers," TOPS says.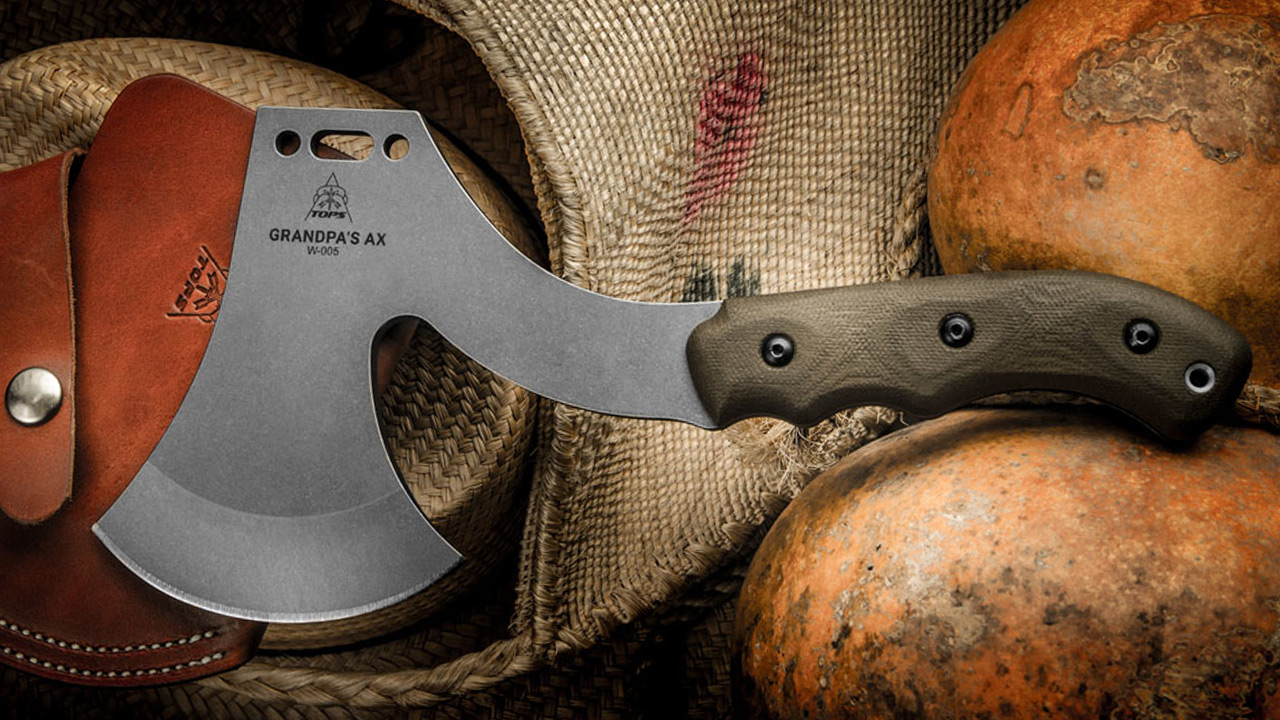 As the main designer for TOPS knives, Leo Espinoza approves all outside designers with which TOPS chooses to work. TOPS tells us, "You know what they say: like father like son."
At just 11″ overall, the TOPS Grandpa's Ax packs a punch in a fairly small package. The 4″, quarter-inch, 1095 carbon steel blade has a 4″ cutting edge and a tumble finish. TOPS uses durable green canvas micarta for grip on the handle and packs the ax with a brown leather sheath.
Click on any thumbnail below to launch a slide show of larger images.
The TOPS Grandpa's Ax Details
Overall Length: 11.0"
Blade Length: 4.0"
Cutting Edge: 4.0"
Thickness: 0.25"
Steel: 1095 RC 56-58
Finish: Tumble Finish
Handle Material: Green Canvas Micarta
Knife Weight: 22.7oz
Weight w/ Sheath: 27.1oz
Sheath Material: Brown Leather
Sheath Clip: Belt loop
Designer: Lorenzo Espinoza Sr.
Overall, we like the look and feel of the TOPS Grandpa's Ax. It's a little different from most of the TOPS line, but it does seem to fit in the mix quite well. The MSRP for this product is listed at $200, but we found the ax at Smoky Mountain Knife Works (smkw.com) for only $124.99. You can click the button below to see it yourself.

---
See more Knife Newsroom articles about Tactical Knives now >>
---
See more Knife Newsroom articles about Tools and Multi-Tools now >>