As a collaboration between Gus T. Cecchini of GTC Knives and Zero Tolerance, the 0055 is incredibly modern and dramatic when compared to most anything else in the ZT lineup. It features premium steel and handle material which can be costly, but the result is one of the best Zero Tolerance knives to date. The Zero Tolerance 0055 is sure to be a solid performer and turn heads whenever a knife enthusiast is near.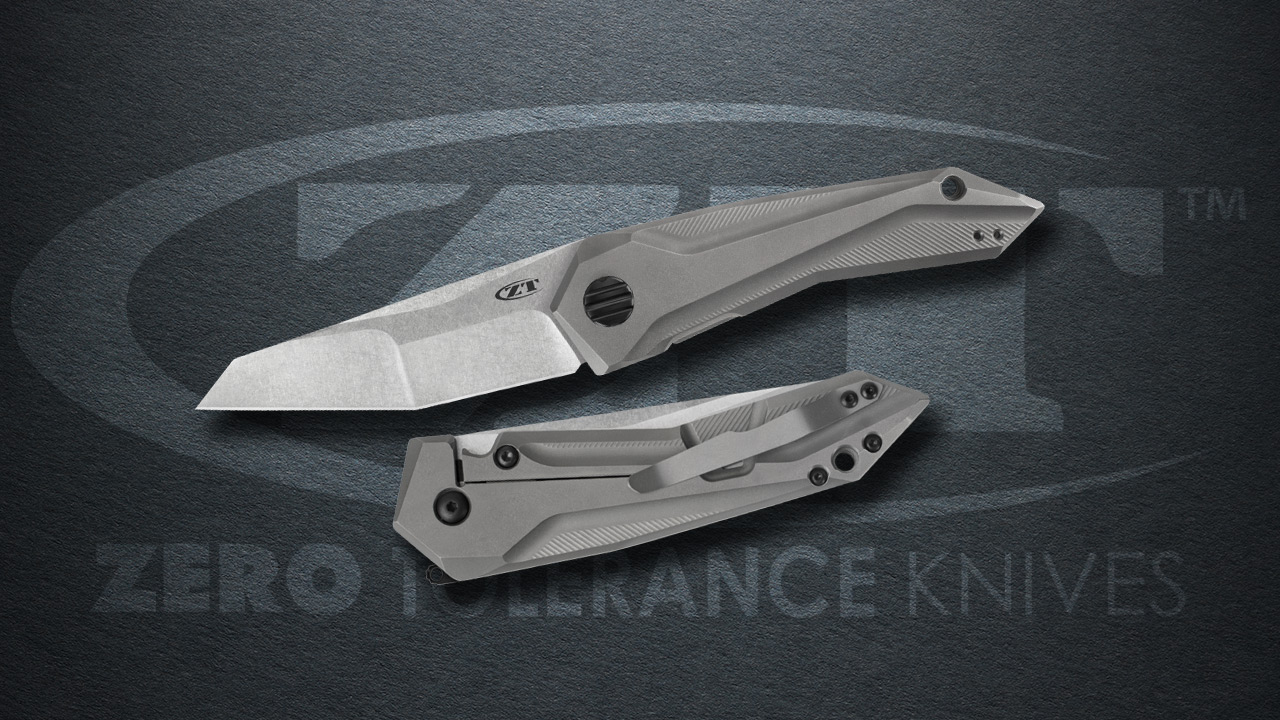 The first thing that stands out is the unique shape of the modified tanto blade. This blade has a reverse tanto tip and a combination grind on the cutting edge. This edge has two cutting surfaces at slightly different angles to increase strength and overall cutting capability. This S35VN stainless steel blade provides enhanced toughness and resistance to edge chipping, with no loss of wear resistance.
The Blade opens with a premium mechanism as well. The state of the-art KVT ball bearings allows you to open the blade with minimum force, but the gem of the 0055 is literally hidden. The 0055 has a flipper that is noticeably hidden in its photos. The 0055 has a new spring-loaded design that completes the aerodynamic look and prevents the flipper from getting caught on your clothing. The flipper has a machined surface for easy grip when pulling it from its closed and tucked away state.
The handle also has a dramatic styling that seems fitting for this knife. ZT made the handle out of titanium that is lightweight without sacrificing durability. The handle has a definitive line going down the center that keeps with the aerodynamic design, and its flanked with two machined surfaces that assist with grip on an otherwise smooth surface. The 0055 uses a titanium frame lock design that is every bit as strong as the rest of the knife, even the pocket clip is solid titanium.
The 0055 Details
S35VN Stainless steel blade
Modified tanto/ Combination grind Blade shape
Spring-loaded flipper
Titanium handle
Frame lock
3 3/4″ Blade length
5″ Closed length
Made in the U.S.A.
Overall, the Zero Tolerance 0055 is one superb knife. The modern design matched with state-of-the-art materials provide a blade like nothing else. Zero Tolerance has an MSRP of $275.00 on the 0055, but we found it cheaper at Smoky Mountain Knife Works (smkw.com). They have it priced and in stock for $220.00, which (if you're a ZT lover like us) is a hard deal to pass up. You can find more info about this knife and the option to purchase it by simply clicking the button below.