The Schrade M.A.G.I.C. Color-Shift is one of the most vibrant knives in their lineup. It's part of the M.A.G.I.C. (Multipurpose, Assisted, Generational and Innovative Cutlery) series which includes the best assisted knives Schrade has to offer. The Schrade M.A.G.I.C. with color-shift handles has solid build quality, quick action, and unique design for a great price.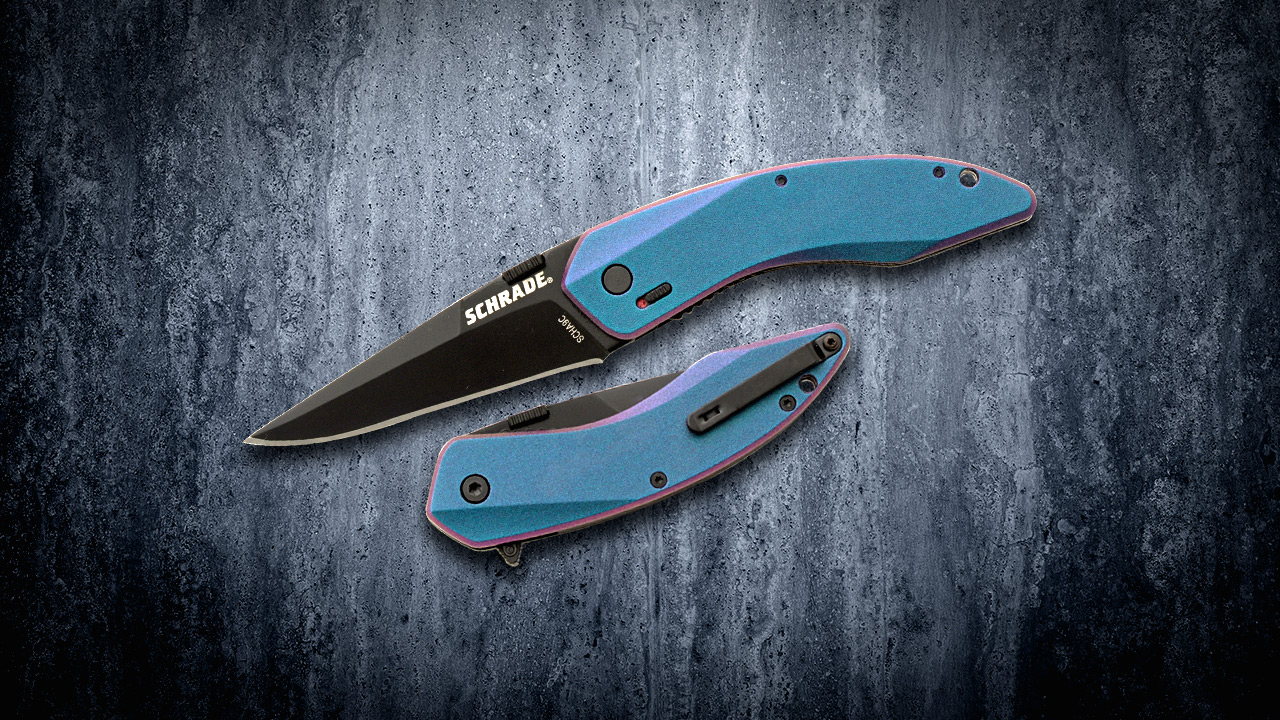 This model features vibrant handles that change colors at different angles. As the knife is rotated in your hand, the handles will change between shades of blue and purple. The handles are made from aluminum that provide good strength and drop resistance while maintaining a low weight. The design is sleek with nothing but a secondary safety lock and pocket clip on the handle.
The blade opens with a quick and satisfying snap by simply pulling the flipper. If flippers aren't your thing then no worries, this model also features thumb studs that can easily open the knife in either hand. As mentioned before, there is a secondary safety switch. This switch can be toggled to prevent the knife from accidentally opening. Once opened, the blade is firmly locked in place with a linerlock system.
This model comes with a black coated Aus-8 blade. Aus-8 is wonderful at maintaining an edge without being too hard to sharpen with basic equipment. The black coating will help protect the steel from moisture and also gives the knife a sleek and processional appearance. The blade shape is different compared to most other knives on the market. It's a 3 1/4″ clip point blade that drops to a very fine tip. It's a versatile design that would be perfect most of the common EDC tasks.
The Schrade M.A.G.I.C. Color-Shift Details
Aus-8 stainless steel blade
Aluminum handles that change colors
M.A.G.I.C. Assisted opening
Flipper/ Thumb stud
Secondary safety switch
3 1/4″ Blade length
4″ Closed length
The Schrade M.A.G.I.C. Color-Shift is one of Schrade's premium knives, but retails for only $39.99. This is one unique and colorful EDC knife that won't let you down. You can get this knife as a plain blade or partially serrated so i'll just go ahead and drop you a link for both. Click the button below to find these cool knives.