Breaking News – Ucon, Idaho – TOPS has released the new TOPS Missile Strike, 11.34″ combat knife that can do the work of a utility knife. TOPS tells us, "Its narrow blade with long swedge and 1/4" thickness make it a great combat knife. The Micarta handle scales, comfortable finger choil, and 1095 steel make it a great utility tool."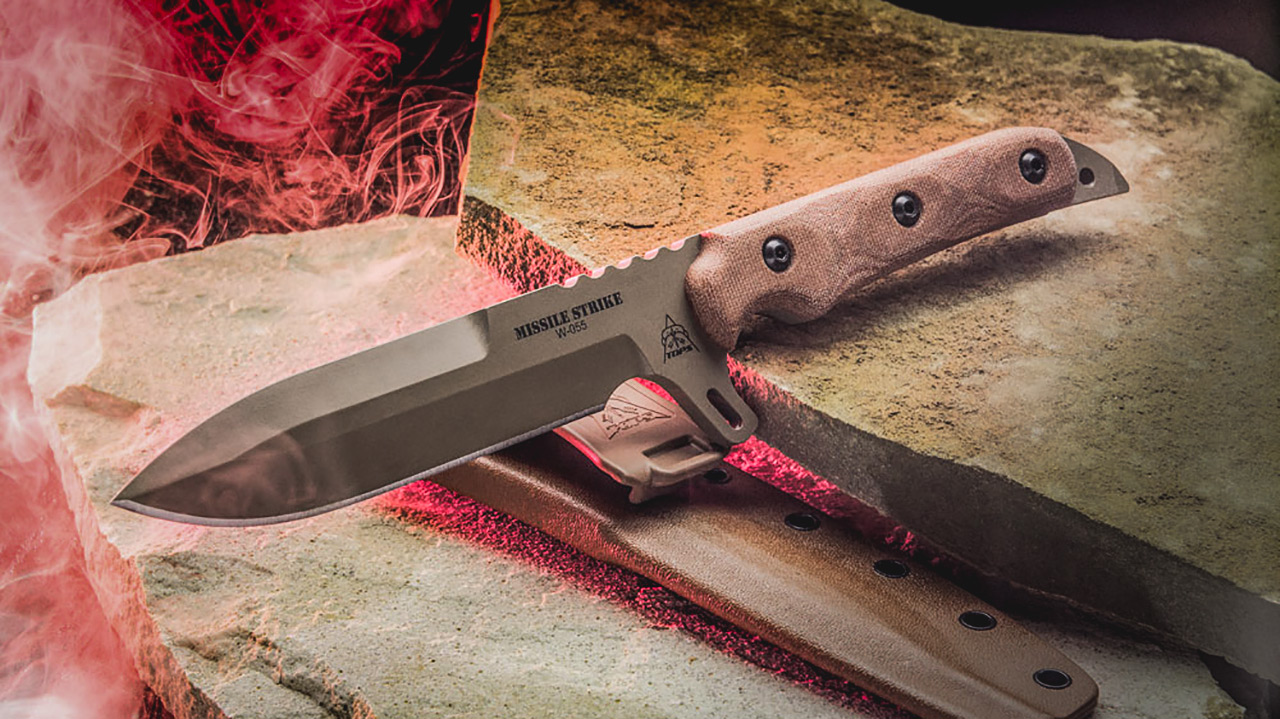 The TOPS Missile Strike was designed by Army veteran, Kelly McCulley. TOPS tells us, "Kelly McCulley spent seven and a half years in the US Army. During his time in the service, he searched for the right knife to meet his needs as a combat tool that could do the duty of a utility knife, too. In all his time in the service, he never quite found the one that would fit what he wanted in a combat knife… It's one of the same reasons that TOPS Knives was founded and one of the reasons that TOPS produces such a variety of models."
"Around 2010, Kelly started designing knives that his fellow servicemen and women could rely on as they were deployed. He has been making those knives since and has some smart designs under his belt," TOPS says. The new TOPS Missile Strike is one of them.
The TOPS Missile Strike simply works well as both a combat knife and a utility knife. Beyond those capabilities, TOPS says, "Given that the knife will likely be used as a utility tool more often than not, there are features that were included to facilitate that use. The comfortable Micarta handle scales will stand up to use and provide excellent grip. There is a choil, so you can choke up for finer tasks, and it's made from 1095 steel, which holds a great edge, and is easy to re-sharpen in the field (a must for those who don't always have a proper sharpening system handy). It comes with a tan Kydex sheath that has great retention, but still allows for a solid grip from the moment it's drawn."
Click any image below to launch a slide show of larger images.
TOPS Missile Strike Details
Overall Length: 11.34"
Blade Length: 6.0"
Cutting Edge: 4.75"
Thickness: 0.25"
Shape: Spear Point
Steel: 1095 RC 56-58
Finish: Coyote Tan Cerakote
Handle Material: Tan Canvas Micarta
Weight: 11.5oz
Weight w/ Sheath: 14.1oz
Sheath Material: Tan Kydex
Sheath Clip: Injection Molded Nylon
Designer: Kelly McCulley
The TOPS Missile Strike premiered first at this year's SHOT Show in Las Vegas. Finally, it is now available for pre-order at Smoky Mountain Knife Works (smkw.com) for only $119.99. You can get yours simply by clicking the button below.

---
Like this story? Read more Knife Newsroom Articles about Tactical Knives >>
Like TOPS Knives? Read more Knife Newsroom articles about TOPS Knives >>