These two Swiss Classic Drawer sets are sure to make an excellent gift for the cook in your life. Yes, I said Victorinox – as in Swiss Army knives, Victorinox, and while they're mostly known for making the famous Swiss Army knife, anyone who loves to cook will tell you that Victorinox also excels at making kitchen knives. Their knives feature top grade steel and the most popular patterns used around the kitchen.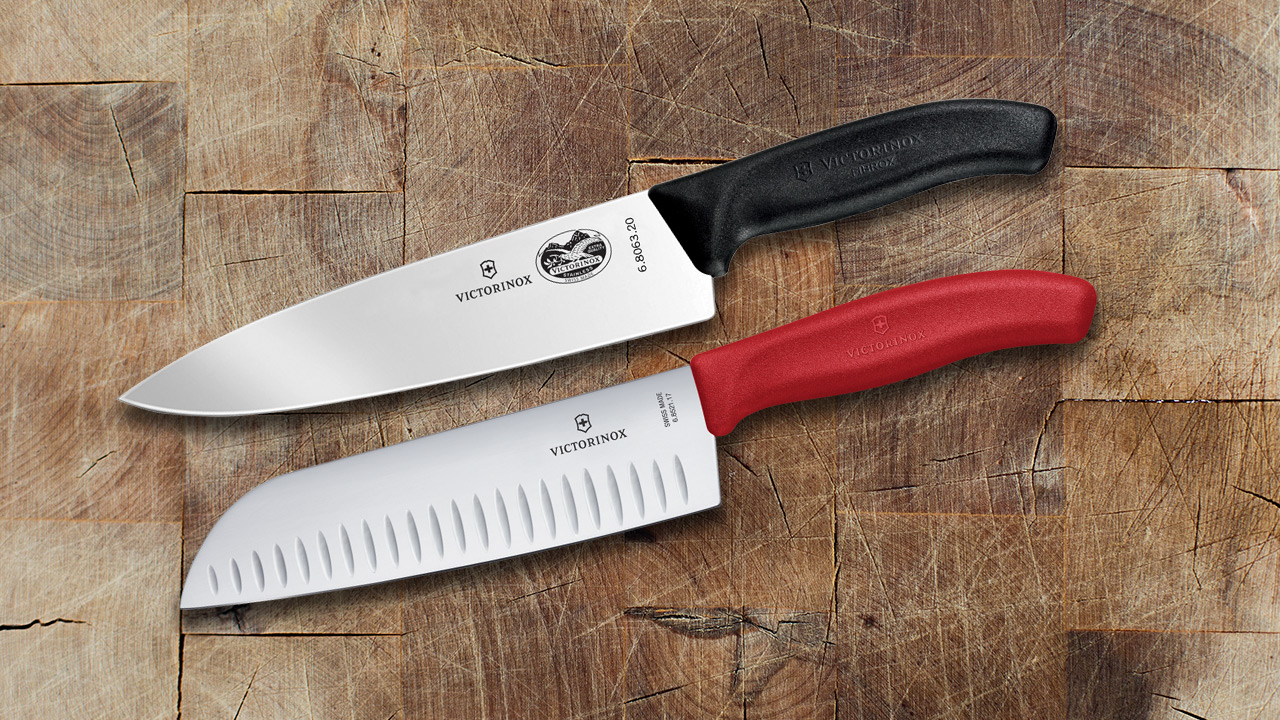 For $99.99, Victorinox has their red handled drawer set. This set comes with three quality knives and a wooden drawer insert to hold them. The blades are made from quality high carbon stainless steel. This steel wont rust on you even when cutting through more acidic fruits and other foods. They all have red synthetic handles with slip resistant grips. They are comfortable and won't fade or deteriorate when washed. The wooden drawer insert is a 7-slot hardwood block. We know this set comes with three knives, but Victorinox gave you extra slots to expand and customize your set.
This set comes with a Santoku knife, a chef's knife, and a paring knife. The chef's knife has an 8″ blade and 13-1/2″ overall length. The Santoku has a 7″ blade with an 11-3/4″ overall length, and the paring knife has a 3-1/4″ blade and a 7-1/2″ overall length. These blades are all made in Switzerland.
For $139.99, you can get a bit of an upgraded package of the drawer set. This set comes with five quality knives in the same style drawer insert as the $99.99 set. The difference here is that these knives have black synthetic handles with slip resistant grips – instead of the red. This set comes with the same 7-slot hardwood block, so expanding your collection is still an option. This set comes with a 7″ Santoku, an 8″ chef's knfie, an 8 1/4″ bread knife, a 4 1/4″ utility knife, and a 3 1/4″ paring knife.
The Swiss Classic Drawer Sets Details
High Carbon Stainless Steel Blades
Red or Black Synthetic Handles with Slip Resistant Grip
7-Slot Wood Block Included
Made in Switzerland
We found the Swiss Classic Drawer sets sets at Smoky Mountain Knife Works (smkw.com). Find them under the new products page on smkw.com or in their new catalog. If you don't get a free catalog, I highly recommend signing up.