The Kershaw Grinder is a fast, stout EDC that can handle most daily tasks, and you're not going to kick yourself if you lose it. We get it. While we'd all love a $400 Hinderer in our pocket every day, it can be a harrowing experience. We get it. Who wants to lose a $400 knife while you're on the job or grabbing a Big Mac from McDonald's? At $19.99, the Kershaw Grinder provides enough of what you need from an EDC without the fear of losing an expensive knife.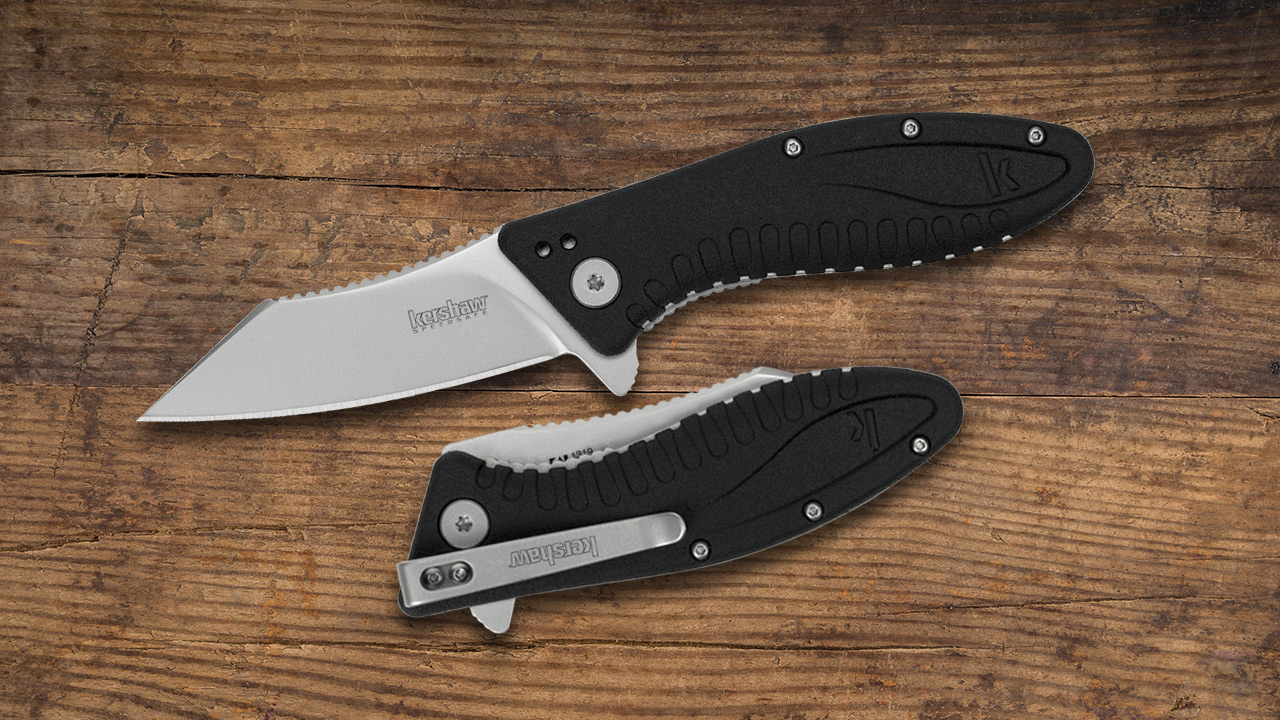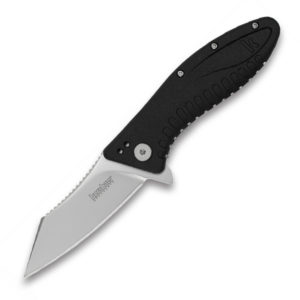 Kershaw tells us that the Grinder is "designed to be put to work," and that's no exaggeration. At 4.5″ closed and 7.75″ open, the Grinder handles most all your daily needs. The 3.25″, bead-blasted 4Cr13MoV blade has a unique reverse tanto blade with large belly. It's good for all-purpose cutting and slicing. And Kershaw tells us, "If you need to bear down on the back of the blade during a particularly tough cutting job, the concave spine with heavy jimping provides additional grip security."
The Grinder also features Kershaw's incredible SpeedSafe assisted-opening mechanism. That makes it an excellent one-hand flipper with incredibly crisp action. Further, the Grinder features a fairly sturdy linerlock mechanism as well as glass filled nylon handles that are easy to grip and easy to clean. The reversible deep-carry pocket clip only allows tip-down carry.
The Grinder is a little on the heavy side in comparison to most modern flippers, but we liked it nonetheless. It really feels good in the hand and Kershaw clearly designed it for carry and use on the job every day.
The Kershaw Grinder Details
4Cr13MoV stainless steel blade
Bead-Blasted coating
Jimped spine
Black glass filled nylon handle
3.25″ blade with bead blasted finish
Blade thickness: 1/8″
4.5″ Closed
7.75″ Open
4.5 oz.
Imported
The Kershaw Grinder isn't going to win awards. It's an everyday carry that is built to carry and use. At $19.99, it's a good-sized knife to throw in your pocket every day and use while you work. If you're interested in learning more, simply follow any of the links in this article.