This video review of the ESEE Junglas, ESEE Pouch, and SOL Scout Medical Kit was provided by Everyday TacticalVids and Smoky Mountain Knife Works. We hope you enjoy this new partnership and the unique reviews Tim Carpenter provides. Check out his YouTube Channel by clicking the link above.
ESEE Junglas Details
This knife is made from high carbon 1095 steel. And while 1095 is a top choice for professional cutlery designed for hard use, it will rust and stain if not properly cared for – especially on the cutting edge and around the laser engraving. It is the user's responsibility to keep the blades properly lubricated and cleaned. We suggest using a dry film rust inhibitor.
1095 carbon steel blade
Epoxy powder coating
Full tang construction
Micarta handle scales
Triple rivets
Lanyard hole
9-3/4″ blade
Blade Thickness: 3/16″
16-1/2″ overall length
Kydex sheath with ballistic nylon Molle attachment option
Made in the USA.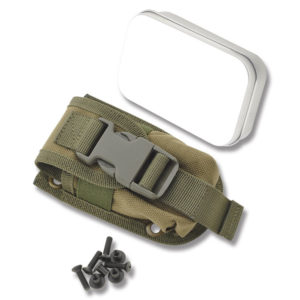 ESEE 5/6 Accessory Pouch  Details
Tin kit container
Tan nylon carrying pouch
MOLLE compatible attachable screws
Made in the USA

SOL Scout Medical Kit Details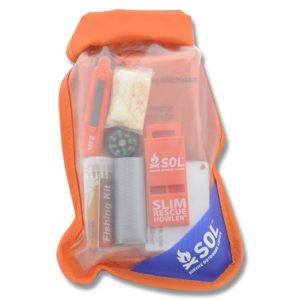 Kit Contains: SOL&153; Survival Blanket: Reflects 90% of body heat. Waterproof, windproof and easily repairable. Measures 96″ x60″ . Fits two people. Slim Rescue Howler: Ultralight and thin whistle can be heard over one mile. Tinder-Quik: Waterproof, burns for 2-3 minutes 20mm Survival Compass: Accurate, liquid damped, fast acting dial, with groove to accept an improvised lanyard ring. Mini Rescue Flash Signal Mirror: Visible over ten miles. Made from durable, reflective poly-carbonate with mil-spec retroreflective aiming aid Fire Lite Sparker: Start a fire with this easy to grip, one-hand-operable sparker. Windproof and waterproof. Produces a powerful shower of sparks Survival Fishing and Sewing Kit: Fishing or sewing line, fishing hooks, needle, snap swivel, and safety pins. Duct Tape: Professional grade, 13ml. duct tape – the ultimate repair and improvisation component Waterproof dry sack attaches to belt or backpack straps

Special thanks to Tim Carpenter and Smoky Mountain Knife Works (smkw.com) for providing this content. We truly appreciate you.