SOG's tactical sheepsfoot, the SOG TiNi Flash Rescue has a unique appearance, but still features all the familiar tools anyone who likes rescue knives loves. While most rescue knives are tanto or clip point, the SOG TiNi Flash Rescue really breaks the mold. As SOG says, "The Flash Rescue has got to be one of the coolest knives we've ever seen. Forget its wicked-quick blade access, that it handles like a race car on rails, or that it locks up like Alcatraz. It just looks and feels extraordinary."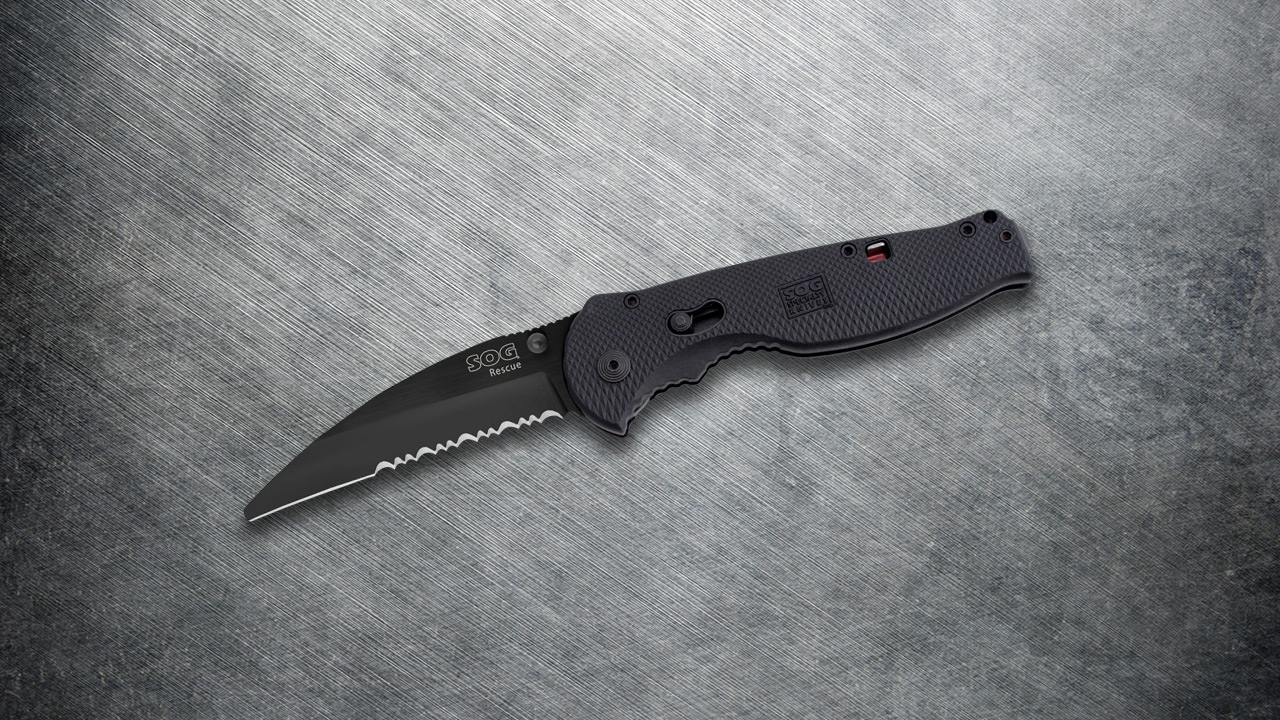 The SOG TiNi Flash Rescue features an elongated, partially serrated, AUS8 sheepsfoot blade. It's definitely different. While AUS8 handles resists corrosion fairly well, SOG added a titanium nitride (TiNi) finish that helps protect it from wet conditions.
The TiNi Flash Rescue opens using SOG's S.A.T. technology. S.A.T. is an assisted open mechanism that features a piston lock for quick opening and firm locking. The lock is easily released using a sliding button that's similar to Benchmade's premium Axis lock. The knife also features a safety switch that prevents accidental opening.
The SOG TiNi Flash Rescue comes with glass reinforced zytel handles. These polymer handles are lightweight and have good impact resistance. SOG included a reversible pocket clip with the TiNi for convenient ambidextrous use.
The SOG TiNi Flash Rescue Details
Aus8 Stainless steel blade
Unique Partially Serrated Sheepsfoot design
S.A.T. Assisted Opening mechanism
Piston Locking mechanism
Glass Reinforced Zytel handle
Safety switch
3 1/2″ Blade length
4 1/2″ Closed length
Made in the U.S.A.
The SOG TiNi Flash Rescue is a unique rescue knife with many desirable features. This knife is quick to open and firm locking. We found the SOG Tini Flash Rescue at SMKW.com for $39.99. You can check this deal out by simply clicking the button below.