The inspiration for the Helle Lappland came from the traditional knife of the indigenous people that inhabit the Arctic area of northern Norway, Sweden, and Finland – the Sami. Their knives were designed to do anything from chopping meat to delicately skinning game. The Helle Lappland brings you that same versatility.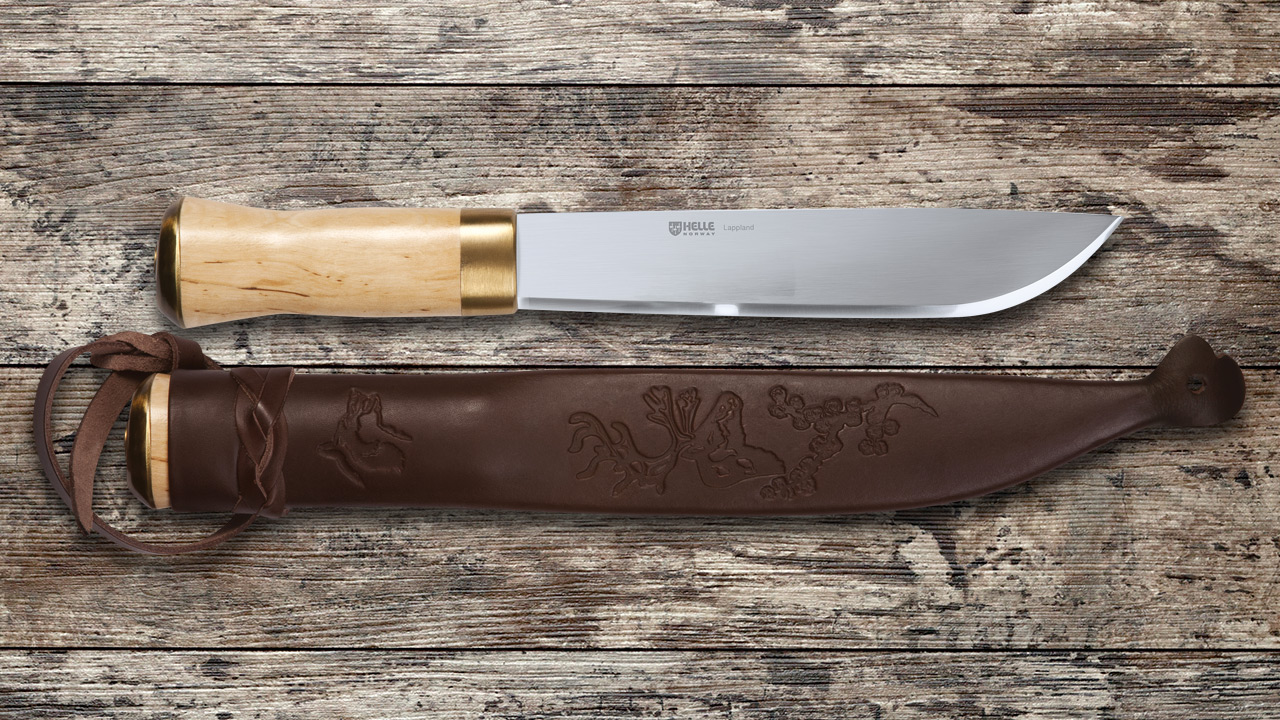 The 13 3/8″ Helle Lappland is a long knife, but it's slender at first glance. It's hefty in the hand and features a blade that is shaped like a miniature machete. This design gives you enough heft for chopping tasks, yet still thin enough for slicing. Helle makes this blade from their non-laminated 12C27 Sandvik steel. There's no choil or gap between the blade and collar, so the full 8 7/16″ blade is at your disposal.
The handle is a traditional design that's made from birch wood with brass accents. The birch has a natural finish that displays the grain beautifully. Helle made the handle a collar and pommel out of brass to protect the wood from splitting or absorbing moisture. It's a tasteful touch that adds to the traditional appearance of the knife.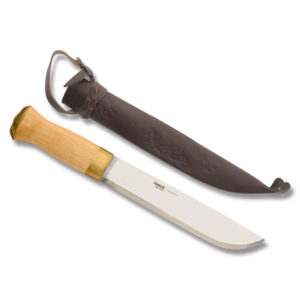 Like many Helles, the Lappland comes with a leather sheath. The sheath is a traditional Scandinavian style that holds the knife deep and secure. Its embossed with natural scenes of antlers and wolves that are relevant to the origins of the knives design.
The Helle Lappland Details
12C27 Sandvik steel blade
Birch wood handle
Brass collar and pommel
8 7/16″ blade length
13 3/8″ overall length
Leather sheath
Made in Norway
The Helle Lappland is an excellent traditional camp knife. Its versatile design has worked for centuries and is sure to serve you well. These knives vary in price but we found it for $169.99. You can find this deal by simply clicking the button below.