Like most places, Black Friday deals are top secret. After a talk with SMKW, we got the details on their sale that you need to know. here's the low-down on SMKW's in-store events and sales on Black Friday – November 24, 2017. Please note that these deals and sales are only good INSIDE the SMKW Retail Store. SMKW will have a different online sale for Black Friday and Cyber Monday as well.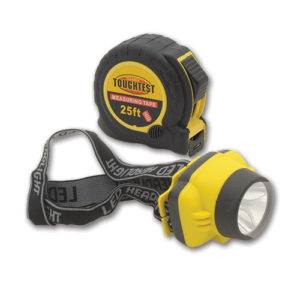 Black Friday Giveaways
For those who come early, SMKW will be giving away an LED headlamp and a deluxe measuring tape to the first 500 customers through the door. I don't know if you've looked at nice headlamps lately, but they're a solid score for just showing up early. There's no purchase necessary to get yours, but only the first 500 customers get them. If you really want one, make sure you're there when they open.
Black Friday Deals
We did get our hands on the flier, and here's just a sampling of what you can expect in the retail store: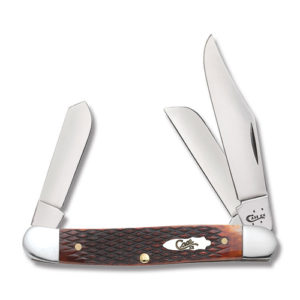 Case Chestnut Bone Pocketknives on sale for $39.99 (reg. $60+)
For $39.99, you have your choice between a Chestnut Bone Trapper or Stockman. These knives come with Tru-Sharp stainless steel blades and genuine bone handles. The Trapper's regular price is $64.99 and the Stockman $67.99. These are some of the best Case deals available.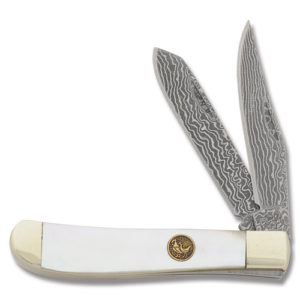 Hen and Rooster Damascus Trapper only $59.99 (reg. $99.99)
For $59.99, you can snag a Hen and Rooster Damascus Trapper. This model comes with genuine damascus blades and beautiful mother of pearl handles. This knife is a true showpiece that costs $99.99, but you can get it for nearly half that this weekend.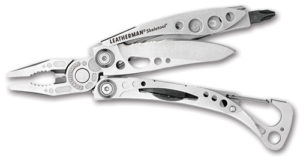 Leatherman Skeletool KBx Combo Pack for $59.95 (reg. $89.95)
Cant choose between a multi-tool and a knife for the holidays, why not get both? For $59.95, this Leatherman combo pack includes a 8-function skeletool and a KB x linerlock knife. The tool comes with your choice of either denim or sublime carbon fiber handles. This is a great way to get two great gifts for the price of one.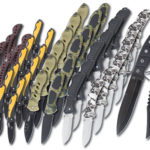 Frost Cutlery 50 Piece Knife Set for $50 (that's only $1 per knife) 
If you've got a lot of gifts to buy for your family, office, or whatever, check out this deal. You can get 50 Frost knives for $50. This set includes 2 TacXtreme Bowies, 6 Tactical Lockbacks, 6 Combat Linerlocks, 6 Skull Lockbacks, 6 Buckshot Lockbacks, 12 TacXtreme Lockbacks, and 12 Eagle Eye III Lockbacks. It's a great way to get a lot of knives at a great price.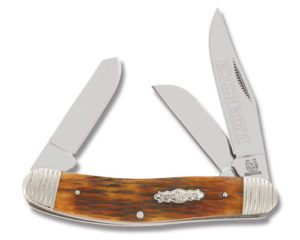 Rough Rider Jigged Peachseed Bone Sowbelly  only $9.99 (reg. $12.99)
The Rough Rider Jigged Peach Seed Bone Sowbelly is available for only $9.99. It's a classic workingman's knife with a bit of dressing up. It comes with 440A stainless steel blades, genuine bone handles, and special ringed bolsters. For the money, Rough Rider makes a great everyday carry pocket knife.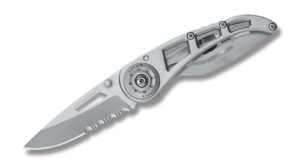 Gerber Ripstop II for $9.99 (reg. $40)
This knife has been a popular knife in the Gerber lineup for a year now. The Ripstop II is normally priced at $40, but it's on sale this weekend for $9.99. This model features a stainless steel construction and a partially serrated blade. At 4 1/2″ closed, it makes for a great EDC knife that you don't have to worry about losing.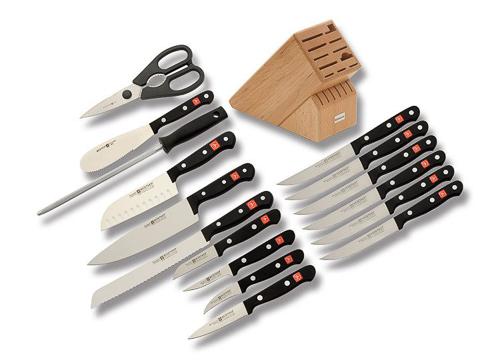 Wüsthof Gourmet 18-Piece Block Set only $199.99 (MSRP is $687)
This block set is made by one of the best kitchen cutlery makers in the world, Wüsthof. The MSRP on this Wüsthof 18-piece block is $687.00, but it's available for only $199.99 this weekend. This premium set includes a small paring knife, medium paring knife, trimming knife, bird's beak peeling knife, utility knife, 6 steak knives, a serrated utility knife, kitchen knife, bread knife, chef's knife, sharpening steel, and kitchen shears. These blades are all precision forged high carbon stainless with POM handles. For the price, it's certainly one of the best deals available this weekend.

Thompson Center Arms Compass Bolt-Action Rifles only $199.99 after rebate (reg. $274.99)
Gun sales are on the rise, so we can't forget that Smoky Mountain Guns and Ammo is inside SMKW. For $199.99 after rebate, you can get a Thompson Center Arms Compass Bolt-Action rifle. You have your choice in multiple calibers from .22lr to 6.5 Creedmore to 30-06. It's a great way to get a beginners rifle for your son or a hunting rifle for yourself at the same price.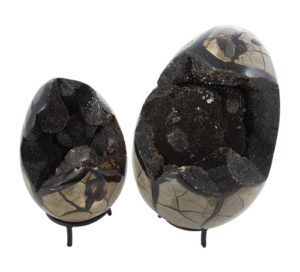 Septarian Geodes "Dragon Eggs" for 50% off
Septarian Geodes also known as "Dragon Eggs" are a mineral rock formation that dates back about 70 million years ago. Smoky Mountain Knife Work's Relic Room will be selling them for 50% off their advertised price. Not everyone is into knives and we get it, so this is a great way to capitalize on getting two gifts at the same place. These black geodes are fascinating and certainly worth looking at for the price.
Store Hours
SMKW is planning on changing up their store hours for the sale. Normally they are a 9am-9pm company, but they are on a mission to be more accommodating. We were told they would be open from 7am-10pm on the 24th and 9am-9pm for the weekend. Their sale starts at 7am the morning of the 24th. If you want to be one of the first in, we recommend going early.
All in all, this is going to be a sale that you don't want to miss. Whether you're online or in store, there will be plenty of hard to pass up deals. You can keep up with their promotions on their Facebook page, Instagram, and of course SMKW.com. One thing is for sure, we are ecstatic about finding the knives we've wanted all year for an incredible Price.
Where is Smoky Mountain Knife Works Retail Location?
Located at the gateway of the Smoky Mountains National Park, Smoky Mountain Knife Works is the "World's largest knife showplace." More than 1.5 million guests visit their 108,000 square foot knife showroom in Sevierville, TN, and millions more receive a monthly print catalog and shop at smkw.com. They are located at 2320 Winfield Dunn Parkway, Sevierville, Tennessee 37876. It's about 2 miles from I-40 Exit 407 (look for the big blue roof on the right).
Here's a handy google map for you.