If you're anything like me, you have friends who love knives. I've got $50 left in the Christmas gift budget, and I'm on the hunt for a good knife for a good friend. I dug around on the internet, and I've found five different knives that I think he'll like – all under my $50 budget.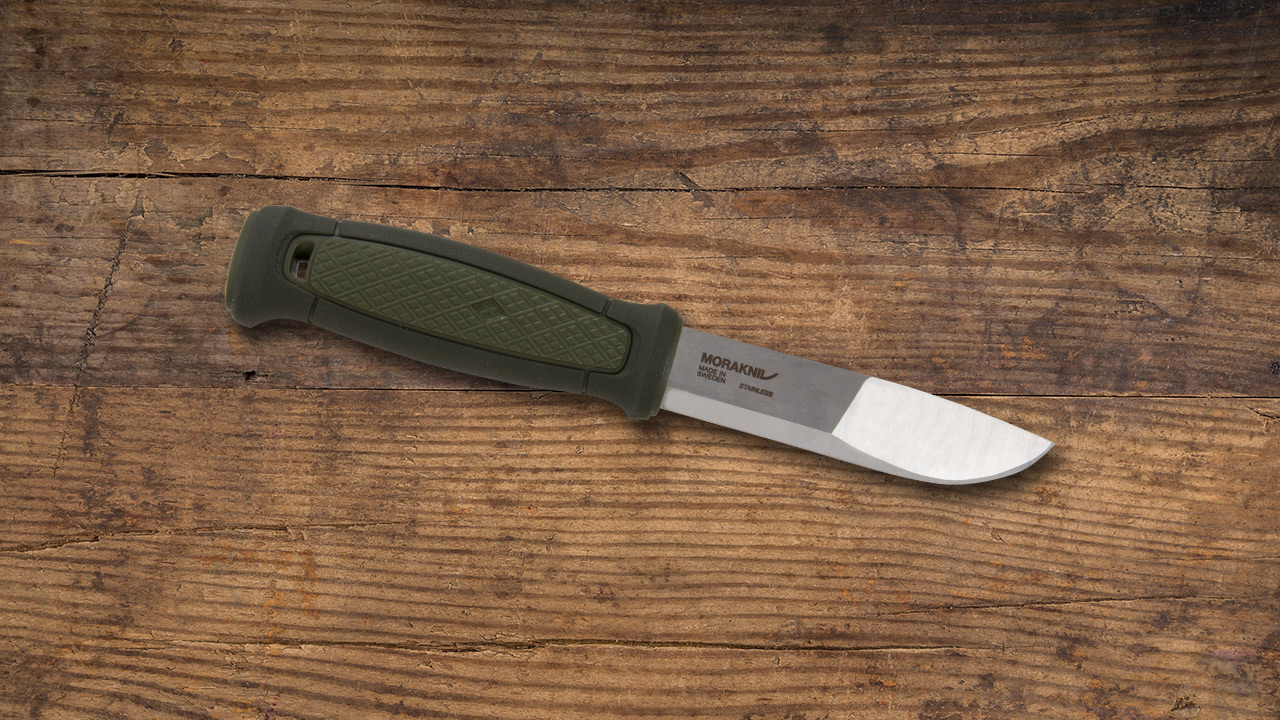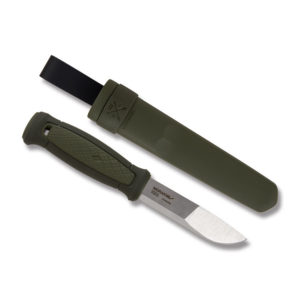 Morakniv Kansbol Fixed Blade
with OD Green Rubber Handle
Item Number: FS12634 Price $39.99
First, you can't really go wrong with a Mora. Bushcrafters swear by them. The Morakniv Kansbol is the ultimate all-around knife for almost any purpose. Whether on a hike, hunting wild game, or out at sea, the Sandvik 12C27 Stainless Steel blade and OD Green TPE handle give you the ability to tackle anything that might come in your way. It can be easily carried on a belt with the polymer belt sheath or in a bag.
Features: Satin coated stainless steel blade. OD green rubber handle. Full tang construction. OD green molded plastic sheath. 4-3/8″ Drop point plain edge blade. Blade thickness: 1/8″. 8-15/16″ overall. Made in Sweden.

Victorinox Swiss Army Delémont Collection EvoGrip 14
Item Number: V04342 Price $36.99
Everybody loves a Swiss Army knife. They're always handy to have in your pack or car. This one steps out of the classic mold with a new ergonomic grip. The Victorinox Delémont Collection Evolution Grip 14 model brings you the perfect tool for your everyday adventures. It features all the functions you need with specially formed scales that offer outstanding grip and stability. Work faster and easier with this little bit of evolution that fits in your pocket.
Features: Stainless steel blade. Red composition handle with black rubber inserts. Nail file/nail cleaner. Lever design serrated edge scissors. Can opener/small screwdriver. Cap lifter/locking large screwdriver/wire stripper. Corkscrew. Punch/reamer. Toothpick. Tweezers Keyring. 2-1/2″ Blade. Blade Thickness: 1/16″. 3-3/8″ closed. Made in Switzerland.

Buck Knives Small Selkirk Fixed Blade
with Brown and Black CNC Contoured Micarta Handles
Item Number: BU11109 Price:$46.99
I've always loved Buck Knives. They all carry their Forever Warranty, which means you can be just about as rough as you want to be on them, without any worry. The Buck Knives Small Selkirk Fixed Blade by Buck Knives has a 420 HC stainless steel blade and brown and black CNC contoured Micarta handles. It's the perfect addition to a hunting trip and wears well on your hip.
Features: 420 HC stainless steel blade. Thumb ridges. Brown and black CNC contoured Micarta handle. Steel throat and end cap. 3-3/4" Drop point blade. Blade thickness: 1/8". 8-1/4" overall. Injection molded nylon sheath with removable, reversible belt loop.

Kershaw Knives Leek
with Bead Blasted Coated 410 Stainless Steel Handles
Item Number: KS1660 Price: $49.99
Ken Onion's Leek design was really the flagship of assisted-opening knives. I've owned one for years, and now you can get one like this for under $50.
The Kershaw Leek is one of the sleekest and most popular assisted-opening knives ever produced. This model features a stylish bead blast finished 14C28N stainless blade (plain edge) and 410 stainless steel framelock handle. The Leek features Kershaw's patented SpeedSafe technology. Give the ambidextrous thumb-stud a push and the knife takes over opening the blade the rest of the way. This is an ideal one-handed opener with a reversible pocket clip and a tip safety lock so the blade won't fire by accident.
Features: Sandvik 14C28N stainless steel blade. Ambidextrous thumb studs. SpeedSafe assisted opening mechanism with blade flipper. 410 stainless steel handle. Framelock. Lanyard hole. Reversible pocket clip. 3″ clip point blade. Blade thickness: 1/16″. 4″ closed. Made in the USA.

Case Sod Buster
with Yellow Composition Handles
Item Number: CA038 Price: $31.99
Sometimes you just want a classic workhorse in your pocket. The Case Sod Buster is that old school workhorse. With Chrome Vanadium blades, you can get this one a little sharper than your standard TruSharp blades, but you need to keep it oiled to keep it pristine.
The yellow handle has been a favorite since the earliest days of Case. Many a farmer, rancher, and hunter find the yellow color an advantage in locating a dropped knife.
Features: Chrome Vanadium blade. Yellow composition handle. Brass pins and liners. 4-1/2″ drop point blade. Blade Thickness: 1/8″. 4-5/8″ closed. Made in the USA.

In the end, I ended up going with the Mora. It's a knife I know for certain my friend doesn't have, and I still have $10 leftover. I hope he likes it. If you're looking for a quick way to find knives under $50, SMKW.com has set up a Holiday Gift Giving Guide that breaks things down in categories just like this. Just click any of the links above to get there.