The Marble's WWII Devils Brigade Dagger is the replica of a legend. During WWII the first special service force were the men you didn't want to come across. These elite soldiers were known as the Devil's Brigade and were delegated the most difficult objectives. These soldiers were highly trained in hand-to-hand combat and required a knife that could be held to the same high standards. The answer was the V-42 fighting knife. An original V-42 can run you close to $5,000, but Marble's has us covered for $29.99 with a quality replica.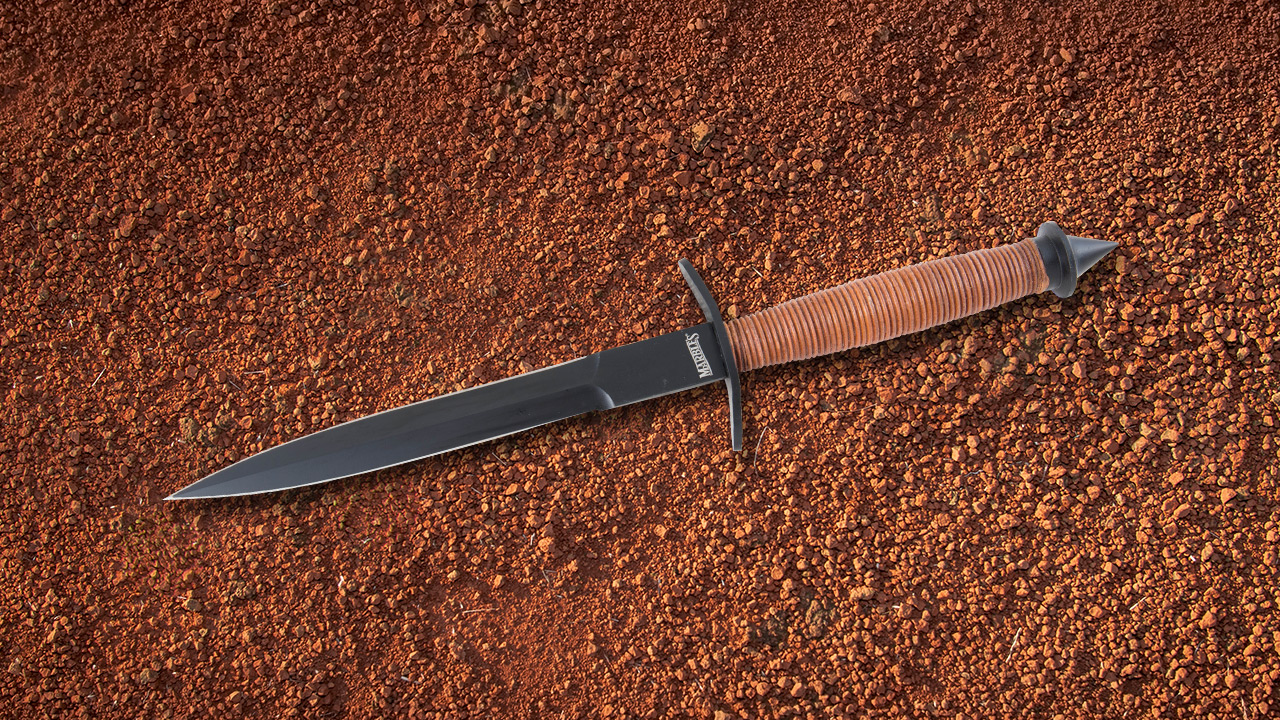 Marble's V-42 replica includes many of the iconic features found on the V-42. For example, this model features a 440 stainless stiletto blade that's designed for maximum penetration. The shape of the blade is so effective that originals have been said to easily pierce through steel G.I. helmets in testing. The blade on this replica is 5 1/2″ which is just shy of the original. It's certainly not a knife I'd want to be on the business end of.
The handle is also similar to the original in design and materials. Marble's uses stacked leather surrounded by cast guards at each end. The pommel is pretty wicked on the original V-42, and Marble's nailed it with this replica. It's a large cast spike that can be used as a glass or skull breaker. It's a trademark feature that's absolutely essential to any V-42.
The original V-42 came with a leather sheath much like the Marble's model. It was designed to be worn on your belt then tied around your leg. This secured the sheath while you were running or moving through any terrain. It's so heavy duty that it includes 12 rivets on top of standard stitching to hold it together. One thing is for sure, you certainly aren't losing the knife in this sheath.
The Marble's V-42 Details
440 Stainless steel blade
Stacked leather handle
Black coated cast metal guard and pommel
Glass/Skull breaking tip
5 1/2″ Dagger blade
12 3/4″ Overall length
Leather belt sheath included
Overall, this knife is a fantastic replica of an iconic fighting knife. Whether you're a history buff or just want a good defensive knife, the Marble's WWII Devils Brigade V-42 Dagger will fit the bill.