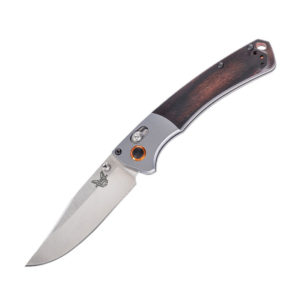 The new 2018 Benchmade 15085 Mini Crooked River is the mini counter part to the original Benchmade Crooked River knife. It's smaller and better suited for everyday carry.  It features the same gorgeous profile as the original, including the iconic pivot and handle materials.
The original Crooked River's blade measures in at 4″ in length while the new Mini version is 3.4″. The handle is also scaled down to 4.5″ from the standard 5.31″. The shortened blade and handle on the Mini Crooked River drops the overall weight to 3.29oz from 8.64oz. All of this is accomplished without losing features like the reversible tip-up pocket clip and axis lock, while creating a knife that is much easier to carry. Let's take a look at the details.
Benchmade 15085 Mini Crooked River Features
CPM-S30V premium stainless steel (58-60HRC) clip point blade
Blade Length: 3.4"
Thickness: 2.896mm
AXIS® Lock
Contoured stabilized wood handles with anodized aluminum bolsters and stainless steel liners
Anodized orange iconic pivot
Reversible tip-up black oxide split-arrow
Closed Length 4.5″
Overall Length 7.89″
Weight 3.29oz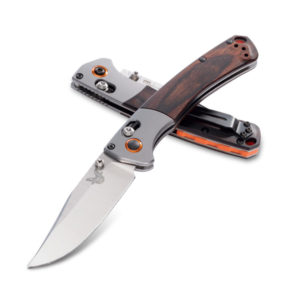 Here's what Benchmade says about the 15085 Mini Crooked River
"The standout Crooked River now in a smaller, everyday carry size. Featuring the same traditional profile, modern technology, and style that pushes the preconceived notions of what a hunting knife should be."
The Benchmade 15085 Mini Crooked River is available for pre-order right now at Smoky Mountain Knife Works (smkw.com). You can pre-order yours by clicking any of the links in this article or the button below.