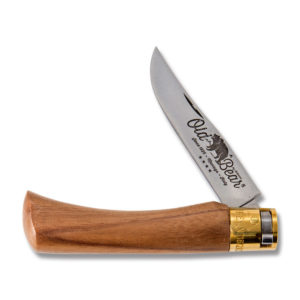 While you may have never heard of the Italian knife company, Antonini Knives has been making blades and knives like the Old Bear since 1925. In fact, their company is centered in an industrial sector in the Maniago area (Pordenone) which has been producing blades, knives and other cutting instruments since medieval times. The Antonini Knives Old Bear is a traditional clasp knife like the Opinel knives, but with a more ergonomic wooden handle and a more intricate locking mechanism.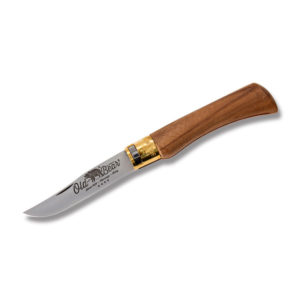 This traditional clasp knife features a 4 5/8″ sculpted walnut handle. The shape swells at each end creating a slight guard before the blade and something to pull against at the butt of the knife. At 8 1/4″ overall, the handle makes the large Old Bear a little easier to handle.  The oil-treated walnut should hold up well over time. The brass clasp features a solid safety ring and a single switch (perpendicular to the handle) that locks the blade open or closed.
The large version of the Old Bear features a stone-sharpened, 420 stainless steel clip point blade. It's 1/16″ thick and 3 5/8″ long. A simple nail mark allows for traditional opening.  There are no return springs in the Old Bear knife. The blade also features the Old Bear logo etch which celebrates the company's 90th anniversary. It's simplicity – like that of the Opinel – is what makes the clasp knife a lasting tradition design.
Antonini Knives Old Bear Details
Satin coated 420 stainless steel blade
Blade Etch
Oil-treated walnut handle
Thumb nail nick
Safety ring lock mechanism
Brass bolsters
3-5/8″ clip point plain edge blade
Blade thickness: 1/16″
4-5/8″ closed
8-1/4″ overall
Made in Italy
Essentially, the Antonini Knives Old Bear makes for an excellent shop or work knife. While its size is substantial, it's traditional design makes it light and nimble. We think this knife might also be a nice addition to your pack on your next adventure. It's available online for just under $20. If you're interested in learning more about them, you can click any link in this article or the button below.