The Benchmade 176BK SOCP dagger is many things, but is it the perfect boot knife? The SOCP dagger is an optimized tool for self-defense. It features a skeletonized design that allows the user to maintain dexterity and manipulate other objects without having to put down the knife. It's light, agile, and easily concealed, everything that most people look for in a boot knife.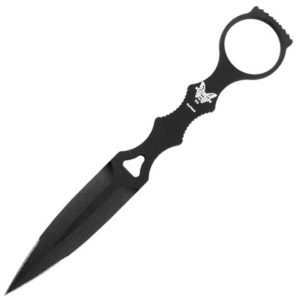 Its 440C stainless steel blade is a traditional dagger shape. The pointed tip is great for penetration while the sharpened edges will handle cutting tasks. The stainless steel is great for use in adverse conditions, especially if you plan to carry it as a boot knife. It won't rust or dull from exposure to mud or water.
The SOCP features a skeletonized construction with finger hole for ease of deployment and use. The finger hole allows for a quick change of stance and its 3.5 oz weight makes it a good addition to a drawn firearm.
The SOCP dagger comes with a specialized sheath. It's designed to integrate into gear and webbing while keeping a low profile. This integration system is MOLLE compatible for those who want to add it to their existing kit. At 7 1/4″ in overall length, this dagger typically wouldn't be the easiest to conceal, but this injection molded sheath gets the job done just fine.
Benchmade makes all of the SOCP daggers in the U.S.A. This also qualifies them for their Lifesharp warranty. This lifetime warranty provides a free sharpening and repair service on your dagger for life. If you're not an expert on sharpening or if you damage the blade's profile, this can be a real lifesaver. The Lifesharp warranty is a great added value for buying a Benchmade knife.
Benchmade 176BK SOCP Dagger Details
440C stainless steel blade
skeletonized construction
Black coated finish
Finger hole for ease of deployment and use.
3 1/4″ Blade length
7 1/4″ Overall length
weight 3.5oz
Injection molded sheath included
Lifesharp warranty
Made in the U.S.A.
Overall, the Benchmade 176BK SOCP dagger is a great self-defense blade. Its design is strong and innovative to handle different roles in your kit. We don't know if it's the perfect boot knife, but it's sure in the running for it. MSRP on this dagger is $110.00, but we found it for $93.50 online. You can find this deal by clicking the button below.