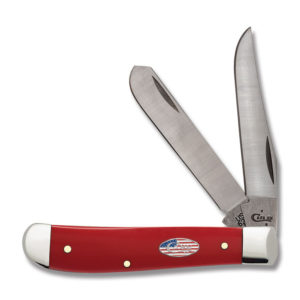 You can use or collect the Case American Workman Series. The price point and durable handle material allows you to use and beat up on these knives, but the stars and stripes shield and the polished nickel silver bolsters make this a great knife for the display case.
The blades are TruSharp surgical steel blades and don't require a lot of maintenance in a display case. TruSharp also holds a great edge when being used hard. Case offers the Tribal Lock, Hawk bill, Trapper, Sod Buster JR, Mini Trapper, Medium Stockman, and Canoe patterns in this series. Take your time and check out these patterns, because there are some great working and display blade setups in that lineup.
The knives in this series feature smooth red Delrin handles, a durable synthetic material that won't crack or chip like a bone-handled knife. This means you can use these knives hard without worrying about breaking one of the scales on your knife. Case dressed up these Delrin handles with nickel silver bolsters and brass pins and liners. These knives are all made in the USA, and each handle features the unique Case Stars and Stripes shield.
Click on any thumbnail below to launch a slide show of larger images.
Case American Workman Series Details:
TruSharp surgical steel blades
Red Delrin handles
Nickel silver bolsters
Brass pins and liners
Stars and Stripes shield
Available in 7 different patterns
Made in the USA
The Case American Workman Series is a well-rounded series. The knives in this series start at just under $34 at the low end and top out below $60. You can find this series and see the different patterns by clicking any link in the article or the button below.