Cold Steel tells us, that the "Cold Steel Ti-Lite evokes the sleek speed and rebellious lines of the classic 1950's switchblade." They're not wrong. It's made using modern materials and processes to bring this traditional design into the 21st century. The Ti-Lite is a well-rounded knife for EDC and self-defense tasks alike.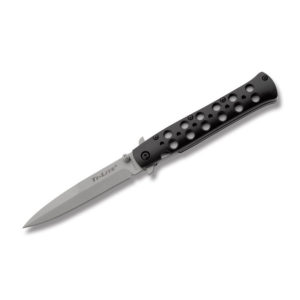 The Ti-Lite features a 4″ AUS-8 stainless steel blade. The EDP (Electric Discharge Plating) coating helps protect it from moisture that could damage the blade. For a manual knife, the Ti-Lite is smooth to open. A simple pull of the flipper or a push on the thumb stud easily opens the blade. A liner lock mechanism keeps the blade safely locked in the open position. It's an effective system that's easy to operate and manipulate with one hand.
The CNC milled 7075 aluminum handles are both lightweight and durable. They feature a skeletonized design that allows them to remain low-weight despite their 5″ length and metal construction. When opened, the flipper mechanism provides a small guard at the base of the blade. Cold Steel includes a removable pocket clip that gives you a choice of how you carry it.
Cold Steel Knives Large Ti-Lite Details
AUS-8 Stainless steel blade
7075 Aluminum handle
protective EDP (Electric Discharge Plating) coating
Spear point blade design
Removable pocket clip
Linerlock design
4″ Blade length
5″ Closed length
4.6oz Total weight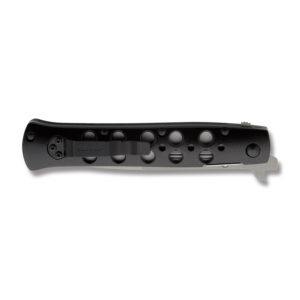 The Cold Steel Ti-Lite is the modern version of that classic switchblade everyone loves. It's modern materials and quality makes it a reliable EDC at a better price point than an original. The Ti-Lite retails for $149.99 on the Cold Steel website, but we found it online for $109.99. Simply click the button below to find this deal.