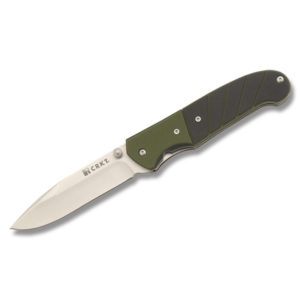 The CRKT Ignitor is a lot like any other EDC. Its average size and blade shape is nothing out of the ordinary. It becomes unique when the assisted-opening and safety mechanisms are considered. These mechanisms not only make the knife quick to open, but safe when doing so.
OutBurst assisted opening is what CRKT calls their assist mechanism. It's a spring-loaded design that quickly opens the blade and locks it into place. However, the downfall of these mechanisms is always safety. A lightning fast blade opening is great until it happens in your pocket. To combat this issue, CRKT outfitted the Ignitor with the Fire Safe mechanism. When closed, the blade is safely locked in the closed position by the Fire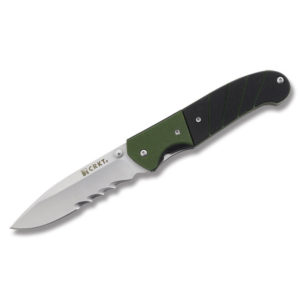 Safe pin. To release the safety, simply press down on the thumb stud and open like normal. The tip of the thumb stud must be pressed for the OutBurst assist to open the knife.
Once the knife is open, you've got a 3 3/8″ 8Cr14MoV stainless steel blade to work with. Depending on your personal preference, you also have a choice of a plain or serrated spear point design. The blade is held open by a standard linerlock mechanism. The Ignition's green and black layered G-10 handle is durable and attractive. It features a molded in grip texture to help you hold it in adverse conditions. It's nothing super special, but it's plenty for an EDC knife.
CRKT Ignitor Details
8Cr14MoV stainless steel blade
Spear point blade design
partially serrated or plain edge available
OutBurst assisted opening mechanism
Fire Safe safety mechanism
G-10 handle
3 3/8″ Blade length
4 1/4″ Closed length
The CRKT Ignitor is one of the safest spring assisted knives on the market. Its revolutionary OutBurst and Safe Fire mechanisms make this a great EDC knife. It's not only quick and easy to open, it's also safe to carry without fear of an accidental opening. You can find this knife online for $32.99. To find this deal simply click the button below.