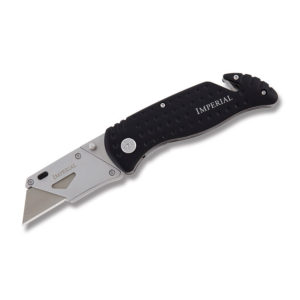 The Schrade Imperial Folding Utility Knife is great for those who use their personal knives or one of those uncomfortable box cutters every day. This knife is a box cutter with some upgraded features that make it more relatable with your EDC knife. Save your Benchmade and Zero Tolerance from the heavy cutting at work and check out the Schrade Imperial Folding Utility Knife.
The Folding Utility Knife comes with a satin coated 3Cr13MoV stainless steel blade already installed. You can replace it with a standard razor blade later, but the 3Cr13MoV blade is rust resistant and holds an edge a bit better. The design exposes only half of a standard 2-7/8″ razor blade. This means when one side dulls you can simply reverse the razor blade and have a fresh edge to work with. Like a standard pocket knife, the Folding utility knife opens using ambidextrous thumb-studs. It's locked in the open position with a familiar linerlock mechanism. Essentially, this knife operates like any other modern folding pocket knife that you're used to.
The aluminum handle features a rubber over-mold. This design is ergonomic and comfortable for long shifts on the job. Schrade added the benefit of a separate strap cutter in the handle so you don't have to wear down the blade cutting through rope or plastic straps. The handle also features a tip-down pocket clip for easy carry.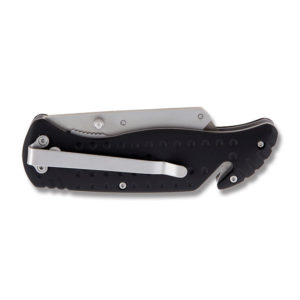 Schrade Imperial Folding Utility Knife Details:
3Cr13MoV stainless steel blade
Replaceable blades
Aluminum handle with Rubber over-mold
Ambidextrous thumb-studs
Linerlock mechanism
Strap cutter in handle
Tip-down pocket clip
2 7/8″ blade length
7 1/4″ overall length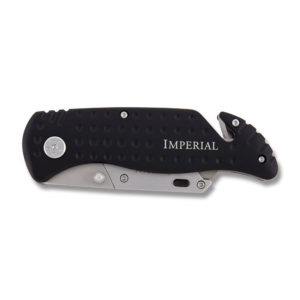 If you have to carry an uncomfortable box cutter at work every day, why not enjoy it? If you're using your premium knife at work, why waste the edge and put wear and tear on it? The Schrade Imperial Folding Utility Knife is certainly more enjoyable than a standard box cutter, and it saves your EDC for when you need it. For $7.99 you can get an industrial knife that opens and folds like your familiar pocket knife. It's a more comfortable and second nature operation for most of us. You can find the Folding Utility Knife by clicking the button below.