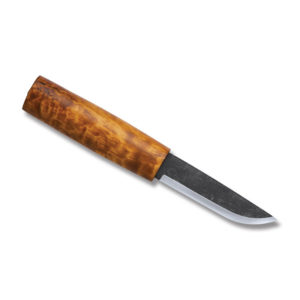 The Helle Saga Siglar is a fixed blade replication of a historical Viking utility knife, and it's not just for your shelf. This 7.67″ triple-laminated steel and curly birch knife is a camp or bushcraft workhorse. The replica knife was originally created in 1983 to help fund a trip around the world in a hand-built replica of a 1000-year-old wooden Viking long ship. According to Helle, they were tasked with "re-creating a Viking age belt knife that would match the craftsmanship and historical significance of the ship." They did just that.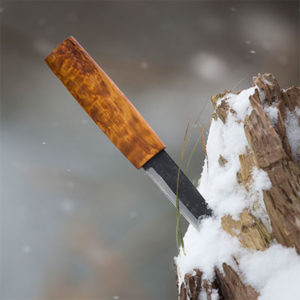 The Helle Saga Siglar fixed features a triple-laminated carbon steel blade that looks hand-fired or antiqued. The 3.4″ drop point blade is 3.7mm thick which makes it ideal for camp and survival tasks. Helle says the Saga Siglar knives are "designed to retain their sharpness as a lifelong outdoors companion. But it is still important to take care of your knife and its sheath." Helle recommends that you wipe the blade clean whenever its wet, and apply grease or oil from time to time.
This knife features a 4.2″ traditional Curly Birch handle. Curly Birch is incredibly durable and weathers well. To maintain it, all you'll need to do is dry the handle when it's wet (with a soft cloth) and occasionally wax it. Curly Birch also gives you the opportunity to customize the handle to your own grip. There's enough handle available to carve and sand your own grip and texture however you like.
The Helle Saga Siglar comes with a traditional, genuine leather belt sheath. The knife sits deep and snugly into the sheath, so you don't have to worry while you carry it.

Helle Saga Siglar Details
Triple laminated steel blade
Curly Birch wood handle
Full tang construction
Brown leather sheath with belt loop
3.4″ drop point plain edge blade
Blade thickness: 3.7mm
7.6″ overall
Made in Norway
The Helle Saga Siglar was originally created as a Viking replica for Norwegian explorer, Ragnar Thorseth in 1983, but 35 years later, it's still an excellent camp knife. All in all, its features match or surpass any modern bushcrafter's knife. If you're interested in getting the Saga Siglar, click any link in this article or simply click the button below.