The Hogue EX-02 is an Allen Elishewitz design knife that is comfortable, sturdy, and made to last. It's the first liner lock knife in Hogue's extreme series of knives. To ensure the user gets a tool that can be treasured and passed down, every aspect was carefully engineered for durability. These features make the EX-02 a workhorse that's worth checking out.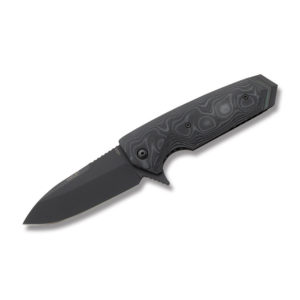 Its 154CM stainless blade is a spear point design. It's good for cutting and gaining penetration when stabbing. Hogue added an black coating to help protect the blade from moisture and wet conditions. It opens easily with its ambidextrous thumb studs or flipper. The flipper option allows for a quicker opening and provides a protective finger guard once the blade is deployed.
The handle features an extra thick, hardened, stainless steel linerlock mechanism with manual safety. The lock is a simple push-button design that's easy to operate with one hand. The manual safety ensures the button won't accidentally close the knife when your mind is on the task at hand. These features prevent the lock from failing under extreme use and help keep the user accident free.
Last but not least, the base of the handle is steel and comes down to a defined point. This point would make a perfect striking tool or even a glass breaker. The handle in general is made of durable glass-filled polymer that can take a hit and provide excellent grip in wet conditions.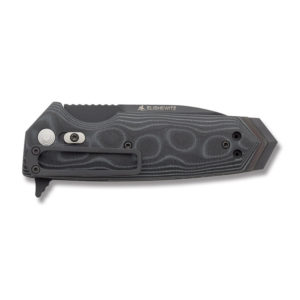 Hogue EX-02 Details
154CM stainless steel blade
Spear point design
Protective black coating
Glass-filled polymer handle
Push-button lock and manual safety
striking tool/ glass breaker
3 3/4″ Blade length
5 1/8″ Closed length
Made in the U.S.A.
Overall, the Hogue EX-02 is a durable EDC knife. Its reinforced locking mechanism and 154CM blade can accomplish almost any task. Allen Elishewitz really thought out every detail on how to make this knife durable. If you're interested in this knife, simply click the button below to find it.